You may put any HTML here. This is dummy copy. It is not meant to be read. It has been placed here solely to demonstrate the look and feel of finished, typeset text. Only for show. He who searches for meaning here will be sorely disappointed.
Super Early Bunny
1 Year Warranty | World Wide Free Shipping | Guaranteed Shipping | Trusted Brand YI Technology Has Delivered 20+ million unit
$99 + $0 shipping cost
Double Early Bunny
1 Year Warranty | World Wide Free Shipping | Guaranteed Shipping | Trusted Brand YI Technology Has Delivered 20+ million unit
$198 + $0 shipping cost
KamiBaby: All-in-One Smart Monitor For Babies
A trusted baby monitor for those precious first few years for the perfect parenting experience.
Tom@Locodor


KamiBaby is more than a baby monitor. Using the latest AI and Edge computing technologies, parents will be able to see their baby's breathing amplified, making the parenting experience easier. 
Every parent with KamiBaby can keep track of their baby or toddler, receive relevant alerts, and have an extra pair of eyes to help make parenting a little bit easier within those precious first few years. 
KamiBaby is your all-in-one intelligent companion for your baby or toddler.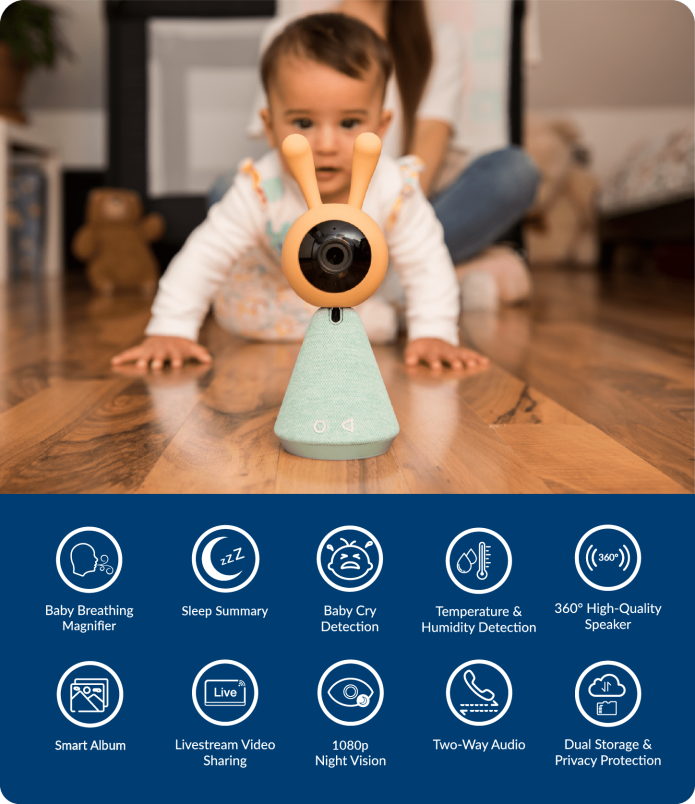 YI Technology has shipped products worldwide over the past few years and has distribution centers in China for Asia distribution, Berlin and Great Britain for the European market, and another warehouse in the US. Our products can be found in major online and offline retailers such as Amazon.com, Bestbuy.com, The Home Depot, Lazada Asia, and Aliexpress.
We have decided to launch on Indiegogo to allow our members of the VIP parents group on Facebook to get access to KamiBaby at the discounted 50% OFF retail price. 
This group has been invaluable in helping provide feedback to make this the best baby product on the market. Thank you. 

When your baby or toddler has a good night's sleep, you can too! 
Ever wonder if your baby is breathing while they are sleeping? Worry no more, thanks to KamiBaby, you can view your baby's breathing through proprietary image processing and AI techniques, to see a magnified visual of your baby's breathing. You can view it live from your Kami App anytime, anywhere!
The humidity and temperature of a room are very important when creating a comfortable sleeping environment. With KamiBaby, you can monitor your baby's room temperature and humidity instantly without needing extra accessories. All from your smartphones.  Plus, if your baby starts crying, you'll know straight away. 
Our team is made up of industry experts and innovators who are always creating more smart features with the latest edge-computing technologies.


View your baby's breathing movement easily, directly on your smartphone. KamiBaby uses image processing and advanced Edge AI to detect and magnify your baby's breathing, without the need for additional accessories or clothing.      


Review your baby's sleep history easily on your Kami Home app and view the night summary in a short clip. How does it work? KamiBaby will automatically select the most important and relevant moments from the movement, abnormal sounds detection, and so on and combine them for you.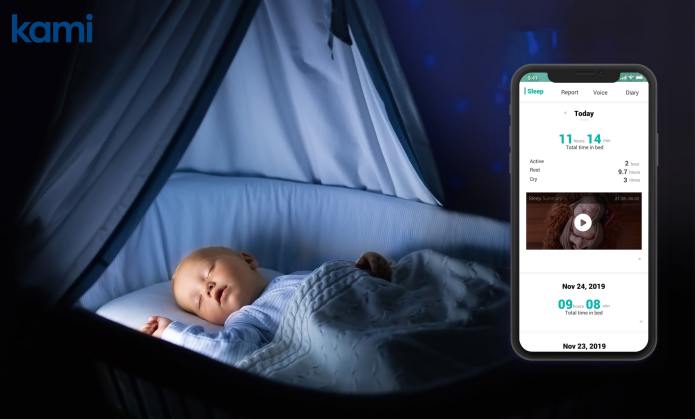 With a best in class Edge AI chip, KamiBaby only delivers relevant alerts, every time.


Thanks to advanced AI and Edge computing, you can check your baby's room temperature directly from the KamiBaby app, removing the need for additional devices.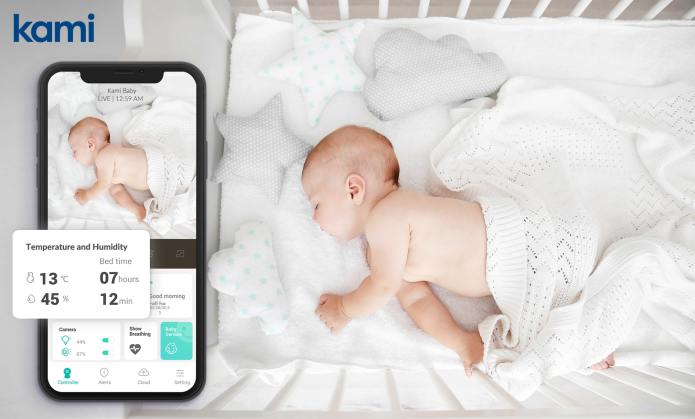 Automatically capture a high-quality picture, never miss a cute moment! KamiBaby creates a highlight reel of your baby's day which you can share with friends and family.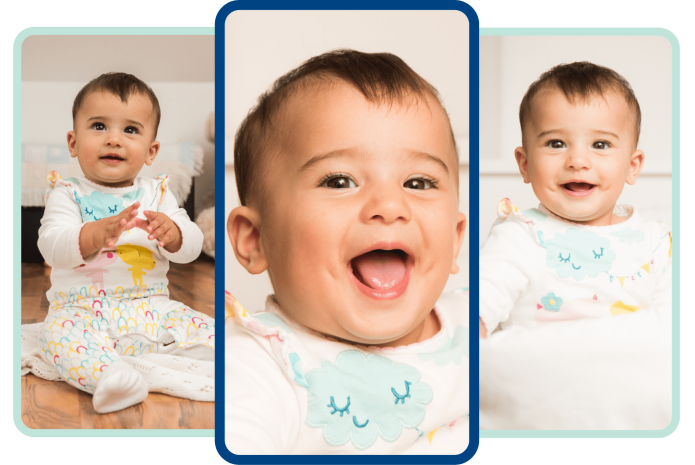 Share your KamiBaby's video-feed with friends and family. In case you need them to watch your baby while you are away or taking care of house chores.  Or perhaps, just sharing daily moments with the family far away.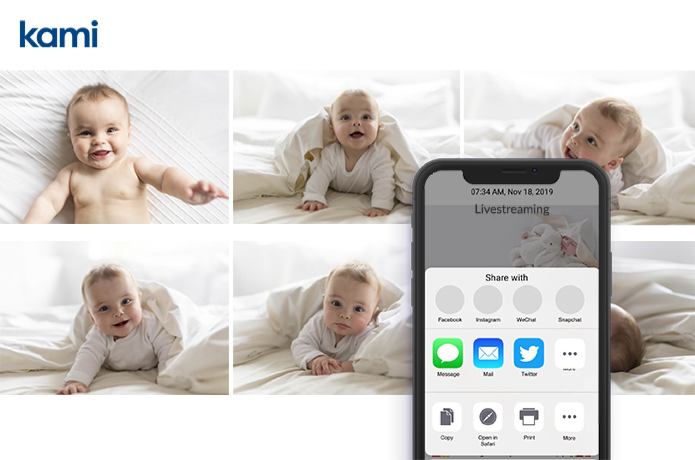 You can talk to them or sing a song, keep your baby calm, record your voice and play it back anytime while you are away.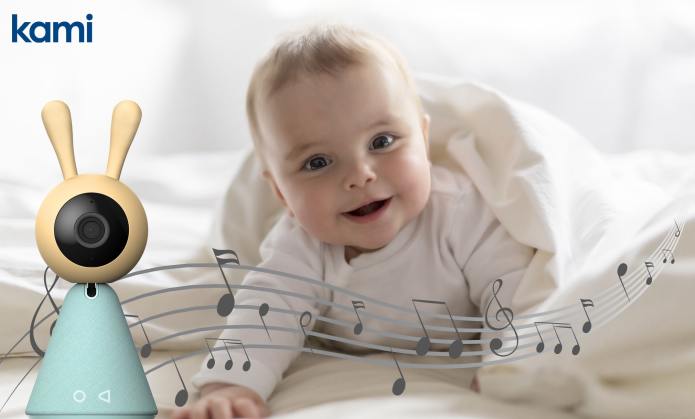 KamiBaby has everything you'd expect from a baby monitor but goes even further, every feature is built with baby and parent in mind.

KamiBaby's low energy LED night-light promotes natural sleep. You can turn the light on and off directly from your smartphone and even adjust the brightness level. Allowing your baby to sleep in perfect light temperature, or use its soft-light for a room's ambiance.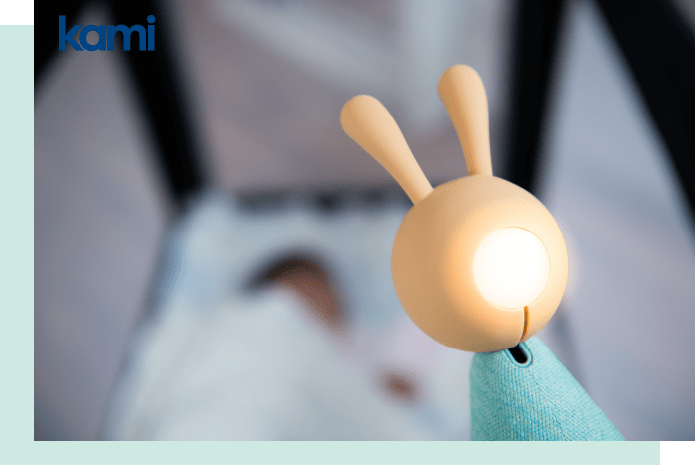 1080p Full HD night vision, its high-resolution recording enables you to capture every detail, with IR night vision ensuring that assuring you see even in the low light conditions, without the evil red glare shining in your baby's eyes.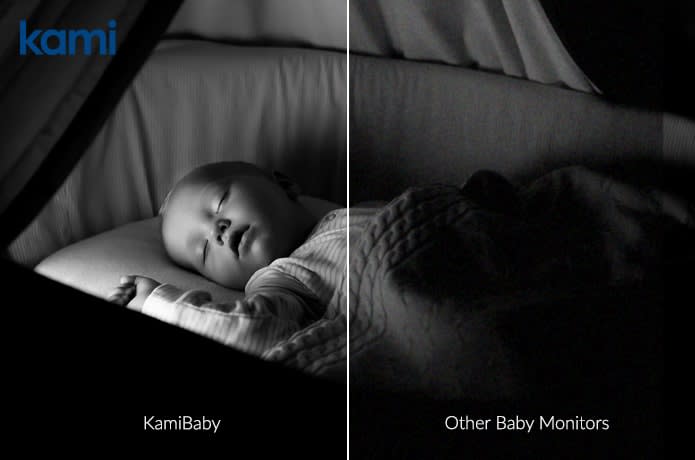 Ask Alexa or Google to show your baby's room instead of viewing it from your phone or tablet.

Talk to your baby or toddler when you are rushing back to their room, or use to communicate with a family member in your home while you are away directly on the Kami Home App.

We created three unique costumes for Kamibaby. You can choose to dress up your KamiBaby in a bunny, bear, or bird costume! The rubber material on the product uses safety-grade silicon, baby-friendly and non-toxic.
*The first batch of KamiBaby will be produced with the bunny costume. Depending on your pre-order and request, we will prepare the other costumes upon request.

Use up to a 128 GB MicroSD Card for 9 days continuous recording or use YI Cloud with 7-day free rolling use.  KamiBaby is fully GDPR compliant and follows the strictest data protection guidelines. We make sure every product has the highest data protection standards and a secure Wi-Fi connection.

Connect to your home and family, anytime, anywhere! You can also use an iPad or tablet to act as a second always-on display.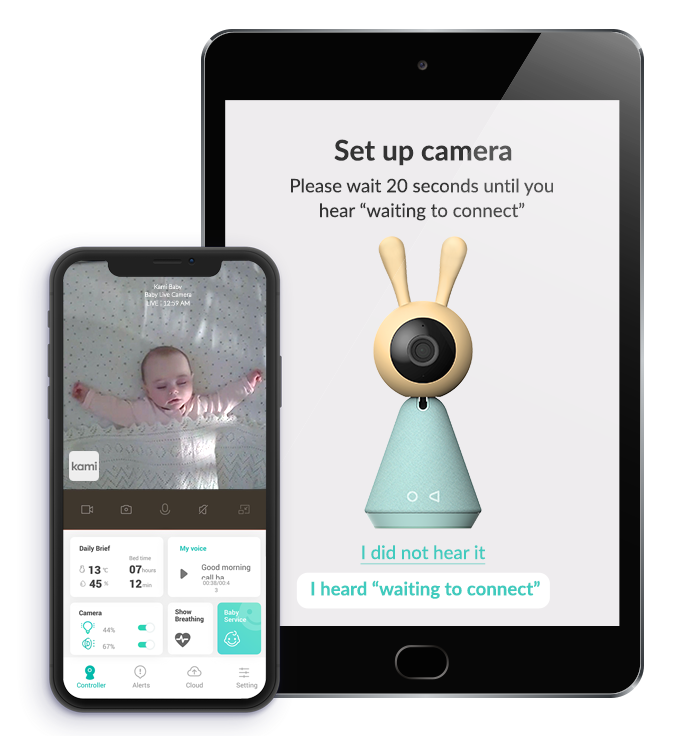 Manual rotation up to 300° horizontal and 100° vertical, FOV 160° and voice prompt installation, makes your KamiBaby is ready to use in minutes.
Plug the 5V, 5W USB adapter included in the box to an A/C source. It comes with a micro USB power cable and industrial cable cover to protect the cable from being grabbed, pulled, or tripped over.  

To make KamiBaby the best baby breathing magnifier possible, we've given real parents, early KamiBaby samples. Hear what they have to say!
   *Working mom with a 2-year-old boy from London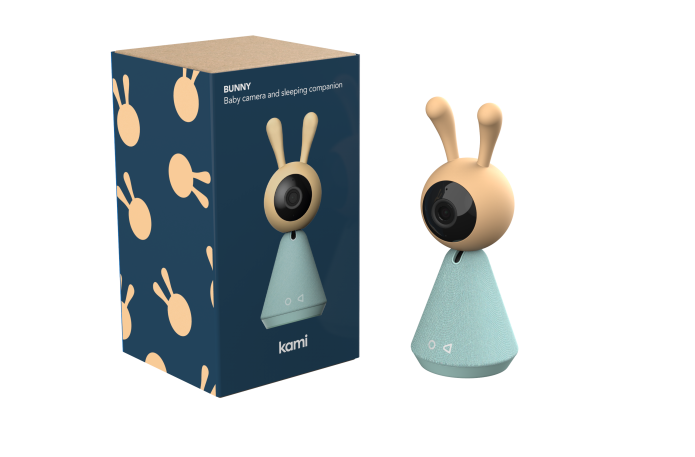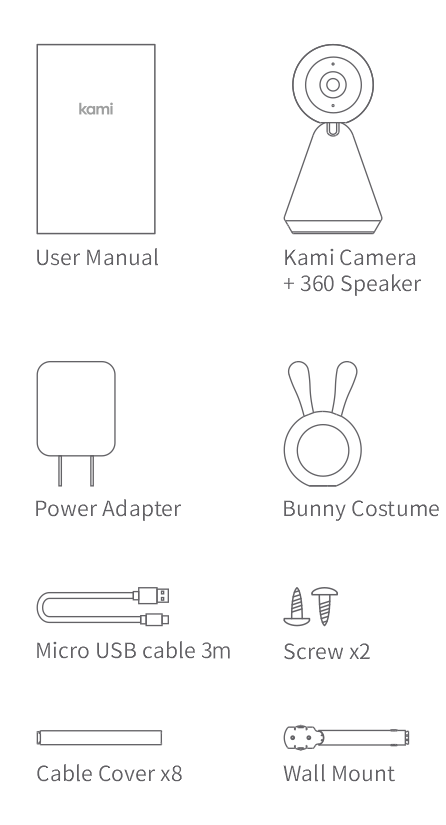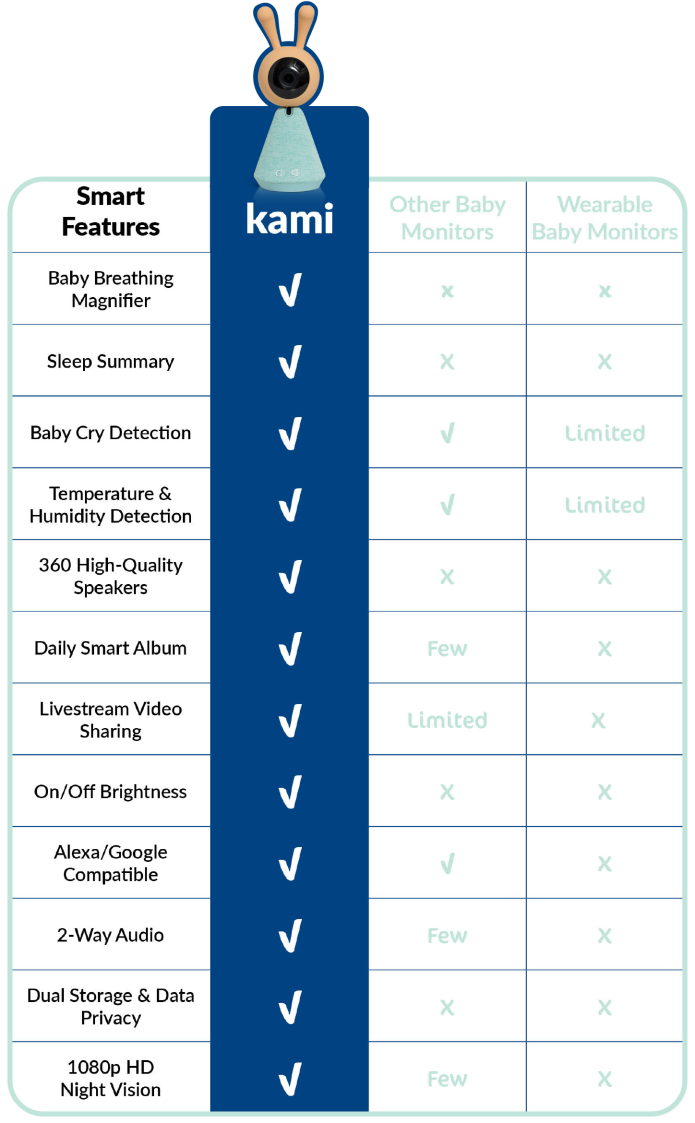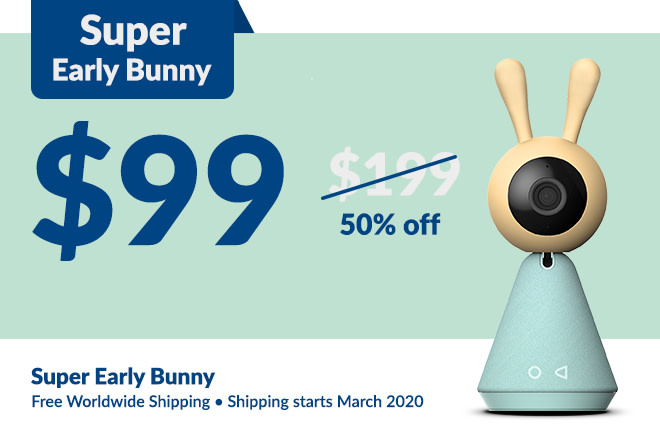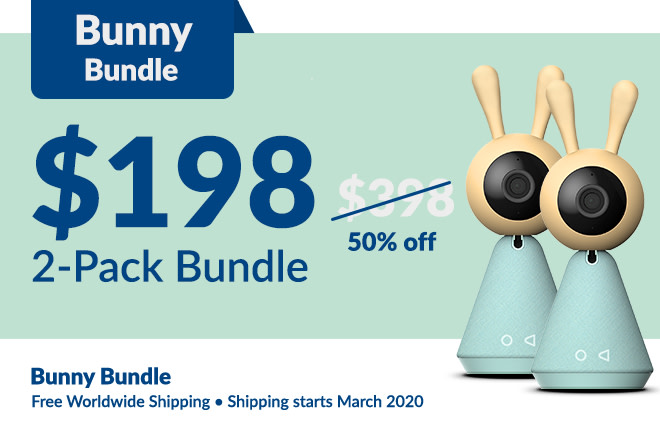 From the beginning, we wanted to create a fun character that kids and parents can relate to. We tested several concepts and gained insights from parents from many countries. Many parents and families love the idea of a smart device that would blend well in their baby or kid's room. A baby monitoring device that has all the most important accessories in one product. 
KamiBaby combines visual, audio, and soft warm materials in perfect harmony. We have created proprietary chips to ensure that we have complete control over the hardware and innovative Edge computing used in KamiBaby.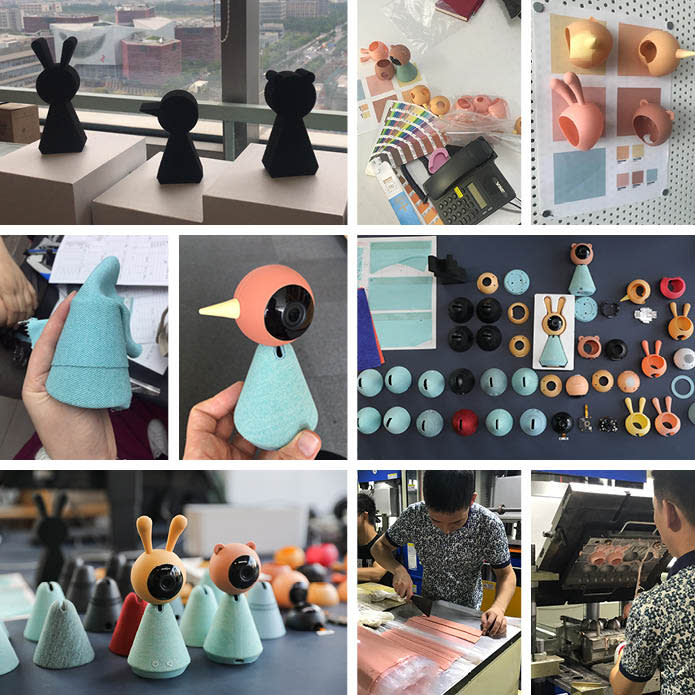 For the last half a year, we've spent over 10,000 hours testing KamiBaby with real parents and real babies. 
We placed the baby's well-being first and provided items such as cable covers for extra safety.  The rubber material on the product uses safety-grade silicon, baby-friendly and non-toxic. While the fabric on the speaker's body is acoustic friendly, created with design experts in a music and audio engineering agency.
 Our packaging is 100% eco-friendly and uses soya-ink to print the cover of the packaging. Additionally, the final "plastic" cover is corn-based material (PLA), which is bio-degradable.
Our campaign is fully funded, now we have moved to production stage to ensure the shipment by the end of March 2020. We can only start the shipment when we receive funds from Indiegogo after our campaign ends.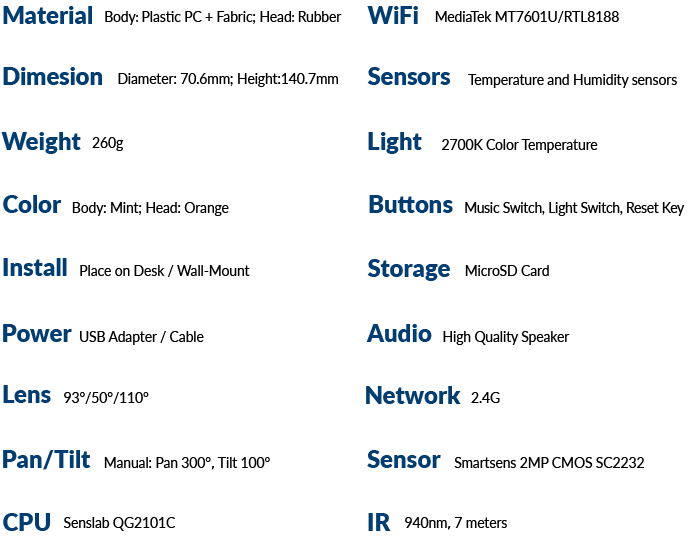 KamiBaby is the all-in-one baby monitor with Edge Computing technology inside. Created by YI Technology specialist in camera and AI innovation. YI Technology is a top-rated brand on Amazon with 99% positive reviews.
Founded in 2014, YI Technology aspires to create a future powered by widespread and intelligent video technology, where smart cameras and computer vision technology will enrich people's lives. YI's worldwide development team consists of industry-leading experts with several decades of experience in imaging technology, algorithms, data analysis, cloud computing, and edge computing.
YI Technology has shipped over 20 million units to 168 countries and is an industry innovator in Edge computing and AI algorithms.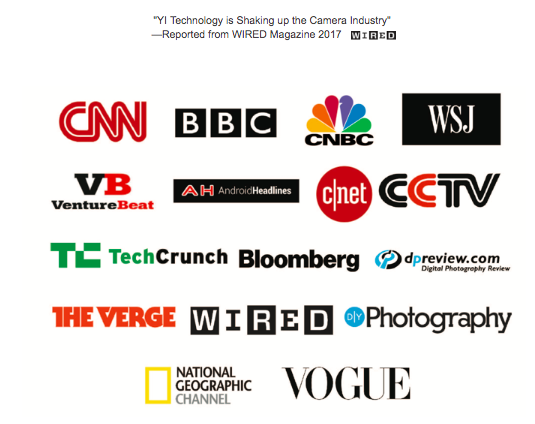 YI Technology has multiple teams who work together in synergy to bring Deep Learning & Edge AI-based products to millions of families and homeowners worldwide. YI Technology houses industry experts from around the world, who strive to be industry leaders and innovators.

KamiBaby was conceptualized in the U.S, using algorithms developed and tested in our Israeli R&D center, and realized in China. Most of our core team members are parents and having real parenting experiences. We are extremely passionate about creating the most innovative baby breathing magnifier possible and have been working around the clock, nonstop to make KamiBaby as great, cute, and advanced as possible.

In the 5 years since its founding, Yi Technology has won numerous awards and been recognized as an industry leader by experts and consumers.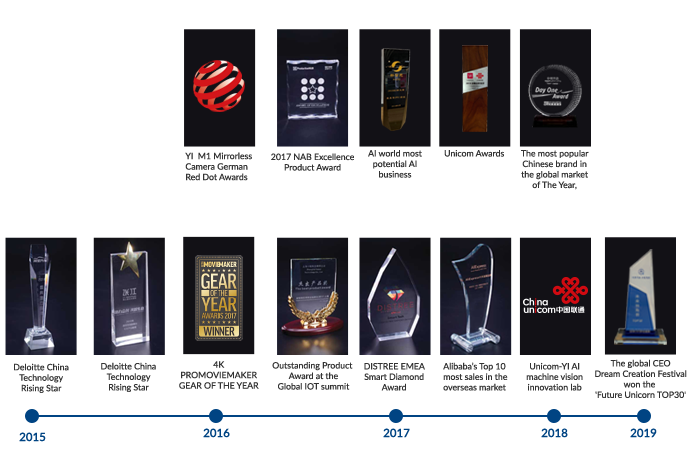 2017 Awards Won:
• China Entrepreneur Award, at 21 Future Star Top 100.
• Innovation Talent Competition in the national demonstration labor competition of Zhangjiang Hi-Tech Park
• Awarded the Outstanding Product Award by Global Internet of Things Summit
2018
• The Amazon Global Open Store All-around Seller Award
The AliExpress Ali Top 10 brand
• The Technology Innovation Award from Pudong High Growth Enterprise Headquarters
• The AI World Most Potential AI Enterprise by Xinzhiyuan
• The DISTREE EMEA Smart Tech Diamond Award
• The most popular overseas brand of Chinese consumers in the year.
2019
• The Future Unicorn TOP30 from the global CEO Dream Creation Festival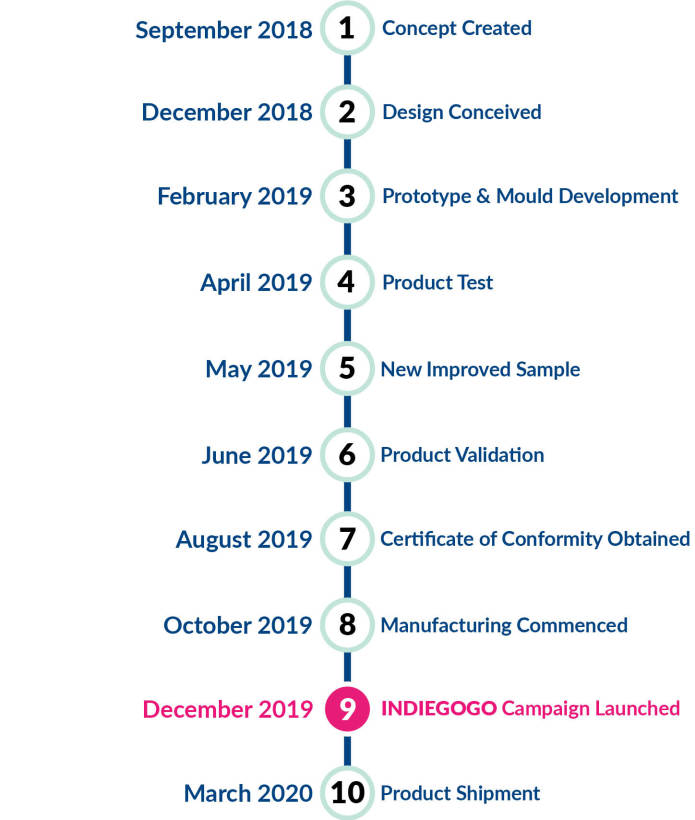 Our campaign is fully funded! YI Technology has finished KamiBaby's proprietary hardware, and KamiBaby's Edge AI features that utilize deep learning neural nets have been rigorously tested and implemented. We have moved to the production stage to ensure that we can start shipment by the end of March 2020. We can only start the shipment process when we receive funds from Indiegogo after our campaign ends.






Tom@Locodor
This project is coming to life. Thank you for showing your support!
Super Early Bunny
1 Year Warranty | World Wide Free Shipping | Guaranteed Shipping | Trusted Brand YI Technology Has Delivered 20+ million unit
Pledge $99 + $0 shipping cost
Double Early Bunny
1 Year Warranty | World Wide Free Shipping | Guaranteed Shipping | Trusted Brand YI Technology Has Delivered 20+ million unit
Pledge $198 + $0 shipping cost