Lumzag
A Modern Smart Bag Made of Carbon Fiber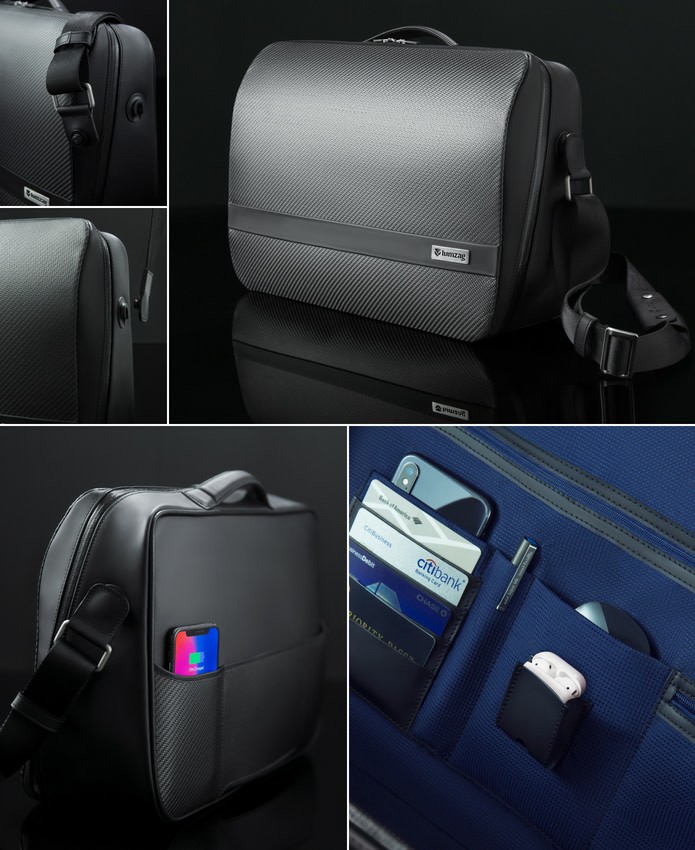 Locodor Team LA
Meet Lumzag – The Smartest Bag Ever
Made of Carbon Fiber with Leather/Nylon Application

Lumzag Smart Bags are the most advanced intelligent carry system to date, designed to make your lives easier, smarter and more secure. Presented in the trinity of the Backpack, Messenger and CrossBody, Lumzag Smart Bags are the ultimate definition of what you always missed in your bag: intelligence, power, safety and control.
The Seven Innovative Features of Lumzag

Charge your phone wirelessly on the go, while also charging your tablet and laptop with our built-in 10,000 mAh power bank. You can also charge your AirPods using the special compartment in the bag.
As the Power Bank is removable it makes Lumzag Bags TSA approved.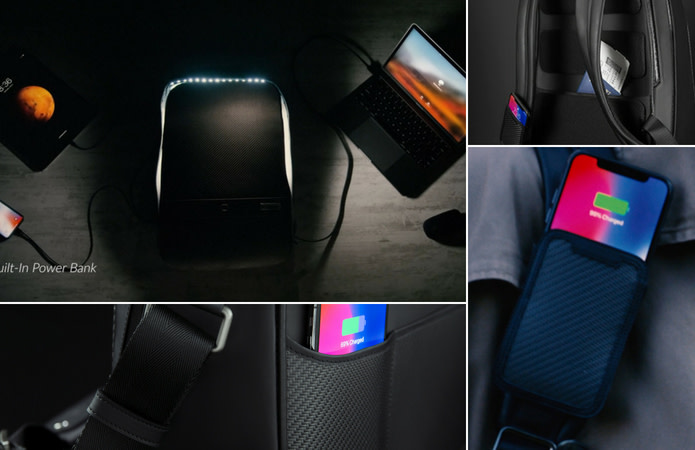 Special sensors of Lumzag track all your stuff.
Simply mark your items with special Identification Stickers that come with your Lumzag Smart Bag, identify them in your Lumzag app, and if you happen to leave something behind Lumzag will notify you.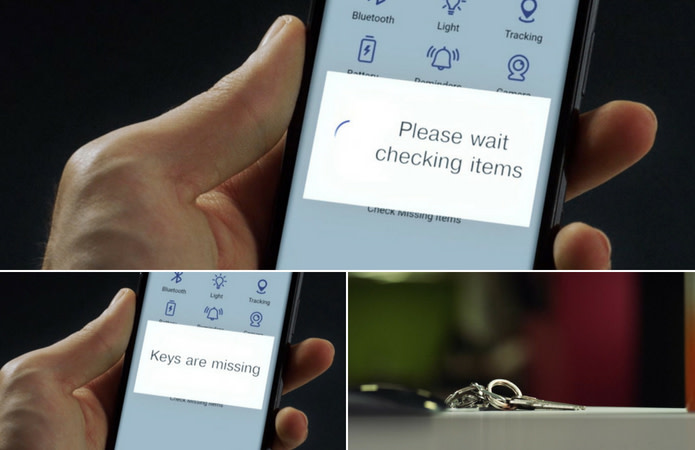 Never again dig blindly inside your bag, trying to find something. The built-in LED light in the main compartment gives you comfortable and energy-efficient solution for the problem of that black abyss in the bag.
Light turns on automatically when you open your bag in the dark.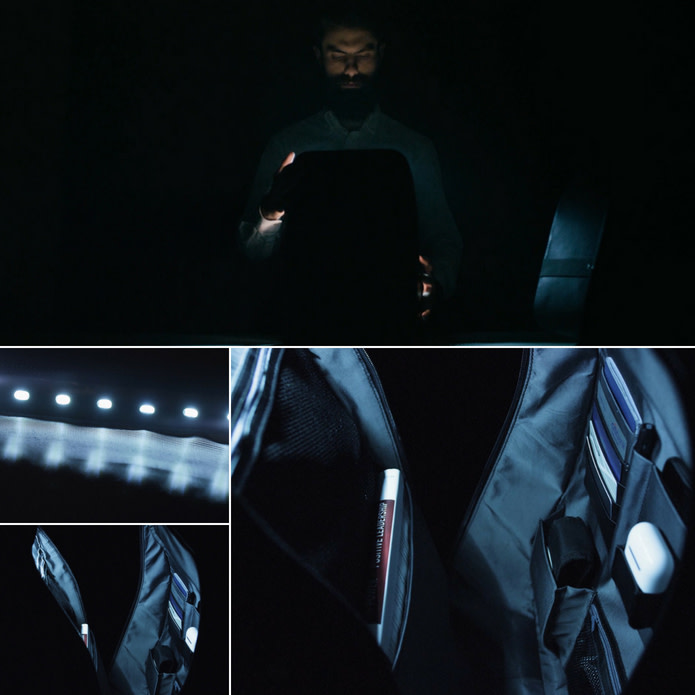 Every time someone tries to open your bag or steal it Lumzag mobile App will notify you. It will also activate high-pitched alarm when the distance between you and your bag is above your set maximum.
Simply activate the security mode in the app and protect your bag from the thieves.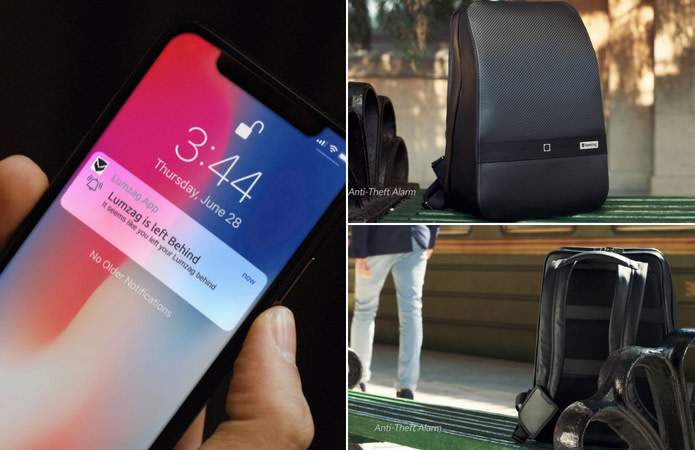 Track your bag wherever you are, regardless the distance between you. The GPS tracker allows you always to know the exact location of Lumzag in real time.
The GPS tracking is free of charge, thanks to special technology developed by Lumzag team which doesn't use internet data.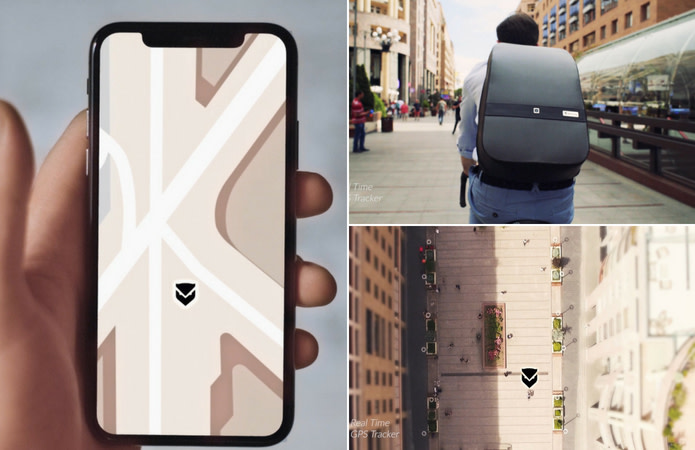 Get an extra pair of eyes in the urban jungle: always be aware of what is going on behind, seeing it in live view mode on your smartphone screen through the camera on the back. This feature is optional and if you don't need it you can request Lumzag without camera.
You can even take shots and save videos!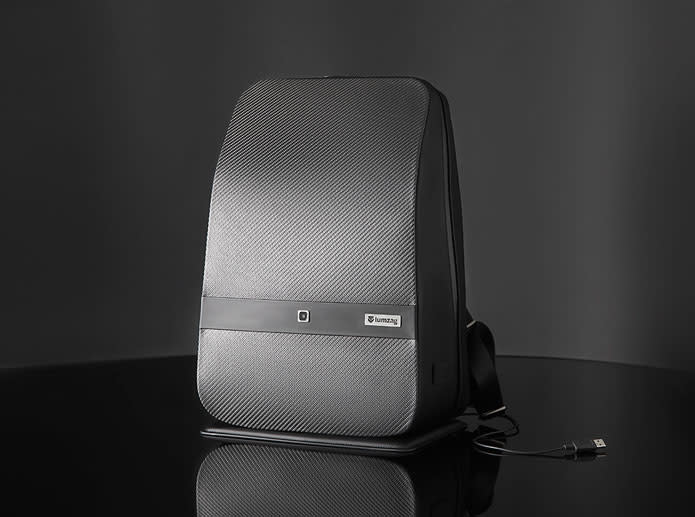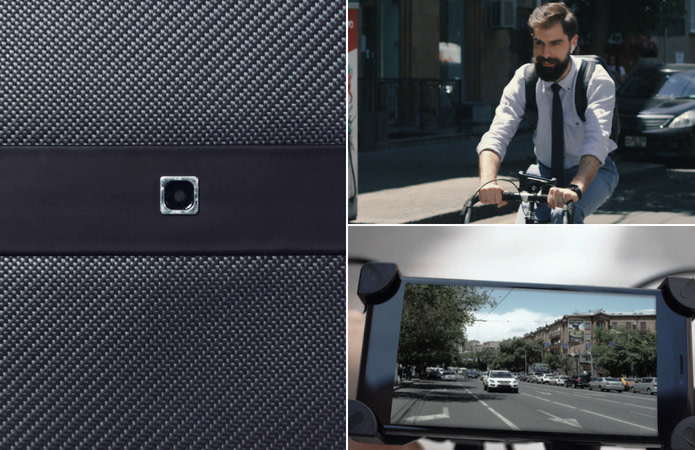 Always have affordable internet access, regardless of the internet connection available in the area. To assure that, we have a specially designed built-in data sim card in Lumzag which gives you an opportunity to have WiFi connection in the whole world with much lower prices than roaming internet.
Activate this function only when you need to use it.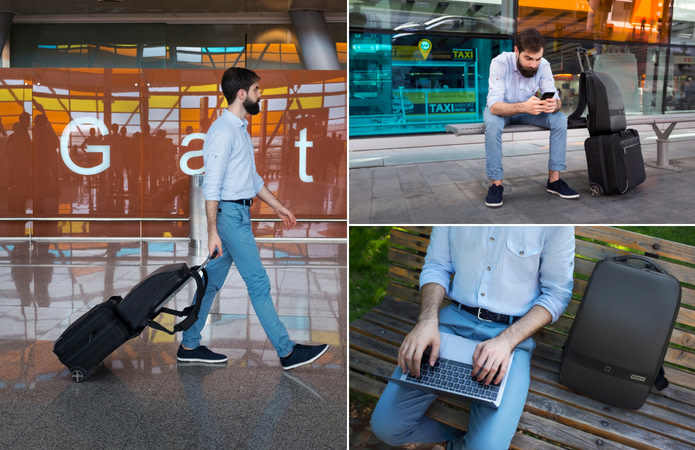 Lumzag Materials
CARBON FIBER by  
Carbon Fiber is This Century's Advanced Material. It is very strong, ultra lightweight and has modern, high-tech look. Carbon Fiber is the next generation luxury material used in really cool applications, like exotic cars (Ferrari, Lamborghini), NASA/Aerospace, high-end sporting equipment, yachts and more.
GENUINE ITALIAN LEATHER
The Silicone coated genuine Italian Leather makes Lumzag absolutely water-repellent, durable and luxury looking.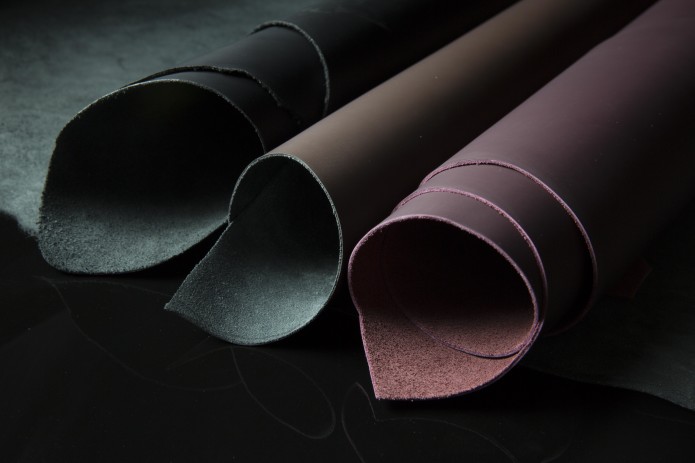 YKK AQUAGUARD® ZIPPERS
For every inch of your backpack to be protected we used water repellent AquaGuard zippers, the coating on which not only increases their durability and reliability, but also gives them luxury look.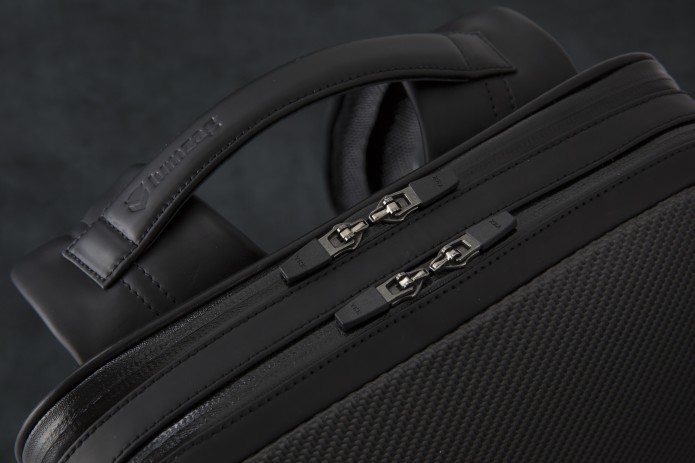 Lumzag comes in three main colors:
Velvet Wine, Dark Sapphire and Silver Black.
So you can choose the one that fits you most.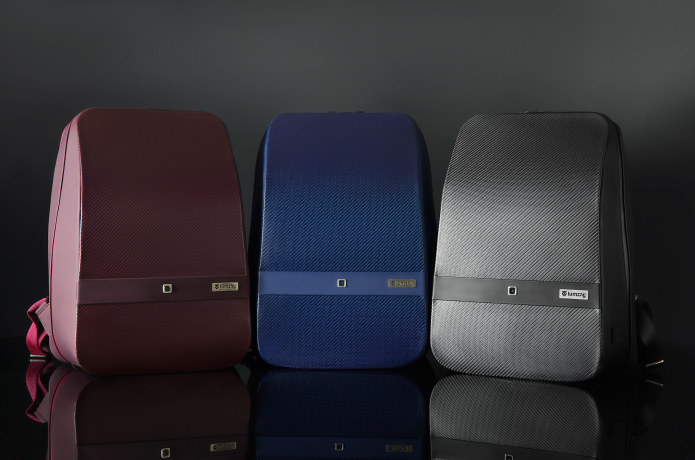 Lumzag Smart Backpack is especially designed for your safety and convenience. The ergonomic design ensures comfort.
The thoughtful interior design ensures comfortable and easy organization of your belongings and even allows you to charge you airpods on the go.
The Lumzag Smart Backpack is available in three colors: Silver Black, Dark Sapphire and Velvet Wine.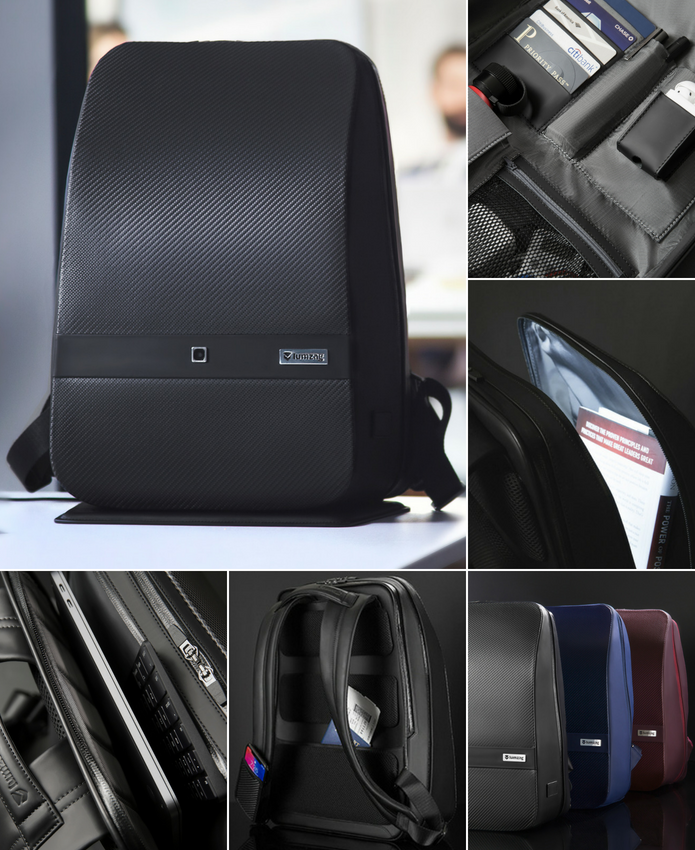 Locodor Team LA
We are sorry, this project was not fully funded, no backers has been charged. We will keep everyone updated if this campaign is going to be relaunched. Thank you for your support!
1 Backpack - Super Early Bird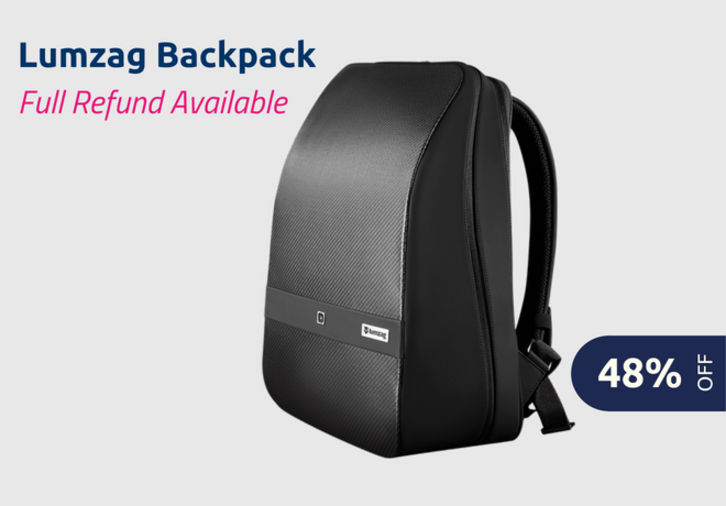 Pledge $269 + $0 shipping cost
Lumzag Additional Battery Bank
.
Pledge $22 + $0 shipping cost
Lumzag Wireless Charging Pad
.
Pledge $27 + $0 shipping cost
Wallet Tracker
.
Pledge $35 + $0 shipping cost
Lumzag Magnetic Solar Panel
.
Pledge $35 + $0 shipping cost
1 CrossBody - Super Early Bird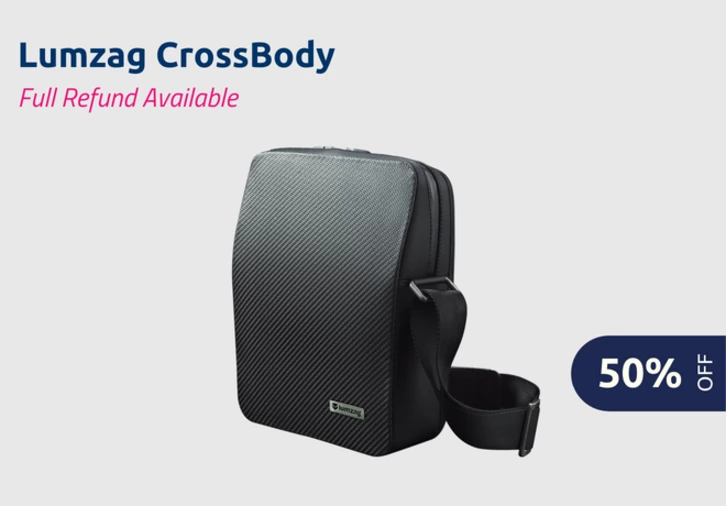 Pledge $169 + $0 shipping cost