Mash-Up Series Hard Enamel Pins - 1.25 Inches
I will be creating a series of Mashups in hard enamel pins. They include PikaMoon, NeferChu, ZombiChu and MickeyChu - In 1.25 inches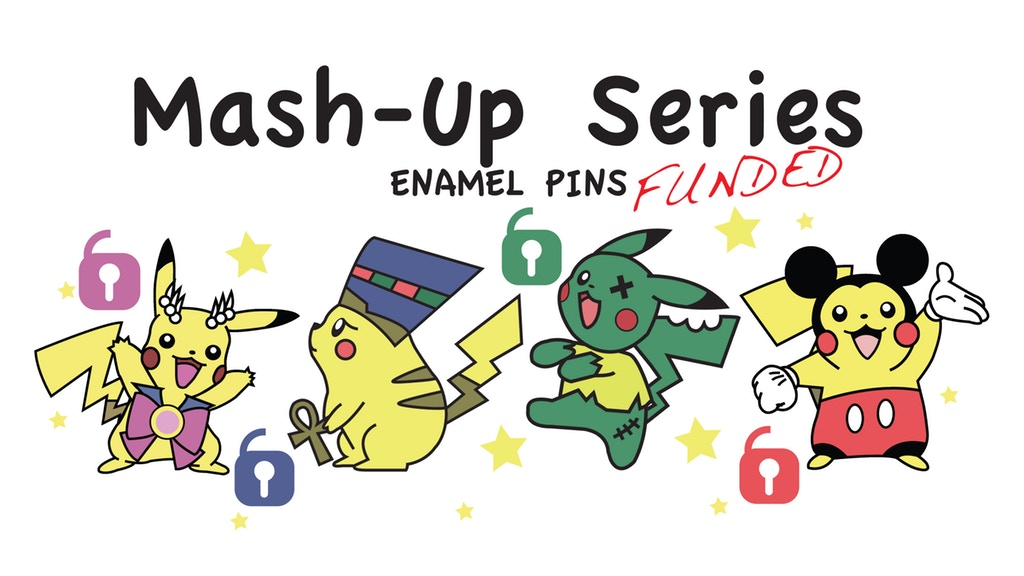 Legacy Team LA
What is a prototype?
A prototype is a preliminary model of something. Projects that offer physical products need to show backers documentation of a working prototype. This gallery features photos, videos, and other visual documentation that will give backers a sense of what's been accomplished so far and what's left to do. Though the development process can vary for each project, these are the stages we typically see:
Proof of Concept
Explorations that test ideas and functionality.
Functional Prototype
Demonstrates the functionality of the final product, but looks different.
Appearance Prototype
Looks like the final product, but is not functional.
Design Prototype
Appearance and function match the final product, but is made with different manufacturing methods.
Production Prototype
Appearance, function, and manufacturing methods match the final product.
About
   Pledge now and pay later! You will not be charged until the campaign is successful and fully funded. If the campaign is not fully funded, you will never be charged.
Hello everyone!
*** Project has become funded, please place your order in to get early bird pricing***
   I have designed four mashups. 1. PikaMoon 2. NeferChu 3. ZombiChu and 3. MickeyChu. All of these designs reflect who I am as a person and these designs can also relate to a huge demographic of pin lovers.
**Please be mindful: If you chose a reward that has an iron on patch, key chain, or tote bag - I made them myself  They are not from some factory in China. Have a look on my Instagram CLICK HERE
Colours might slightly change, but nothing dramatic.
All of the pins will be 1.25 inches, hard enamel, 2 rubber posts and either gold or black raised metal, also with a backing card!
-PikaMoon will have glitter in the bow area.
-NeferChu's  Ankh and the gold area in the head crown will be glitter (Ankh-Key of life that Pika is holding)
-ZombiChu's  green areas will glow in the dark.
-MickeyChu will have the Mickey aspects in glitter (hands, ears and shorts)
Cost Breakdown:
Pin Production: 65%
Supplies: 15%
Shipping: 10%
Kickstarter fee: 10%
Shipping:
Shipping within Canada, is standard shipping
Shipping to The United States will be sent as a small packet since it needs to be declared at the US border. (All non-paper materials need to be declared)
Risks and challenges
-This is my first kickstarter and all my time and effort will be put into this until funded, and shipped!
-The manufacturer has already been contacted and waiting for our funding campaign to finish
- Upon a successful campaign, it will take approximately 2 weeks for Kickstarter to send the funds.
-Once order is placed with the manufacturer, it will take 12-15 days to produce the pins. The manufacturer may be delayed due to a high volume season, but once received, I am sure you will have no regrets if that ends up being the case!
-Every pin will also be individually inspected to guarantee the best quality!
-If there are any updates, everyone will be notified on my instagram account in the stories, so please add it: @ricamo.moda
Learn about accountability on Kickstarter
Legacy Team LA
We are sorry, this project was not fully funded, no backers has been charged. We will keep everyone updated if this campaign is going to be relaunched. Thank you for your support!
Pledge With No Reward
Pledge $300 + $0 shipping cost
Iron On Pika Surprise!
Value: +$15
You will receive 1 embroidered Pikachu iron on patch, approx 4 inches. Wait until you see!! Your friends will be so jealous! It is one of a kind!
Pledge $10 + $0 shipping cost
PikaMoon Pin!!!
Once funded, will be $14
Our exclusive design will have ya crying like a baby that you got it at such a low price!!!
Pledge $10 + $0 shipping cost
NeferChu!!
Value: $14
Get this beautifully Egyptian inspired, one of a kind design!
Remember! You only get it if it's unlocked!
Pledge $10 + $0 shipping cost
ZombiChu!!
Value: $14
Get this zombie inspired, one of a kind design before he eats your brains!!!
Remember! You only get it if it's unlocked!
Pledge $10 + $0 shipping cost
MickeyChu!!!!
Value: $14
Get this 90th Anniversary Mickey, Exclusively here! Disney meets anime!
Remember! You only get it if it's unlocked!
Pledge $10 + $0 shipping cost
The Party Just Begun! 2 Unlocked Pins
Value: $28
Receive any 2 unlocked pins
Pledge $18 + $0 shipping cost
Pin AND Pokemon Key Chain Surprise!
Value: +$35
Choose any unlocked pin (1) and receive a Pokemon embroidered key chain!! It is an exclusive design and will be a surprise! They are all super cute and fun! can attach them to your jacket zipper, purse, or car mirror! So versatile!
Pledge $28 + $0 shipping cost
I Lied, It Starts Now - 3 Unlocked Pins
Value: $42
Any 3 unlocked pins.
Pledge $28 + $0 shipping cost
The REAL Party Is Here! - 4 Unlocked Pin
Value: $56
Any 4 unlocked pins
Pledge $38 + $0 shipping cost
Tote Bag Plus Pin
Receive 2 unlocked pins and receive an exclusive PikaMoon embroidered tote bag!
Tote bag is in Black
13.5 inches by 13.5 inches
Embroidered surface area is 5 inches by 5.6 inches
Pledge $40 + $0 shipping cost
Any 5 unlocked pins
Choose any 5 unlocked pins
Pledge $48 + $0 shipping cost
The REAL, Real Party
Value: 58
Receive any 2 Unlocked pins, along with 2 Exclusive embroidered iron on Pokemon patches!
Patches are approximately 4 inches.
Pledge $50 + $0 shipping cost
Any 6 unlocked pins
Choose any 6 unlocked pins
Pledge $58 + $0 shipping cost
Any 7 unlocked pins
Pledge $65 + $0 shipping cost
6 Pins And a Plush Pencil Case
6 unlocked pins and an exclusive Pikachu plush pencil case
Pledge $75 + $0 shipping cost