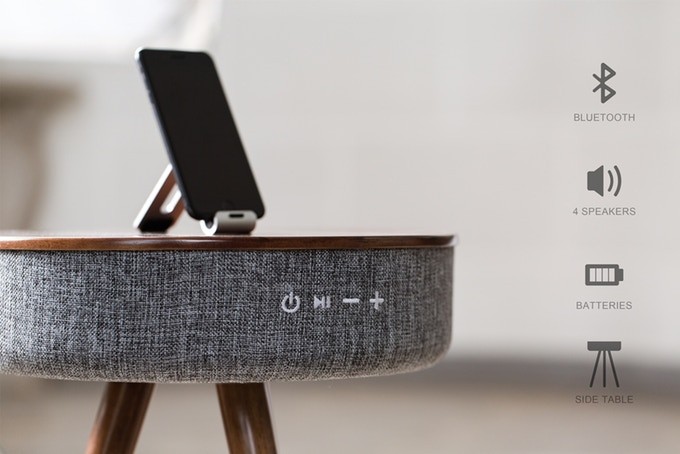 You may put any HTML here. This is dummy copy. It is not meant to be read. It has been placed here solely to demonstrate the look and feel of finished, typeset text. Only for show. He who searches for meaning here will be sorely disappointed.
Multimedia Smart Table Bluetooth Speaker + Powerbank: Pre-Order
*Available for pre-order now. International shipping.* Eco-Inspired Multimedia Table
Legacy Team LA
AVAILABLE FOR PRE-ORDER NOW. INTERNATIONAL SHIPPING.
Mellow is a one-of-a-kind Bluetooth speaker, but it's also much more than that. We're talking about 7 hours of playing time and a whopping range of 10 meters. The eye-catching design (in the form of an elegant table) is a true treat for music lovers.
Crystal-clear audio - Anywhere, anytime
Enjoy great sound. Mellow's built-in speakers give you the power to enjoy music anywhere anytime. With Mellow - sound is captivating and extraordinary. It's time to upgrade the audio experience for your music, games and videos.
Super simple pairing. Built in Bluetooth technology allows for wireless connectively to mobile devices within 10 Meters.
Packed with power
Mellow's power comes from a DC 16V wall power adapter and a built in lithium battery.
Great battery backup! The built-in Lithium battery has 6600mah capacity (TYPO IN REWARD DESCRIPTION!); just takes 4 hours to charge the Mellow and it can play for 7 hours at 30% volume; 5 hours at 75% volume and 3 hours at 100% volume.
Power Bank. Mellow is powerful enough to charge several mobile devices. Two USB ports allow for multiple devices to charge at the same time. You can charge your iPhone 7 for 2.7 times and it just takes 3 hours to complete the charging.
Stylish functionality
Stunning & timeless design. Each Mellow table is crafted from high quality materials. Three beautifully crafted legs are made from 100% lush beech wood. Our tabletop is wrapped in a woven micro-fabric for a touch of modernity with four interactive buttons sewn into the fabric, giving them a professional look.
Buttons from left to right:
On/Off; Bluetooth/Play/Pause/Phone; Volume decrease; Volume increase
Fascinating versatility
Mellow will double up as an alarm AND a robotic DJ at your party.
It's time to beat your morning brain by using Mellow by your bed as an alarm clock! It'll be a little harder to drown out the sound from an entire Bluetooth And imagine being able to host a party and relax because technology was doing all the work for you.
Whether in your study, bedroom, living room, kitchen, in the backyard or by the pool side, Mellow is sure to be a stylish centerpiece that will compliment any part of your home.
The potential of Mellow + you
There's never a dull moment with Mellow.
Think about all the potential scenarios. You're watching all your favorite films on TV, but now you've got a cool little Bluetooth speaker in the corner, and you're hearing the sound come wirelessly through this neat little device!
Specification:
Bluetooth solution: ACTS Digital audio output
Amplifier IC: TAS5711(TI) DSP
Frequency response: 100 Hz- 18 KHz
Adaptor:AC IN110-230V DC 16V/2A
*** Warranty: One Year ***
Battery: 18650*3; 6600 mAh
Max playing time: 7 hours
Minimum playing time: 3 hours
Charging time: 4 hours when unit is turned off, 6 hours when unit is playing
USB charging for iPhone 7: 3 hours, number of charge cycles: 2.7
Prototype testing!
Our story:
Prototypes and assembling
Inspired by nature
Concept is one of the most important and primary elements during the design process. When our team first sat down to design and discuss what would eventually become Mellow, we looked to nature's design for inspiration. We sought to build a table that was inspired by beauty found in natural landscapes. We accomplished this by incorporating natural shapes, textures and colors into the design process. Mellow combines the organic feeling of nature with the heart of technology. Mellow is a one of a kind bluetooth speaker table that is feels timeless and modern at the same time!
Powered by technology
We wanted Mellow to be not only visually stunning but also technology advanced. Our design team worked vigorously to create a truly state of the art table that that interacts with mobile devices. Mellow is a music player, electronic charger, and a traditional table all-in-one. With Mellow you are mobile. We guarantee that Mellow will be the most unique speaker you have ever owned!
Legacy Team LA
This project is coming to life. Thank you for showing your support!
Mellow in Black Walnut Wood color
Mellow in Black Walnut Wood color
Pledge $339 + $0 shipping cost
Mellow in Ash Wood color
Mellow in Ash Wood color
Pledge $339 + $0 shipping cost