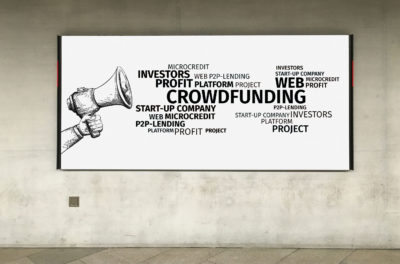 2018 is set to be a big year for crowdfunding in the UK as Crowd2Fund Plots Path To £1bn Valuation
2018 is set to be a big year for crowdfunding. The UK with mounting speculation that Funding Circle, the peer-to-peer lending marketplace launched in 2010 is set to announce a £1bn stock market flotation in the next few weeks. In the meantime, however, loans-based crowdfunding platform Crowd2Fund has beaten its better-known peer out of the blocks this new year, unveiling its own £30m fund-raising, though not on the public markets. The platform believes it too can realistically target a £1bn valuation, which would make it only one of a handful of British FinTechs to have achieved this "unicorn" status. Crowd2Fund has already raised £1.5m from an initial offer limited to investors on its platform, having originally sought £1m from this audience. It is now targeting institutional investors with the offer of a further £8.5m of equity and then plans to return to the market for an additional £20m fund raise in a year's time. A relative latecomer to the UK's crowdfunding sector, having launched in 2014, Crowd2Fund has so far raised £15m of lending for more than 200 businesses. The platform has also won a reputation for innovation, having become one of the first companies to secure authorisation from the Financial Conduct Authority – and opening up to a global investor base in 2016. It has also flirted with controversy, getting involved in a run-in with Funding Circle last year over the best business model for crowdfunding. Crowd2Fund claims to give investors much more choice about the individual investments they can back directly, and has suggested other platforms have moved away from the traditional ethos of the sector – a charge rejected by its peers.
Chris Hancock, the founder and CEO of Crowd2Fund, said the industry was now moving quickly and that his platform needed to raise funding to underpin growth in the UK and internationally. The business plans to launch new operations in the US and South-East Asia, leveraging the UK FinTech sector's links with these regions.
"The banking ecosystem is undergoing transformation and innovation like never before - what we have seen so far is only the beginning," Hancock said. "We are planning to exit the company in 2022, with revenues of £34m and a valuation of at least £1bn; in order to reach this target Crowd2Fund would only need to capture 7.2 per cent of the UK market, excluding international activity."
The company pointed to projections suggesting that the UK market for funding businesses from peer-to-peer platforms could be worth £8.3bn a year by 2022, up from around £1.8bn today. Hancock said he believed Crowd2Fund could capture at least a third of that market with a stronger customer proposition than its rivals.
Nevertheless, the company will have to accelerate rapidly if it is not to be eclipsed by these competitors. It currently lags market leaders such as Funding Circle and Ratesetter, which have longer track records and have raised more money for borrowers seeking finance on their platforms. Crowd2Fund said it planned an aggressive investment in automation and artificial intelligence that would reduce costs, alongside a renewed focus on user experience. It is targeting revenues of £11m by 2019, ahead of its plans for an exit in 2022 from a trade sale or IPO.