Plexus Wheel+ | The Worlds Simplest Back Pain Relief
Plexus Wheel+ the world's simplest back pain relief is the fact that it can produce several effects with only a single item.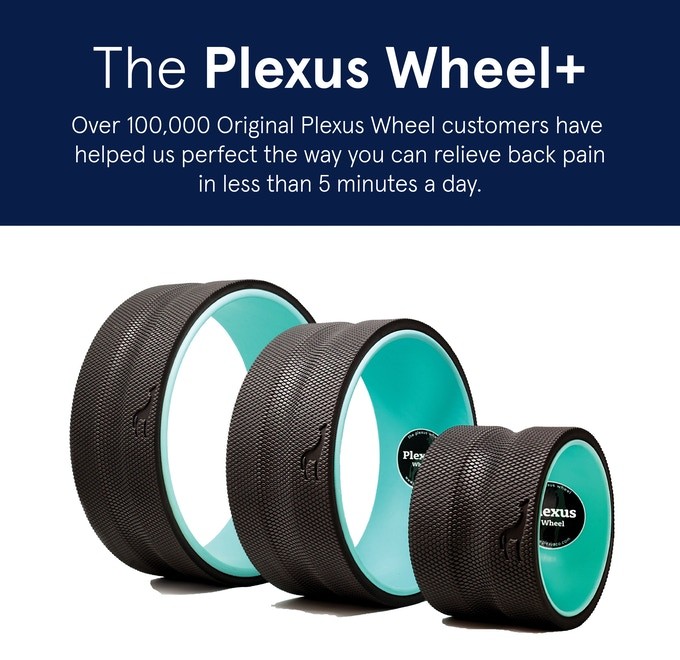 Locodor Team LA
Over 100,000 Original Plexus Wheel customers have helped us perfect the way you can relieve back pain in less than 5 minutes a day.
Locodor Team LA
We are sorry, this project was not fully funded, no backers has been charged. We will keep everyone updated if this campaign is going to be relaunched. Thank you for your support!
Early Bird (6
One 6" Deep Tissue
48% off est. retail of $49
INCLUDES:
6" Deep Tissue Plexus Wheel+
Fix Your Dumb Back eBook
Pledge $29 + $0 shipping cost
Early Bird (10" Medium)
One 10" Medium 34% off est. retail of $59
INCLUDES:
10" Medium Plexus Wheel+
Fix Your Dumb Back eBook
Pledge $39 + $0 shipping cost
Early Bird (12" Gentle)
One 12" Gentle 31% off est. retail of $64
INCLUDES:
12" Gentle Plexus Wheel+
Fix Your Dumb Back eBook
Pledge $44 + $0 shipping cost
Early Bird (3 Wheel Pack)
One 6" Deep Tissue One 10" Medium One 12" Gentle 34% off est. retail of $150
INCLUDES:
6" Deep Tissue Plexus Wheel+
10" Medium Plexus Wheel+
12" Gentle Plexus Wheel+
Fix Your Dumb Back eBook
Pledge $99 + $0 shipping cost