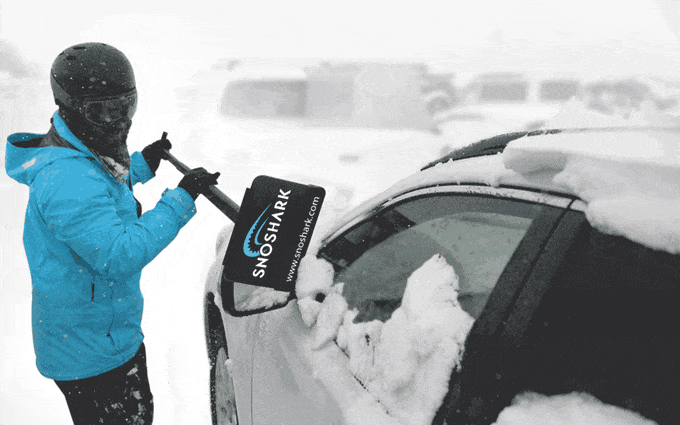 You may put any HTML here. This is dummy copy. It is not meant to be read. It has been placed here solely to demonstrate the look and feel of finished, typeset text. Only for show. He who searches for meaning here will be sorely disappointed.
Unfurtunately this project was not fully funded before the end date.
SnoShark® - The Snow Tool REINVENTED
The first truly compact & convenient snow removal tool, EVER!
Legacy Team LA
About
The SnoShark Snow Removal Tool makes the perfect holiday gift. 
                      U.S. Delivery by Christmas is guaranteed. 
Living in the snow is NO joke! And, after 15 years of struggling with different snow tools, we finally gave up. There just wasn't anything on the market that was compact, light weight, and removed snow quickly and easily. 
So we did what any entrepreneur would do, we made our own! SnoShark is a non-abrasive snow removal tool for your vehicle that's not only more effective at its job than anything else we've found, but it's also: 
Compact
Lightweight
Upscale & Sleek
Convenient
Sharper Image® meets the snow tool. Introducing SnoShark!  
One word... convenience. SnoShark is the only snow removal tool on the market that extends to two locking positions for easy snow removal, yet collapses down to a compact size for convenient storage. As an added bonus our handy storage bag is included with all reward levels.  
No more awkward snow tools! We've carefully engineered all moving parts to endure hundreds of uses and each part undergoes strict quality control guidelines. SnoShark is a giant leap forward for "snow-kind"! 
                          SnoShark Demo LIVE in Bozeman, MT.  
The SnoShark Kickstarter campaign offers TWO SnoShark design options: 
SnoShark Original on the LEFT (mass production version)
SnoShark Exclusive Kickstarter 'Elite Gold' on the RIGHT (only 100 units manufactured)
Every reward level includes a storage bag for each SnoShark. 1-Pack = 1 bag | 2-Pack = 2 bags | 3-Pack = 3 bags. 
IMPORTANT UPDATES: Since the shooting of the headline video and the above demo products: 
we have REDESIGNED the SnoShark bag from a vertical carry bag to a horizontal shoulder bag for added convenience. 
we have EXTENDED the SnoShark handle for added reach. The handle now extends to 27" and 39" to reach those hard to get spots on SUV's and larger vehicles. 
We know these changes will help you maximize your experience with SnoShark. 
Reach and remove snow from the highest points of coupes and sedans (and most SUV's!) with ease. 'Move' larger amounts of snow in either direction with our patent pending push/pull action, making snow removal easier than ever before.   
When done, simply collapse the handle, release the paddle from its locked position and store in our custom water-resistant storage bag (included with your purchase). No more awkwardly long handles and bulky tools that must be stored in your trunk or garage. SnoShark can be safely and easily stored in the passenger or back seat for easier access.  
 SnoShark is the first upscale snow removal tool on the market and the last one you'll ever need to buy!  
We're coming to you on Kickstarter to spread the word quickly. If you're like us you're frustrated with the current tools on the market and the thought of another winter of inconvenience is just too much!  We want to get SnoShark into the hands of consumers quickly, yes, but more importantly, we want to get SnoShark in YOUR hands now! Winter is almost here and we don't want anyone to get stuck out in the cold. We'd be so honored if you'd back our project and help spread the word. 
From SnoShark founders Stephen & Lori Wood:
"Kickstarter is the ideal platform to launch SnoShark for a variety of reasons but mainly we consider our project a creative initiative as much as a consumer product. The Kickstarter supporter base understands this, they are our biggest fans and we are theirs." 
We are Stephen & Lori Wood of Lake Tahoe. We've been in the manufacturing industry for over a decade, so we took what we've learned and spent the last 3 years designing & developing and then redesigning and redeveloping what we call a game changer!  
Find out why our friend and U.S Ski Team member, Travis Ganong, always travels with a SnoShark. 
 Testimonial:
"Living in Lake Tahoe, we measure snowstorms by feet rather than inches. Even something simple, like removing snow from my car in the morning while I am rushing to make first chair on KT-22 at Squaw Valley can be a daunting task. Enter the SnoShark: This revolutionary snow removal tool helps to speed up my mornings, ensuring that I make it for first chair on those powder days. With its long expandable handle, large surface area for pushing high volumes of snow, and scratch proof material on the snow paddle, I can reach all corners of my truck quickly and efficiently, knowing that I wont scratch or dent the car! I tested out the SnoShark during the Southern Hemisphere's winter while training in Chile, and I can comfortable say that this tool will make my travel kit while I travel around the world this winter racing on the World Cup Tour."
-Travis Ganong 
Tahoe Local and US Ski Team Member  
SnoShark rewards will be proudly fulfilled by:
Watch the demo below to see our FIRST prototype from January 2017.
Risks and challenges
The most common risk for a project like ours is the manufacturing process. Fortunately, we have been in this industry for a decade and have an amazing team both domestically and offshore running the SnoShark project. The risks are minimal however there are always factors beyond our control. We are on track to deliver as promised but will be fully transparent in all cases, good and bad.
Learn about accountability on Kickstarter
Legacy Team LA
We are sorry, this project was not fully funded, no backers has been charged. We will keep everyone updated if this campaign is going to be relaunched. Thank you for your support!
Unfurtunately this project was not fully funded before the end date.