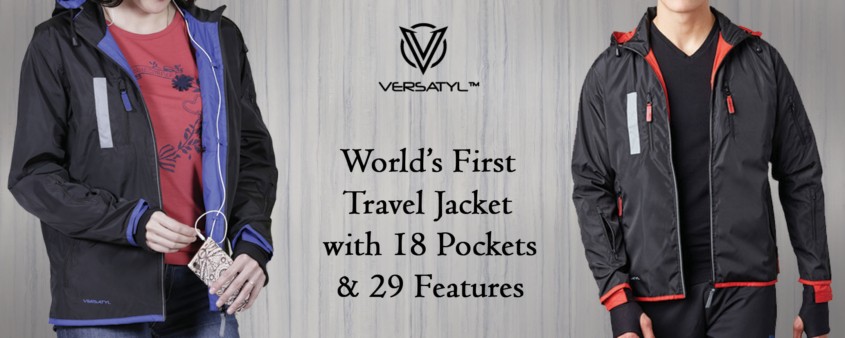 You may put any HTML here. This is dummy copy. It is not meant to be read. It has been placed here solely to demonstrate the look and feel of finished, typeset text. Only for show. He who searches for meaning here will be sorely disappointed.
Unfurtunately this project was not fully funded before the end date.
The Best TRAVEL JACKET with 18 Pockets Features. Purchase Now.
*Available for purchase now. International shipping.* TRAVEL JACKET with Earphone Loops, Gloves, Reflector, Tablet Pocket, etc. Comes in 4 Colours.
Legacy Team LA
AVAILABLE FOR PURCHASE NOW. INTERNATIONAL SHIPPING.
[embedyt] https://www.youtube.com/watch?v=1Qla0pjlBr0[/embedyt]
Quality materials. Skillful construction. Thoughtfully designed to carry every essential, comfortably-including itself! An all-season jacket.
INTRODUCING THE WORLD'S BEST TRAVEL JACKET!
What if you could carry all your travel needs in a jacket & free up space in your bag?
Introducing VERSATYL, a major innovation in travel jackets that promises to revolutionise travel. Made from a wrinkle-free and water resistant material this product is aimed at anyone looking for the convenience of clever storage in a outer garment while travelling. For everyday use, while trekking or while commuting on a bike, cycle etc.
29 UNIQUE FEATURES – thanks to clever designing, 
that includes 18 functional pockets and storage compartments. 
Check out the features that make this jacket the most versatile piece of clothing you'll ever own!
FRONT Pic: The front of the VERSATYL showcasing 16 features
INSIDE PIC: The Inside of the VERSATYL has another 11 features taking the total to 27 features.
The Jacket has a "carry all" pocket at the back – which means it folds into that pocket and the satchel can be carried around like a sling pouch. The same pocket doubles as a massive storage space when you are wearing the VERSATYL.
BACK PIC: The back of the VERSATYL has 2 additional unique features to add to it's 29 features.
The idea for this came when Saneen Javali (who was an engineer at IBM & now one of the Directors and Chief Designer at Emirate Fashions) was looking for something unique to make at a breakthrough price. Most travel jackets he noticed were overpriced and this spurred him to design the VERSATYL. The vision is to make it the de-facto standard in travel jackets. Be it on an aircraft or a boat, on a bike, trekking in the countryside or for everyday use, the Versatyl is what you want.
COLOUR AVAILABILITY – 
UNIQUE FEATURES – 
FIND YOUR FIT! 
Legacy Team LA
We are sorry, this project was not fully funded, no backers has been charged. We will keep everyone updated if this campaign is going to be relaunched. Thank you for your support!
Unfurtunately this project was not fully funded before the end date.