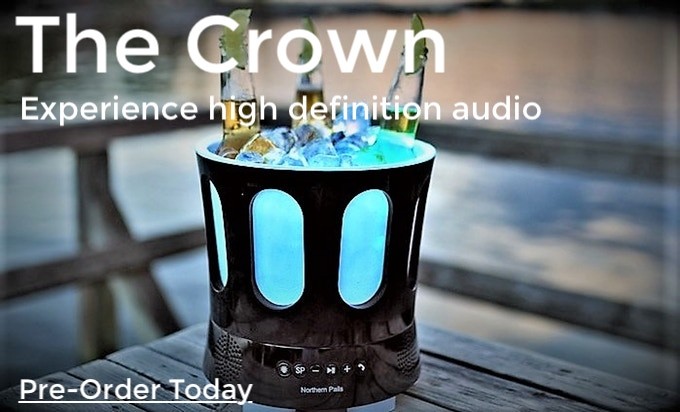 You may put any HTML here. This is dummy copy. It is not meant to be read. It has been placed here solely to demonstrate the look and feel of finished, typeset text. Only for show. He who searches for meaning here will be sorely disappointed.
The Crown Bluetooth Speaker with High Definition 360 Degree Sound
The Crown is a unique Bluetooth speaker featuring 360 degree surround sound.
Legacy Team LA
What makes The Crown different from all other speakers?  
The Crown has been given a patent because it creates sound unlike any other speaker. The white holes on the side of the speaker generate the mid and high sounds, whereas the base of the speaker generates the bass. The Crown Power On -sound is totally unique wind howl sound.
You can keep your belongings in The Crown and easily carry those where ever you go!
HIGH QUALITY SPEAKER WITH A TWIST
The Crown not only sounds exceptional, it has a rather exceptional design as well — and many connection possibilities.
The Crown's pail-like shape is its most innovative quality: not only does it guarantee a unique 360 degrees audio experience, it also turns the inside of the speaker even into an ice bucket.
What's more, you can keep all your belongings in one place without getting sand all over them. Just throw your keys, mobile phones and clothes in. Don't worry, the sound quality won't suffer!
The Crown is made for fun evenings out. It's easy to carry, and its battery will last 10 hours so you can listen to music and keep your drinks cold all night long. You can connect your phone to The Crown through a Bluetooth connection or AUX jack and even charge it by plugging it in.
RGB Sound Reactive Lights
You can create your preferred mood for any occasion with the RGB sound reactive lights.
Motion sensor
The Crown has been fitted with a motion sensor. When you lift The Crown, a bright LED light starts to glow, lighting the area beneath it, so you can find your way even in the dark.
USB power output
Never run out of battery on your mobile device when The Crown is around. Charges any device with a USB plug. You can also connect your device via auxiliary port (AUX) and listen your favorite songs!
Watch: The Crown – The Trailer
THE STORY BEHIND THE CROWN
On the right, you can see Jarno Voutilainen. Jarno is a typical Finnish man: he likes saunas and building things with his own hands. Therefore Jarno was pleased when he got to renovate his sauna two years ago. He was pleased with the result yet felt like something was missing as he wanted it to be extraordinary. The first version of The Crown was a very basic DIY, dimly lit sauna pail.
Jarno and Jari-Matti have always been interested in developing new products, and as Jarno has studied engineering so he understood the possibilities of The Crown. Still, the speaker turned out better than he ever expected. Jarno: "Even sound engineers have been surprised by the quality of sound. We even surprised ourselves."
Jarno and Jari-Matti not only developed the product to where it is now, but got the product tested and patented, and negotiated a good deal with a factory specialized in similar products. Now they just need your help to get enough pre-orders to start the production.
If you talk to us here or on social media, you'll probably be chatting with Salla Hänninen, who's helping us with communications and marketing (and writes these descriptions). Any questions? Contact us on social media and she'll be happy to chat with you!
We're also grateful for all the help by these people:
Robert Helenius (The Nordic Nightmare, European Heavy-Weight Champion, promotion)
Jussi Hevander (imagery)
Emma Ronkainen (photography)
WE ARE READY TO START PRODUCTION
The Crown is ready for production, patented and tested. The funding from this campaign will be used to fulfill the minimum order required by the factory. Therefore you should receive your rewards by the end of 2018 at the latest.
—————————-
MEDIA COVERAGE
Iltalehti newspaper: "All functions in one compact package."
Savon Sanomat newspaper: "Perfection."
Kim Vaisanen of Finnish Shark Tank: "Very very very interesting product!"
An engineer of the speaker manufacturer: "This is a perfect speaker due to its shape."
—————————-
OUR PARTNERS
Supported by European heavy-weight champion Robert Helenius
Robert Helenius, also known as the Nordic Nightmare, is a professional boxer and former two-time European heavyweight champion. He's also a fan of The Crown, as it gets him in the mood and keeps his water bottles cold during training.
Multifunctional HD Audio Pail:
• Body material: Durable Eco-friendly ABS plastic (certificate)
• Safe to use
• Shape of The Crown makes 360° HD Surround Sound (Patent)
• RGB Sound Reactive Lights. Options: Red, Green, Blue and Sound reactive -modes
• Phone calls
• Motion sensor W/ bottom light
• Water and heatproof Spa pail
Connections and plug in
Auxiliary port (AUX)
Bluetooth 4.2
Micro USB Battery charge
USB power bank
HD 360 Audio
Full frequency speakers 2 x 8 W 
Subwoofer 25 W
Total speaker power 41 W!!!
• Battery duration: 10 h
• Color options: Black or White
————————————
The Crown is in the final stage for manufacturing and we will soon begin our production. Our team is working with our manufacturing and shipping partners.
Through our upcoming process we will be:
1. Signing contracts
2. Finalizing The Crown for production
3. Performing our final product safety testing and quality control
4. Starting production
5. Shipping
Please note! If a buyer does not pay for the VAT and shipping fees (if applicable) at the end of the campaign, Northern Pails is not obligated to send the rewards or return their money.
Legacy Team LA
This project is coming to life. Thank you for showing your support!
The Crown - Royal Bluetooth speaker
Pledge $149 + $0 shipping cost
The Crown
Pledge $169 + $0 shipping cost
2x The Crown
Pledge $298 + $0 shipping cost
5x The Crown - Gift Pack
Pledge $739 + $0 shipping cost