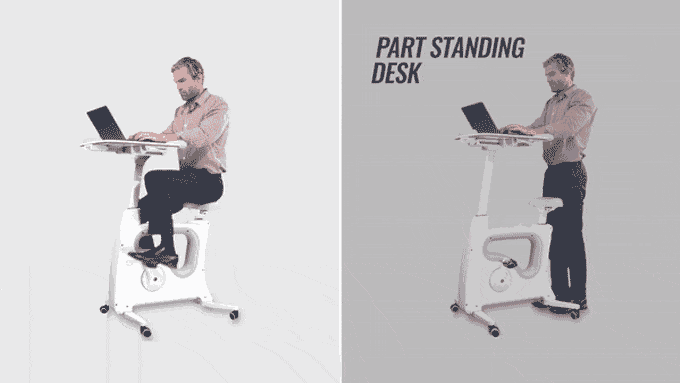 You may put any HTML here. This is dummy copy. It is not meant to be read. It has been placed here solely to demonstrate the look and feel of finished, typeset text. Only for show. He who searches for meaning here will be sorely disappointed.
Unfurtunately this project was not fully funded before the end date.
FlexiSpot Deskcise Pro: All-in-One Exercise Workstation
Part exercise bike, part standing desk, Deskcise Pro™ maximizes your activity level while watching TV, reading a book, or working.
Legacy Team LA
Fortunately, there's one simple solution to help you solve all problems. What is it? The FlexiSpot Deskcise Pro™. It's a comfortable, ergonomic desk/chair/exercise bike trio that lets you work out while working. And, super early bird backers can get one for only $299. Care for your family by bringing them into a healthier lifestyle with innovative Deskcise Pro.
Boosts Focus in Children
Cycling with Deskcise Pro provides multi-sensory environments and helps boost concentration in children. Children can use daily cycling to improve focus.
Improves Sleep & More for Parents
In as little as 30 minutes a day with Deskcise Pro, parents struggling with insomnia, anxiety, or obesity can get exercise to improve their condition–all while working, watching TV or reading.
Increases Activity for Grandparents
Because it's gentle on the joints, low-impact cycling with Deskcise Pro can help seniors stay alert and active. Regular exercise may even reduce their risk of mental decline, or relieve insomnia, and anxiety.
On-Demand Height-Adjustable Desk
FlexiSpot Deskcise Pro™ has an on-demand height-adjustable desk. The revolutionary design lets you go from sitting to cycling to standing with one space-saving solution.
On-Demand Height-Adjustable Chair
Whether 5'1" or 6'2", everyone in the family can comfortably use the Deskcise™. The user-friendly pneumatic adjustment lever moves the seat up or down with a gentle press–no pins or knobs to adjust.
Easy-Rolling Casters
Easily move Deskcise Pro™ from room to room with 4 durable caster wheels that swivel 360 degrees. Stay safely in place while cycling thanks to Deskcise™'s gravity sensor wheel locks.
1-Minute Assembly
Simply attach the desktop to the Deskcise™ and it's ready to use in as little as one minute. No extra tools or complicated assembly needed.
8 Resistance Levels
Customize the resistance intensity to go from light activity to a more robust workout.
Quiet & Smooth
Cycle without disturbing those around you using the whisper-quiet pedaling system.
FlexiSpot Deskcise Pro™ is versatile enough to use in the living room, bedroom, home office, patio, corporate office, library, or nursing room.
FlexiSpot Deskcise Pro™ is suitable for college students, home-based entrepreneurs, writers, designers, veterans, business executives, retirees, and so on.
Much like the journey from conception to birth, it took nine months for us to give life to the final design for Deskcise Pro™. More than 20 talented designers and engineers collaborated to make sure every feature contributed to the comfort, productivity, and health of our customers.
At every phase, from the drawing board to production, we made tweaks and enhancements that made this one-of-a-kind product even better. By listening to the feedback from more than 50 test users, we were able to make Deskcise Pro™ quieter (it's now <60db), easier to assemble (only one simple piece to attach now), and smoother to adjust (the desktop now shifts up, down, forward, and backward with ease).
We didn't just make it more functional, we made it more aesthetically appealing as well. Instead of the original black seat and components, we opted for a softer gray seat with matching components to better complement the decor of most home and office settings. We also made it safer by optimizing the four caster wheels with gravity-sensor wheel locks that keep it from rolling while in use.
Each one of these improvements has made Deskcise Pro™ a truly revolutionary product that we are proud to finally share with you.
Legacy Team LA
We are sorry, this project was not fully funded, no backers has been charged. We will keep everyone updated if this campaign is going to be relaunched. Thank you for your support!
Unfurtunately this project was not fully funded before the end date.