You may put any HTML here. This is dummy copy. It is not meant to be read. It has been placed here solely to demonstrate the look and feel of finished, typeset text. Only for show. He who searches for meaning here will be sorely disappointed.
Two GoFindMe GPS Trackers
2*GoFindMe GPS Tracker, 2*Attachment Strap, 2*Micro USB Cable
$199 + $10 shipping cost
Three GoFindMe GPS Trackers
3*GoFindMe GPS Tracker, 3*Attachment Strap, 3*Micro USB Cable
$289 + $14 shipping cost
Four GoFindMe GPS Trackers
4*GoFindMe GPS Tracker, 4*Attachment Strap, 4*Micro USB Cable
$379 + $14 shipping cost
Five GoFindMe GPS Trackers
5*GoFindMe GPS Tracker, 5*Attachment Strap, 5*Micro USB Cable
$469 + $14 shipping cost
Ten GoFindMe GPS Trackers
10*GoFindMe GPS Tracker, 10*Attachment Strap, 10*Micro USB Cable
$899 + $36 shipping cost
GoFindMe: A GPS Tracker Works Without Cell Service
Real-time Tracking. Off-grid Messaging. One-Button SOS. Geofencing. Meshnet. No SIM Card Needed.
LOCODOR Social Media Crowdfunding


Outdoor Adventures
One of the biggest challenges for outdoor activities is undoubtedly the communication and safety problem in the wild. GoFindMe comes as a good assistant, by allowing you to split and group up later easily, interact efficiently and explore safely.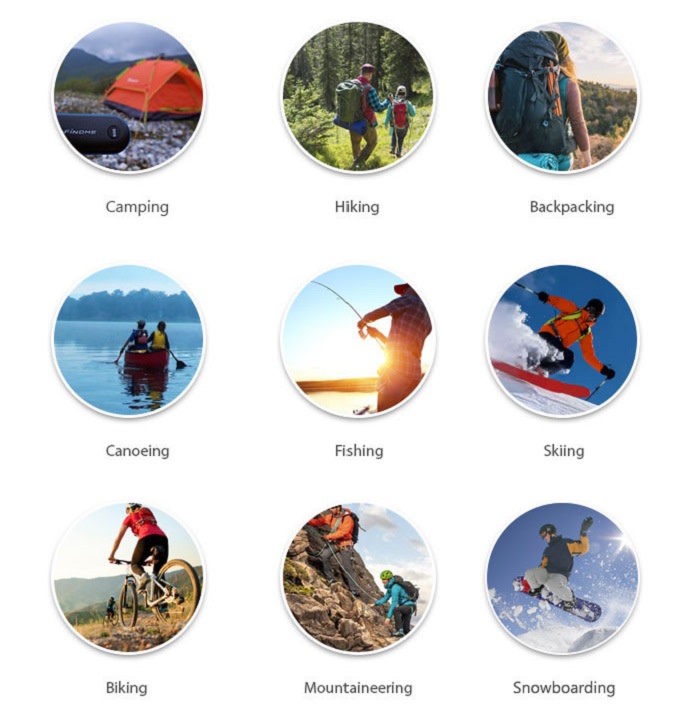 Crowded Events
Attending crowded events can be full of frustration, when the network is congested with too many users and you find it really hard to describe where you are or find your peers. With GoFindMe, you can connect with your peers instantly and find each other quickly.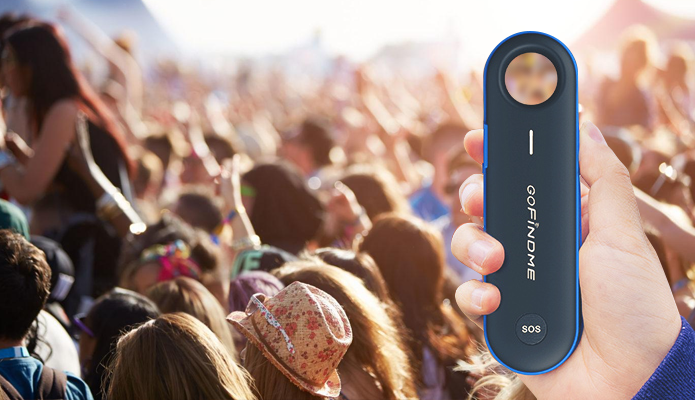 Traveling Abroad
Whether you're on a business or family trip abroad, communication is most crucial. GoFindMe saves you the hassle of buying a SIM card and enables you to stay in touch without worrying about roaming charges, making international communication a lot cheaper and easier.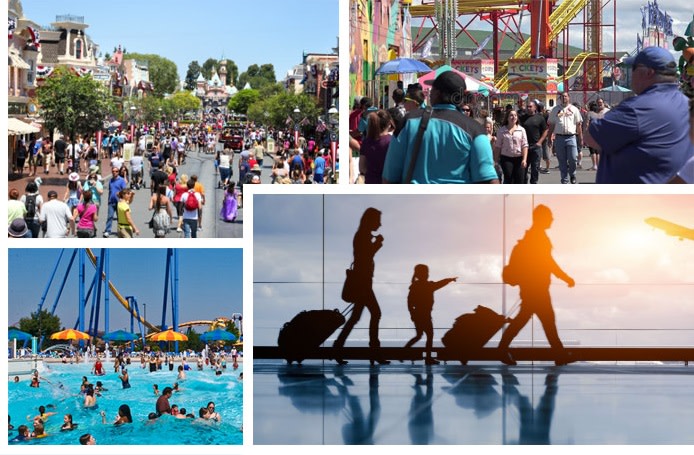 Emergency Situations
During emergency situations when the grid has been crippled and network towers destroyed, GoFindMe gives preppers and survivalists a critical, potentially life-saving off-grid communication network, making the search-and-rescue work smooth and convenient.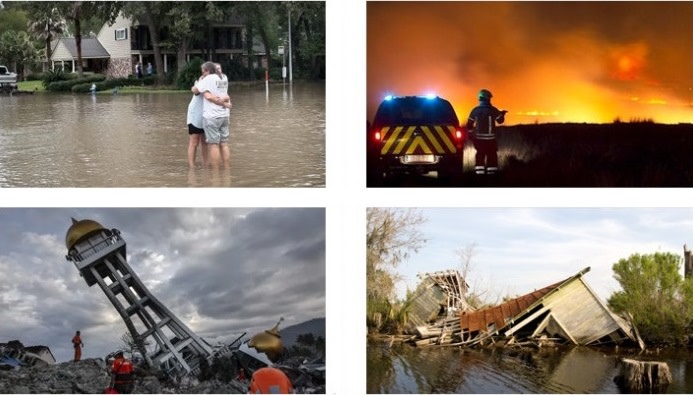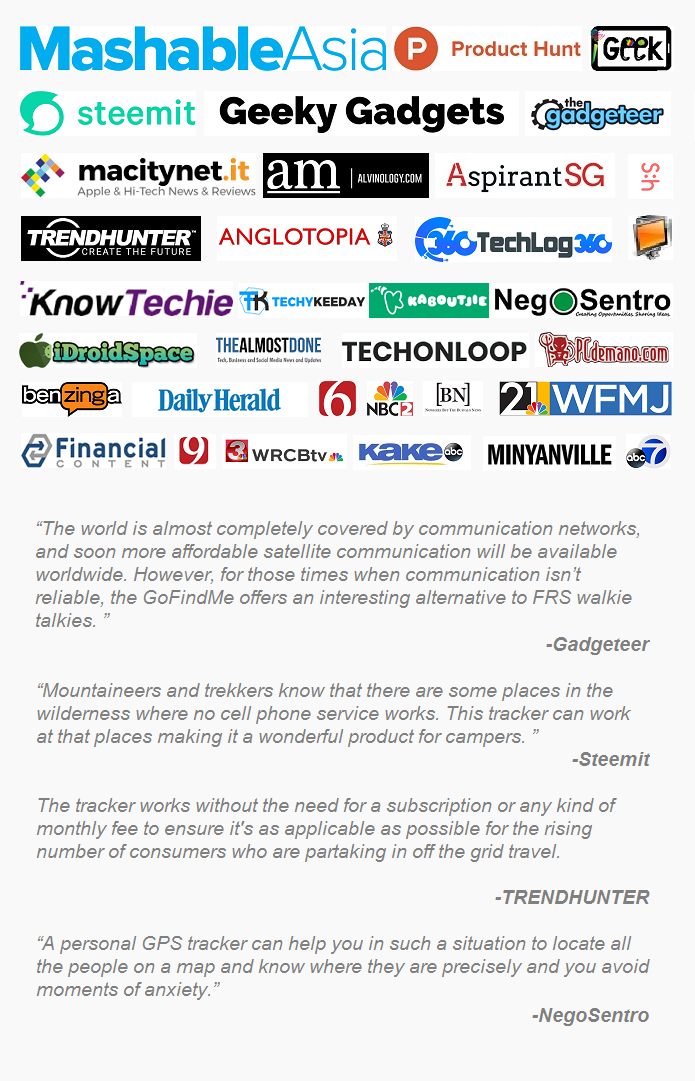 Real-time Location Tracking
Track each other instantly by real-time position, distance, direction and trace display. Connect with your group and find every group member easily at all times.
Off-grid Chat via Text & Voice
Send texts, locations & pre-recorded voice messages to your people even without cell service, making communication a lot easier. No worry about message security since it's all encrypted.​
One Button Emergency SOS
GoFindMe SOS button allows you to send an emergency alarm to other members, even if the paired mobile fails. Others can find the best route to you by shared traces or by the maps.
Automatic Trace Record
Traces are saved automatically, which help you find the correct direction to go back to where you come from if you don't remember the way going back, e.g. when hiking in the woods. ​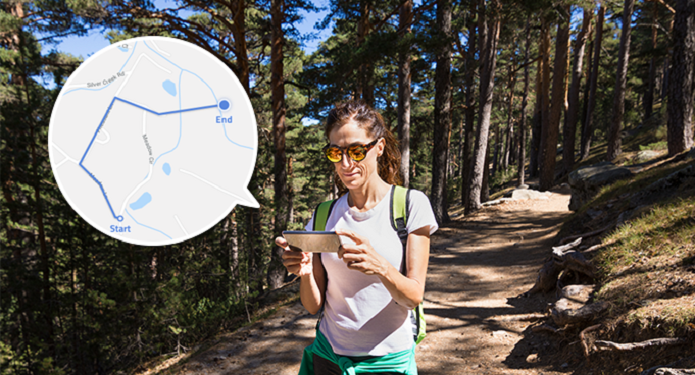 Link up Group Activities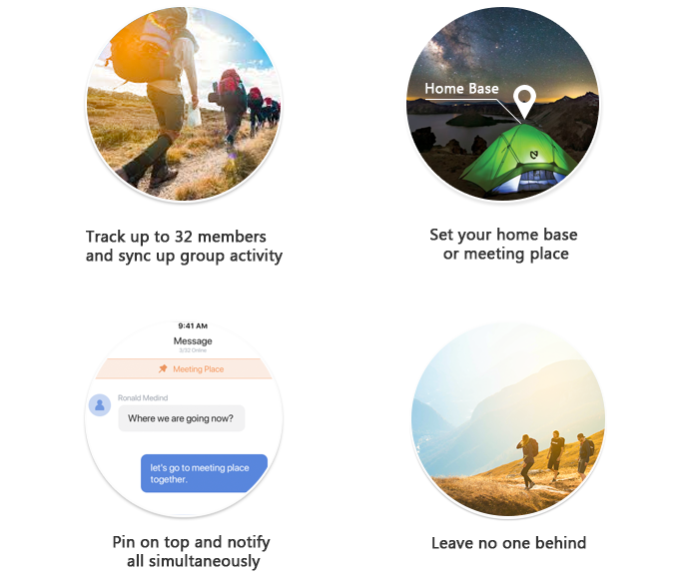 Set up Customized Safe Zone
Preset a variably sized virtual circle and receive alerts with flashing light and voice broadcasting once anyone leaves that circle, which ensures that no one wanders too far away.​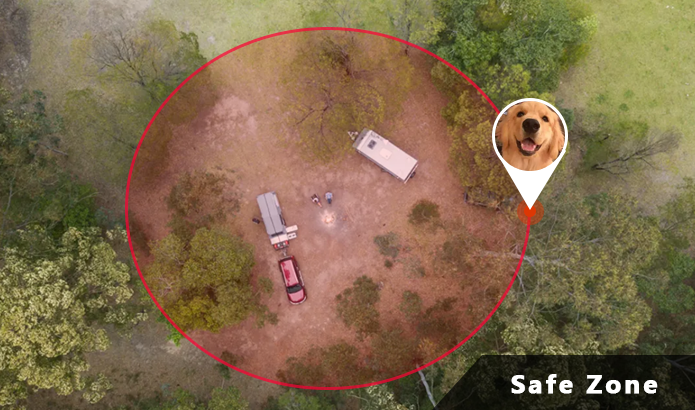 Expand Communication Range by Mesh Network
Turn on Mesh in the App to relay messages among all members when you share locations or send SOS, enabling you to connect over greater distances and reach out-of-range recipients.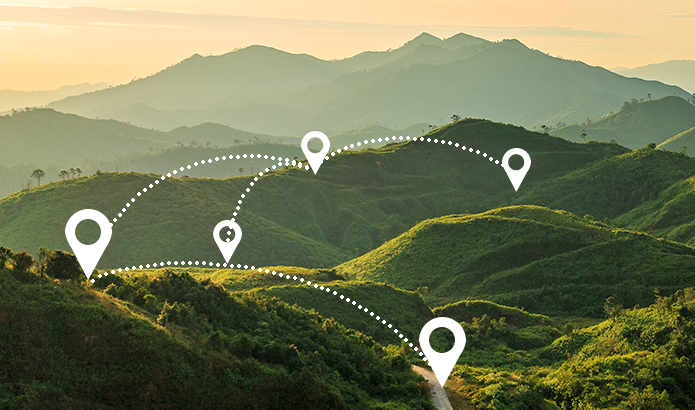 Waterproof, Dustproof, Shockproof & Weather-resistant
IP67-rated dustproof and watertight. Being robustly engineered, it is shockproof, and stands up to extreme weather——no trouble handling temperatures ranging from -4°F to 140°F.​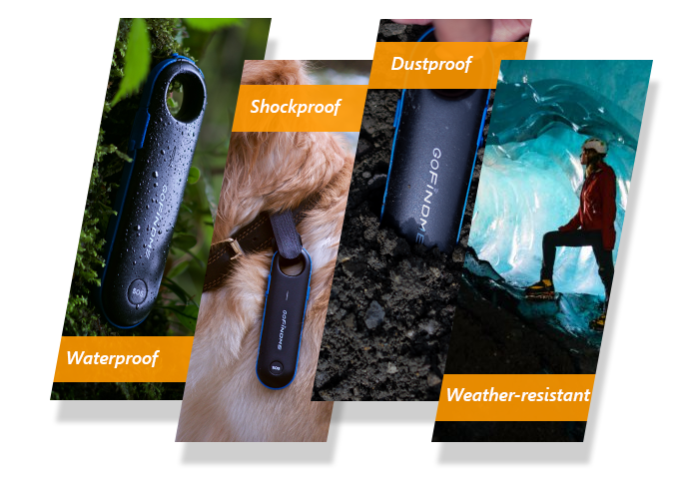 Built-in Accurate GPS Module
Integrated GPS module enables independent location tracking with an accuracy of 3-5 meters. Moreover, you can locate it easily by the tracking record even if the device itself is lost.​

Free Offline Maps
Download high-resolution offline maps, whether geographical or topographical, and then plan your trips with detailed paths and contours, totally without any need of cell coverage.​

Ultra Portable
Coming with a convenient strap, GoFindMe is super easy to wear, even for your kids or pets. Being lightweight, small and compact, it helps you travel light.​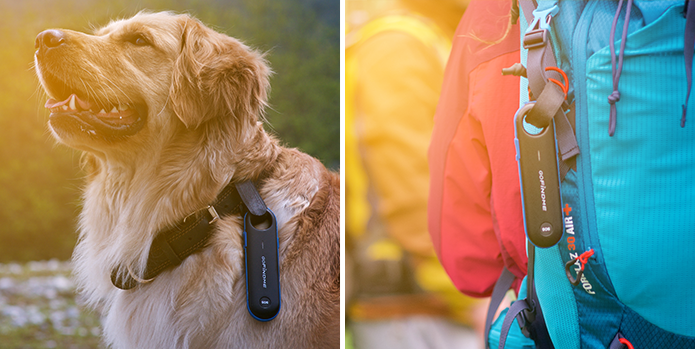 Stable & User-friendly App
GoFindMe seamlessly pairs to a companion iOS and Android App. The intuitive interface is quite simple, and it works stably in good speed and response time.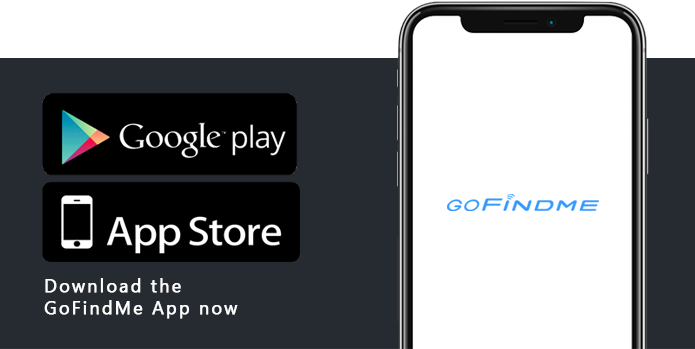 Keep an Eye on Your Loved Ones
GoFindMe is a nice and discrete way to help keep an eye on the pets, the kids, the elderly, or the people with special needs (such as the ones who suffer from Alzheimer's Disease), giving them the freedom to explore and experience the exciting world on their own. ​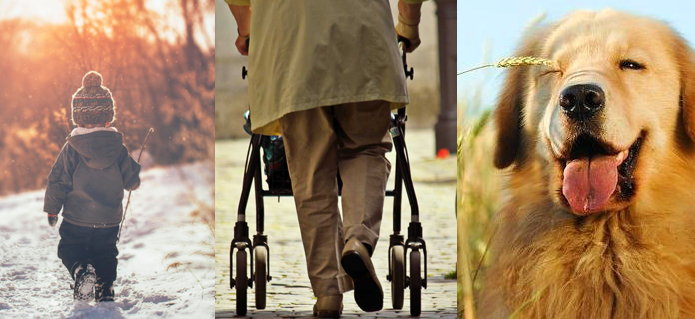 Works Anywhere Under the Open Sky
Working range is up to 5 miles (8 km) in your line of sight, 3 miles (5 km) in the downtown.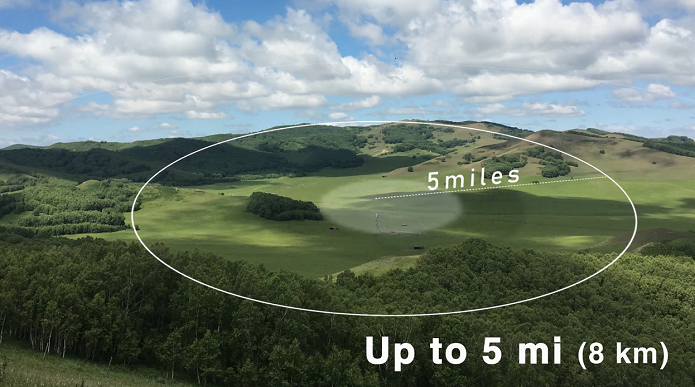 High capacity rechargeable battery allows you to use it for 72 hours upon one single charge.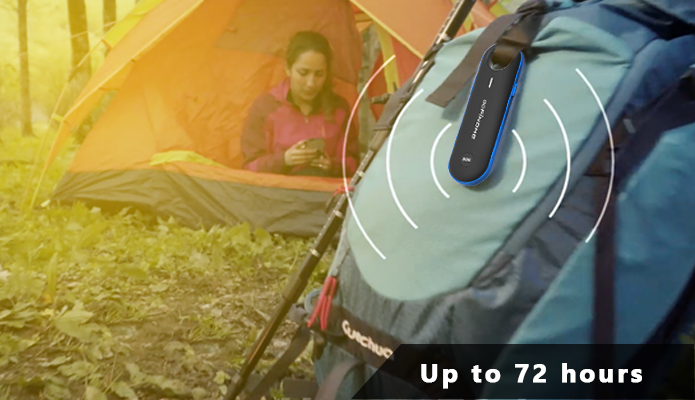 FCC & CE & IC approved, tune to proper frequency band and power output based on country.


Taking advantage of the built-in GPS modules and the low-power wide-area network LoRa technology, GoFindMe devices work independently by creating a localized network between all users within range, without needing any cellular network or Wi-Fi.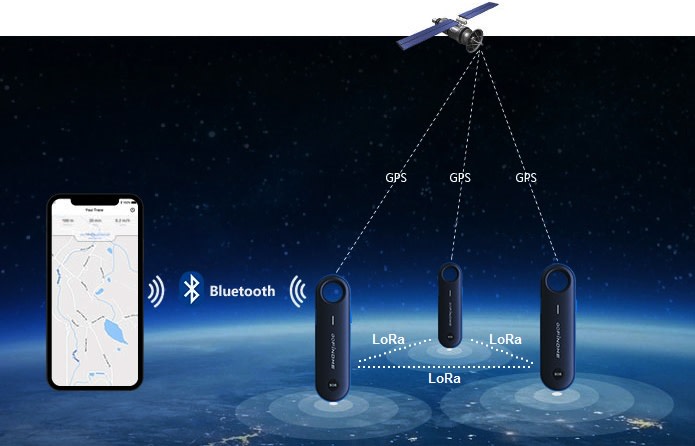 ✧ When turned on, GoFindMe devices keep receiving GPS signals from a range of satellites to obtain latest location information.
✧ Nearby GoFindMe devices will join in a default group automatically. You can also create a new group code to encrypt your communication.
✧ GoFindMe devices in the same group transmit all data (GPS coordinates, texts, voice messages, SOS, etc.) via LoRa technology.
✧ Install GoFindMe app, pair GoFindMe device with smartphone via Bluetooth, and download offline maps of the target area before you go.
——Now it's up and running! You can start to check locations and communicate with other group members freely.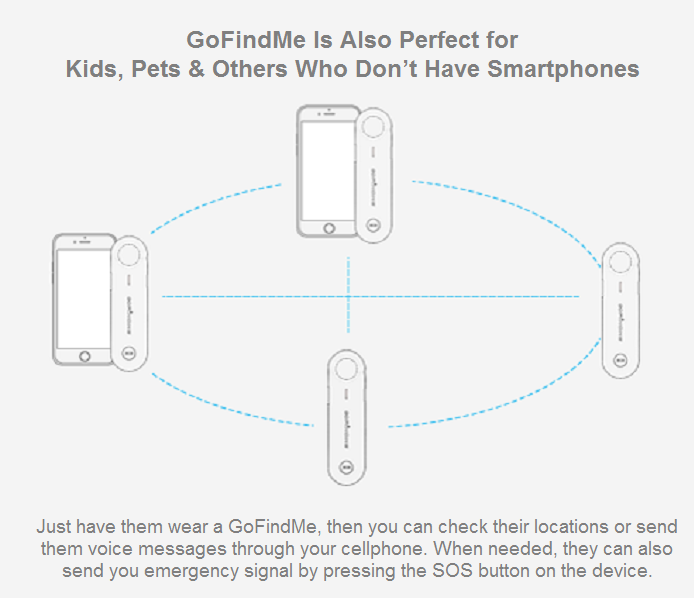 GoFindMe GPS Tracker*1, Attachment Strap*1, Micro USB Cable*1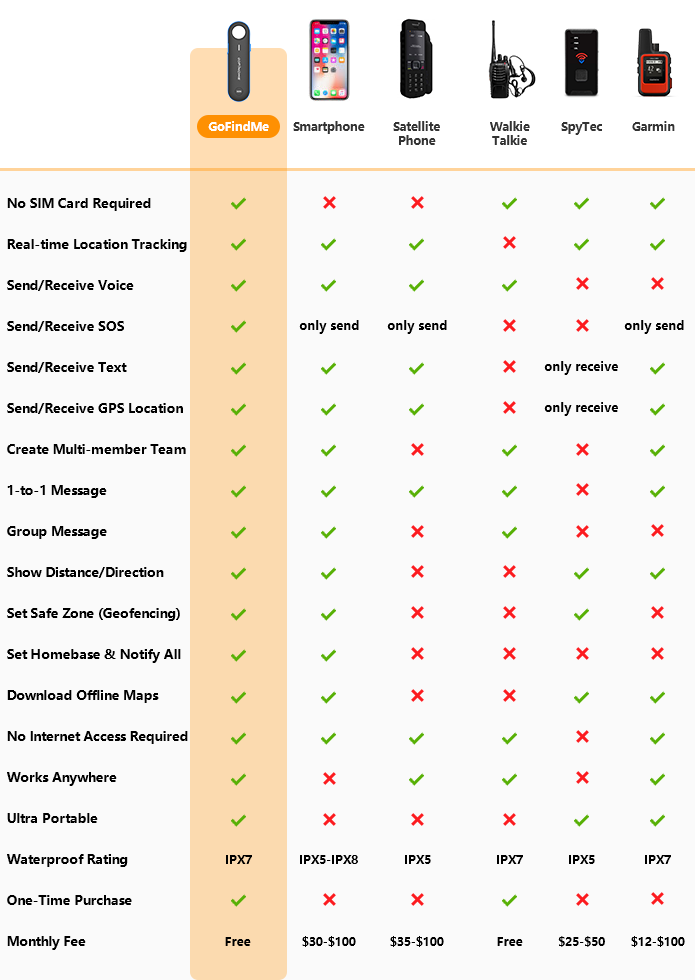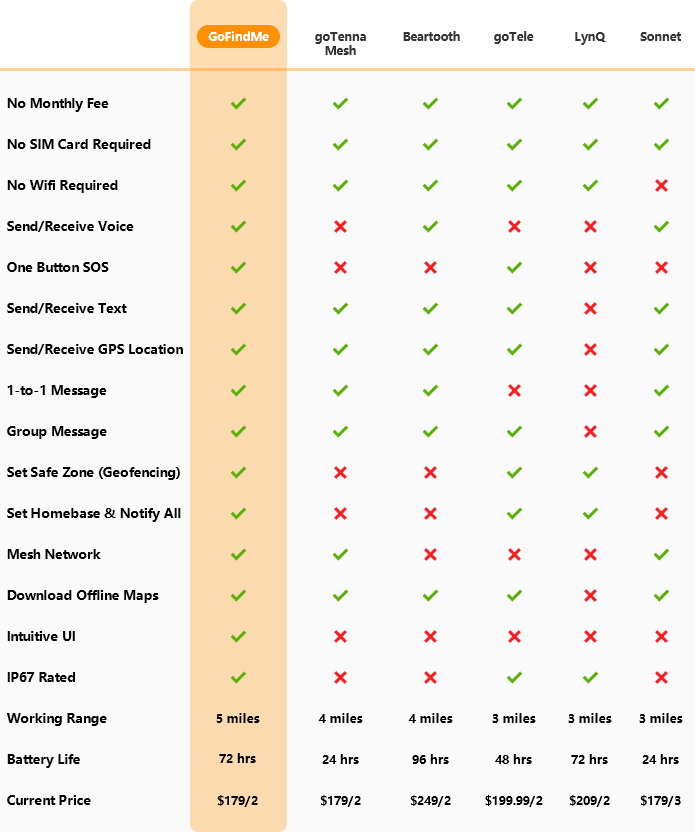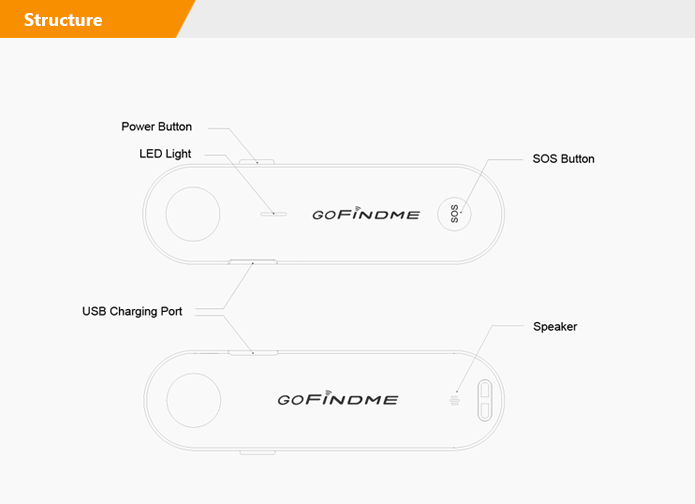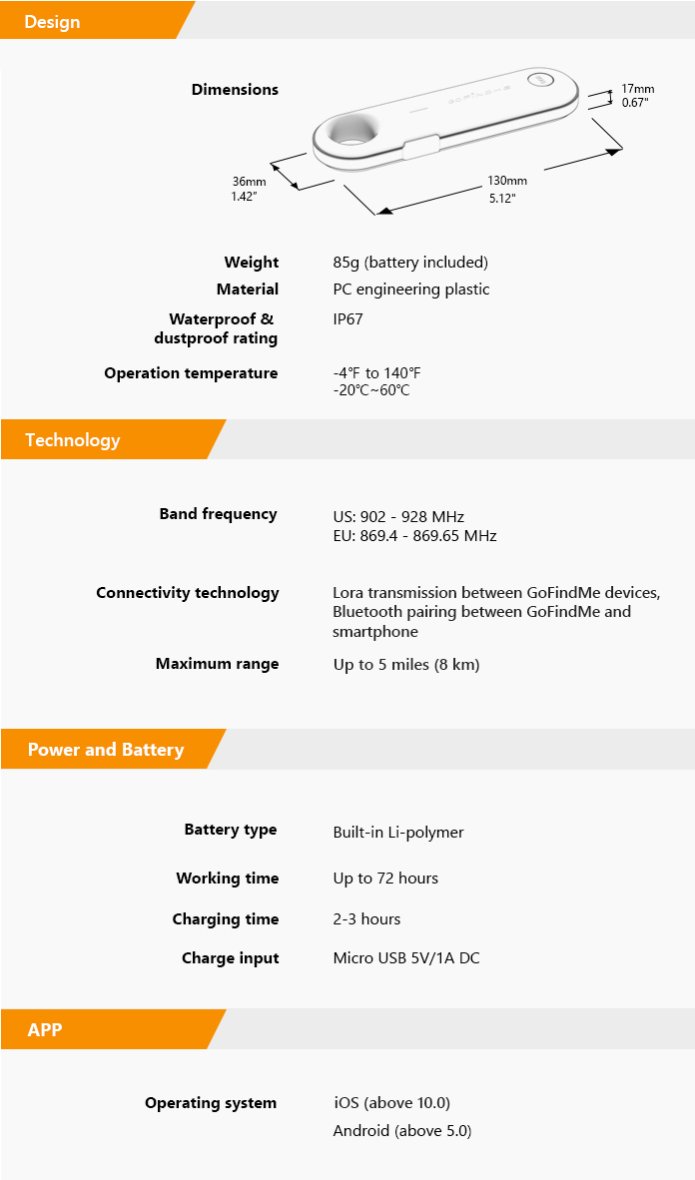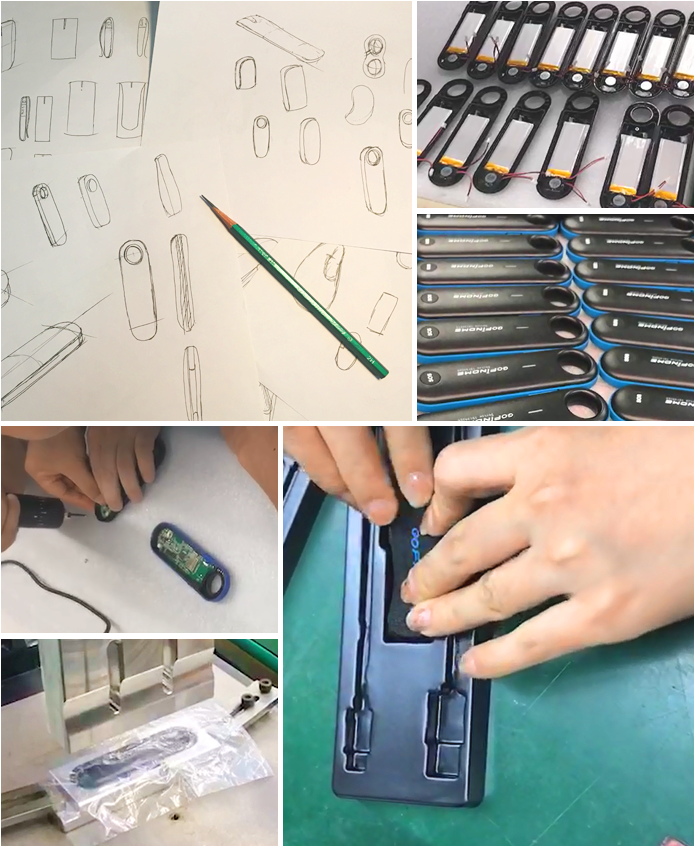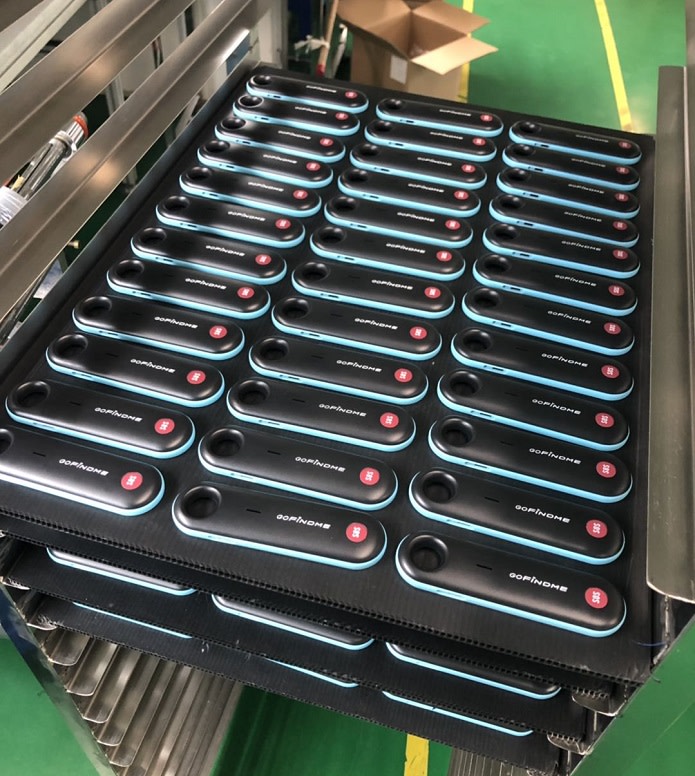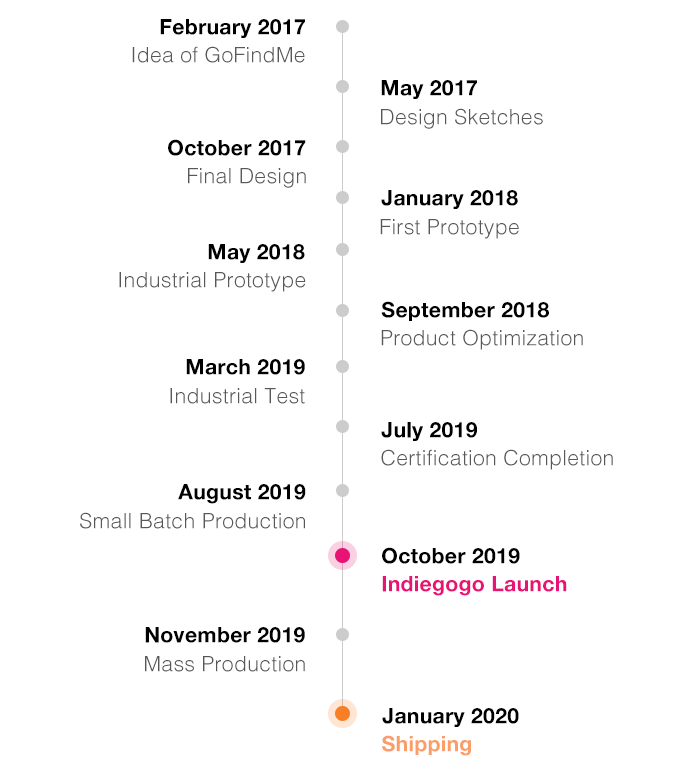 At AIBLUE, many of us are outdoor enthusiasts ourselves. We love exploring the backcountry and experiencing the thrill of adventures, but we truly don't like it when we have difficulty staying in communication and finding each other when there's low-to-no cell coverage. Aiming to offer an all-around tracking & communication solution to outdoor adventurers, and to the larger group of people engaged in all kinds of off-grid activities, we created GoFindMe.
We have confidence in GoFindMe, which is the result of combined efforts of our Product, Design, Engineering, Software Development and QA team, on the basis of deep understanding on users' problems and needs. Our team has tested GoFindMe a number of times in different terrains with reliable performance results. Moreover, to get a fresh and unbiased perspective from end users, we had also worked with beta testers to identify possible flaws and improve accordingly to ensure what we bring consumers is a ready-for-market product.
We choose crowdfunding before we shift into commerce, because it provides us a great opportunity to work with early adopters first, so we may receive more valuable feedback in the fastest way; and in return, we'd like to reward our early fans with special discounts. Currently, prototype has been turned to MASS PRODUCTION, and FCC & CE & IC(certifications required for international shipping) are completed, so the most exciting thing is that all orders will be shipped out really fast!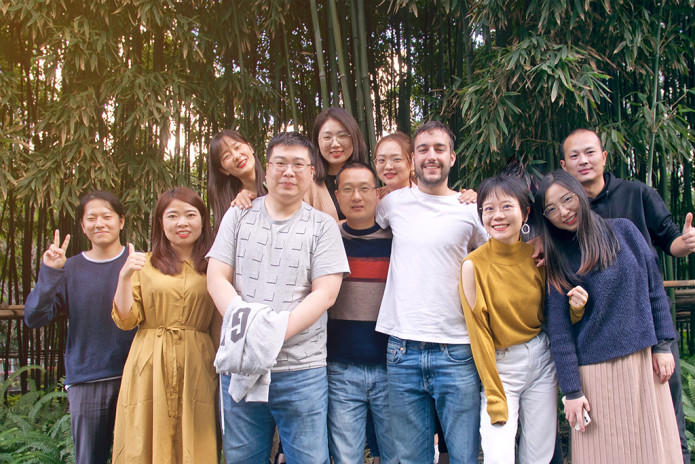 LOCODOR Social Media Crowdfunding
This project is coming to life. Thank you for showing your support!
Two GoFindMe GPS Trackers
2*GoFindMe GPS Tracker, 2*Attachment Strap, 2*Micro USB Cable
Pledge $199 + $10 shipping cost
Three GoFindMe GPS Trackers
3*GoFindMe GPS Tracker, 3*Attachment Strap, 3*Micro USB Cable
Pledge $289 + $14 shipping cost
Four GoFindMe GPS Trackers
4*GoFindMe GPS Tracker, 4*Attachment Strap, 4*Micro USB Cable
Pledge $379 + $14 shipping cost
Five GoFindMe GPS Trackers
5*GoFindMe GPS Tracker, 5*Attachment Strap, 5*Micro USB Cable
Pledge $469 + $14 shipping cost
Ten GoFindMe GPS Trackers
10*GoFindMe GPS Tracker, 10*Attachment Strap, 10*Micro USB Cable
Pledge $899 + $36 shipping cost