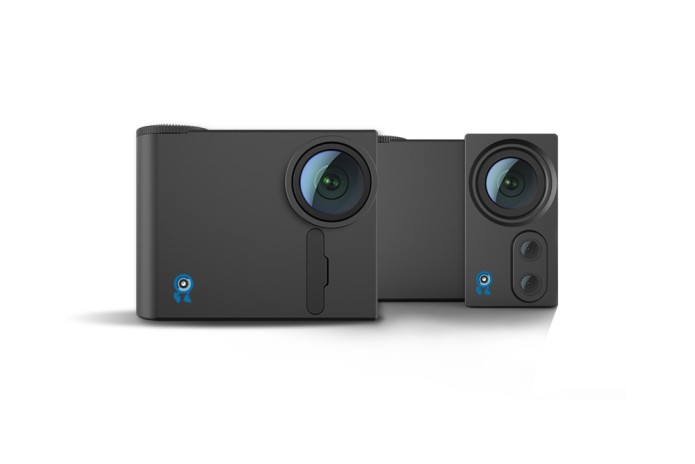 You may put any HTML here. This is dummy copy. It is not meant to be read. It has been placed here solely to demonstrate the look and feel of finished, typeset text. Only for show. He who searches for meaning here will be sorely disappointed.
Laibox Cam The First Modular Action Camera
Meet Laibox Cam The World's First Interchangeable Lens Action Camera
Legacy Team LA
Meet Laibox Cam
The World's First Interchangeable Lens Action Camera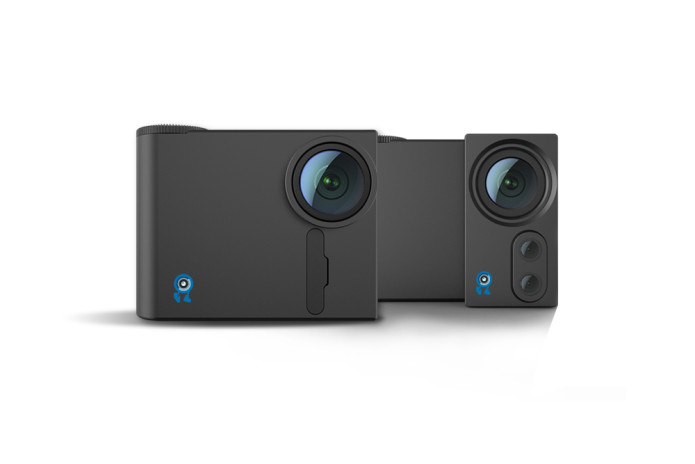 Interchangeable Lens
Interchangeable Lens give you inspiration to capture the moment you want , but the most of action cameras on the market only provide wide angle lens, you don't have any other options to take truly unique photos. This is the reason why our team created Laicam. It is the first action camera with interchangeable lens, you can switch lens for different occasions just like typical DSLR. But better than that, changing lens for Laibox Cam is as easy as sticking two Lego bricks.
Why Laibox Cam
Laibox Cam have the fish-eye camera with wide-angle lens camera with a range of up to 170°and 14 million piexls in high resolution. It could be support 4K pixel when take the video. After you change into the double SENSOR module, it will have a 8X optical zoom function. The picture do not have distortion when shot taken at close range. After you change into the panoramic lens module, it could be reach 720°shooting, angle with out any blind angle.
720° Full View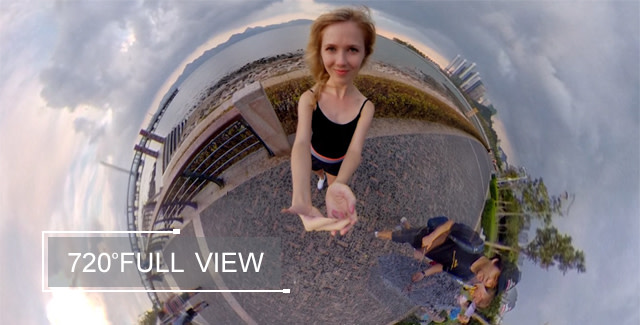 8X Optical Zoom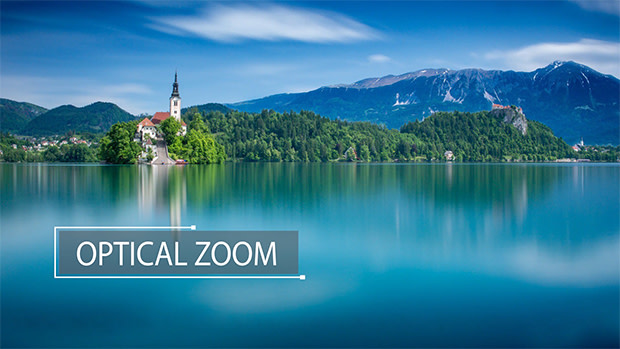 Flat Angle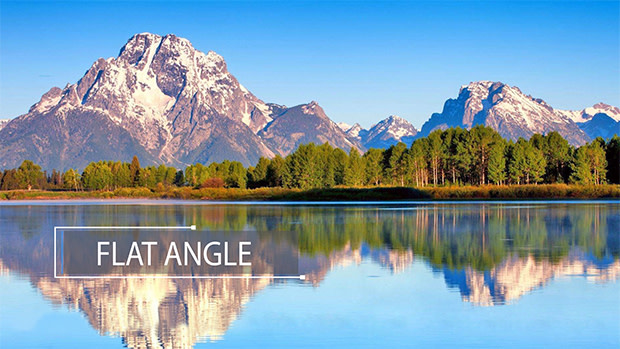 170° Wide Angle Lens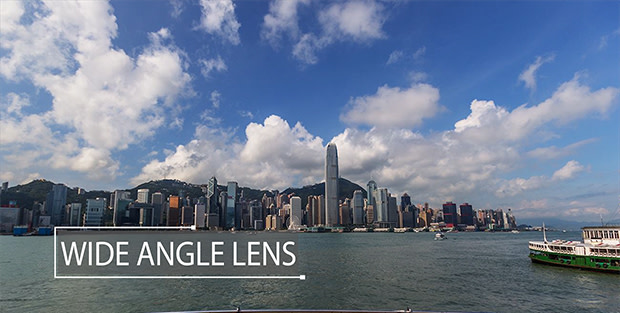 Dual 13MP Lens
The first Lens Laibox Cam offers is Dual 13MP lens. Most wide angles lenses use software to cut the photo and  stretch it with algorithm. Photo quality is not so good as real in this way. Laibox Cam has Dual 13MP Lens to capture more light, more details and get greater depth of field.
Dual 13MP Lens is our first extra lens for Laibox Cam, the next ones will be 360° lens, VR lens etc. With your support Laibox Cam has unlimited possibility. Once you have a Laibox Cam camera, that menas you have a sports DV, optical zoom camera and 360° panoramic camera  at the same time.
Capture Your Movement In 4K
With  14mp  sensor and 7G lens, Laibox Cam can record 4K pictures and videos at 30 frames per second. The optical image stabilization (OIS) technology makes every movement crisper, clearer and more details.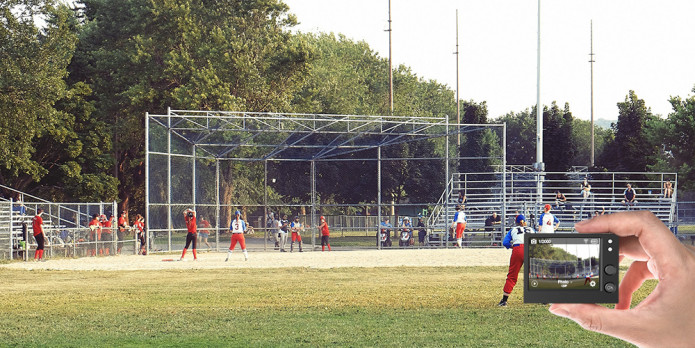 7 Layers Glass Lens
7 Layers Glass lens provides more colors and details for your photo.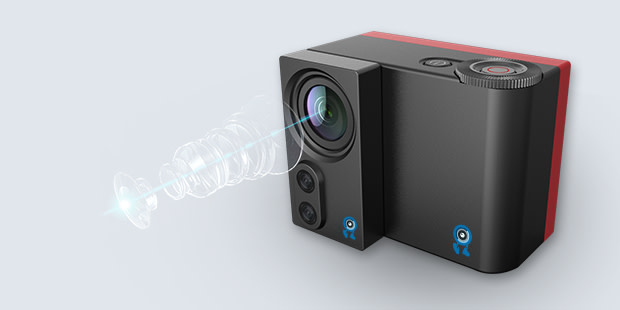 Long Lasting Battery 
You don't want to miss any precious moment  when the battery is dead. Laibox Cam uses  hot-swappable  battery, you  change battery while camera is working. Extra battery has 1100mAh capacity and lasts for more than 2  hours. Our battery  and battery case are also compatible with GoPro Hero 5.
180° Rotatable Screen
Get a better selfie with Laicam's 180° Rotatable Screen.
Stereo Mic For Immersive Sound
Record clear and real sound with Laicam's built-in stereo mic. We place the mic on the top of the camera to reduce wind noise and improve sound quality on voice recordings.
Easy Control
Laibox Cam is designed to operate with single hand.All buttons are in places where your thumb and forefinger  can reach easily . Thanks to the mini size and image stabilization technology, you can take high quality picture just with one hand.
Remote Control
You can control Laicam via our APP to monitor the scene and take picture / video.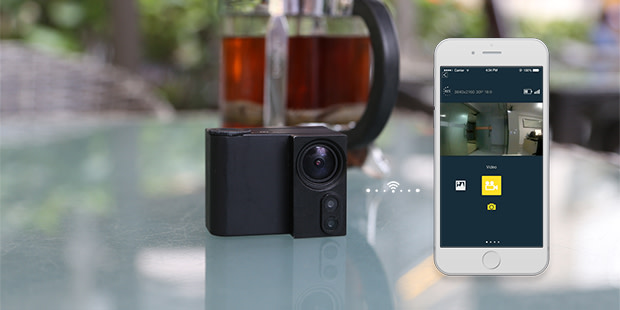 See It In Action
A Closer Look At Laicam
Perks
Laicam is a startup team based in Shenzhen. Our team members have dedicated to camera  R&D for years. Our initial thoughts of LaiCam is to create a versatile action camera that can be used in various situations. So we developed additional modules that are interchangeable for various requirements. Laicam is an action camera that has optical zoom with its dual-lens module, macro lens for close view,etc. with your support, we can make this wonderful idea come true.
Timeline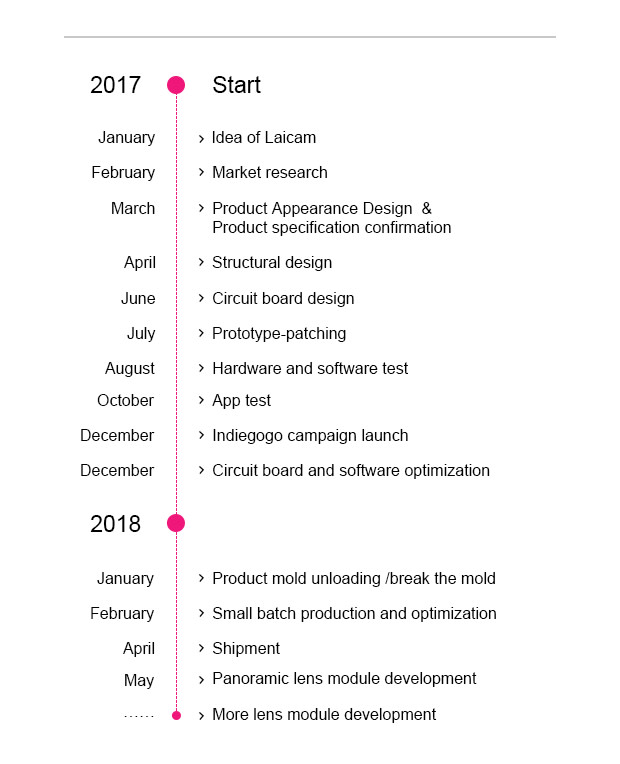 Legacy Team LA
This project is coming to life. Thank you for showing your support!
Early bird set
camera+ waterproof case +battery+8X optical zoom Lens+remote control+panoramic
Pledge $219 + $0 shipping cost
Early bird price
Camera+ waterproof case +battery+remote control
Pledge $159 + $0 shipping cost