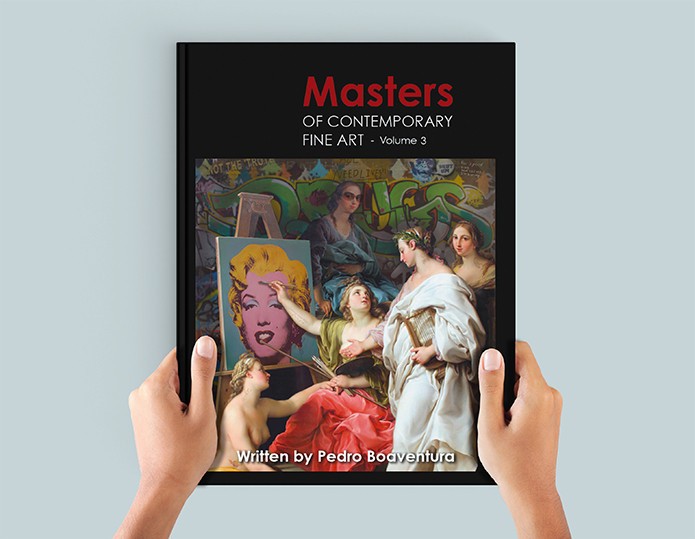 You may put any HTML here. This is dummy copy. It is not meant to be read. It has been placed here solely to demonstrate the look and feel of finished, typeset text. Only for show. He who searches for meaning here will be sorely disappointed.
Hardcover book - Masters Vol. 3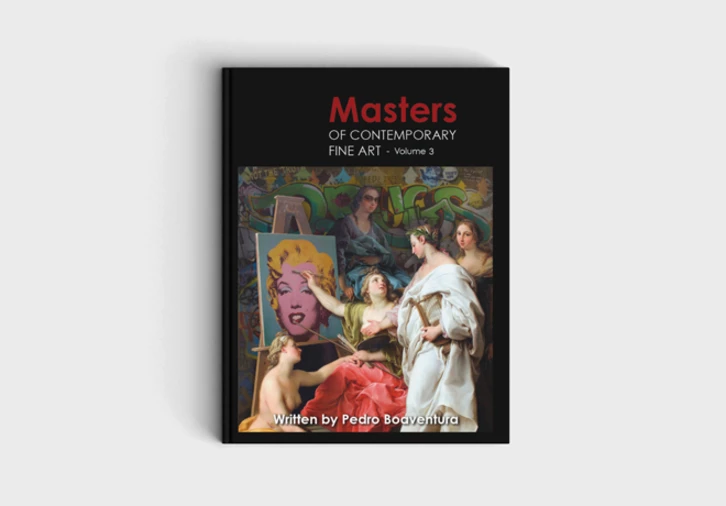 $63 + $0 shipping cost
Digital book: Masters Vol. 3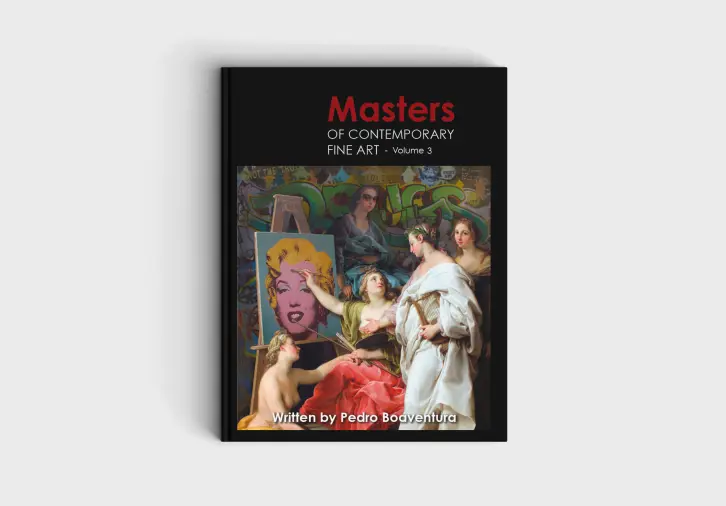 $8 + $0 shipping cost
Digital book collection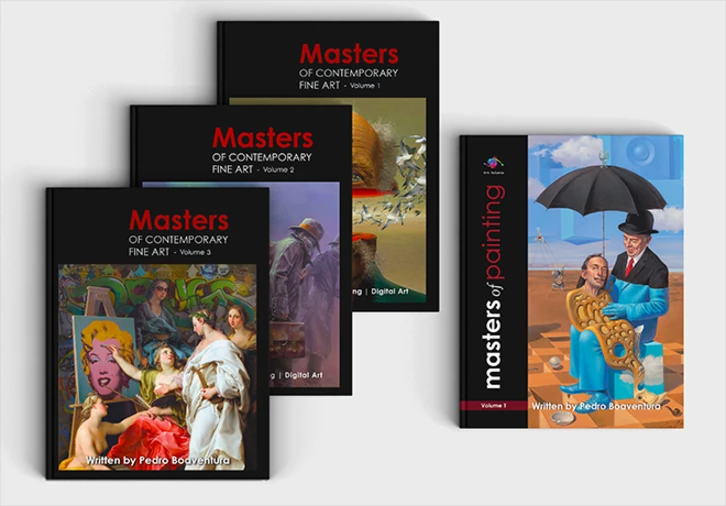 $28 + $0 shipping cost
Thank You in art book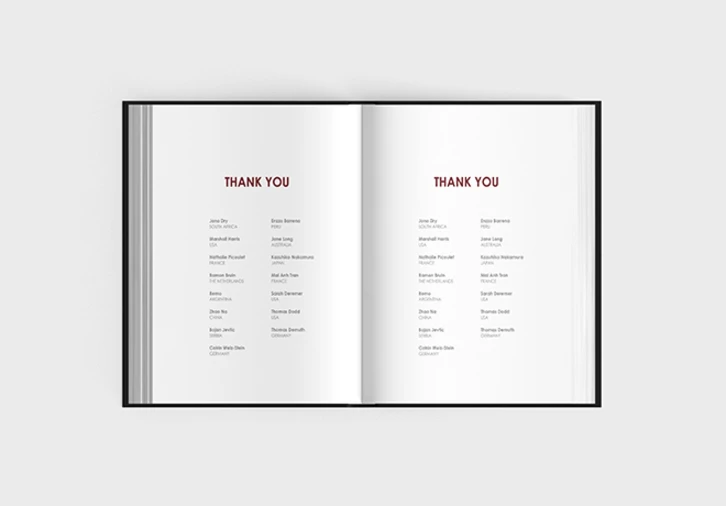 $45 + $0 shipping cost
Masters 3 + Thank You in art book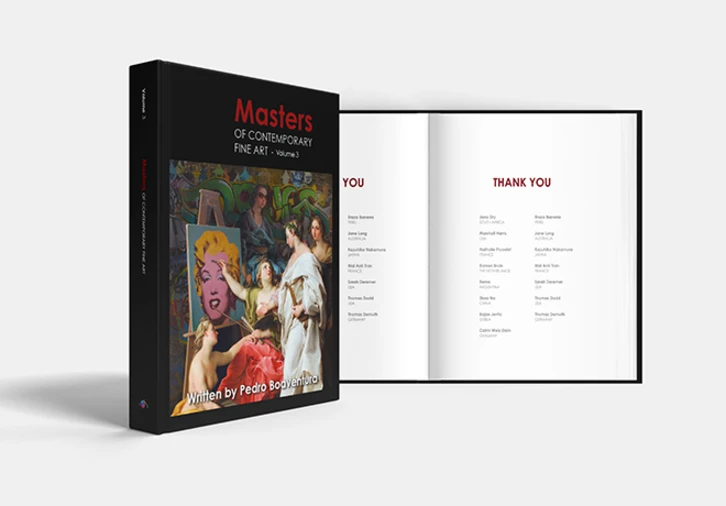 $85 + $0 shipping cost
Masters 2 & 3 + Thank You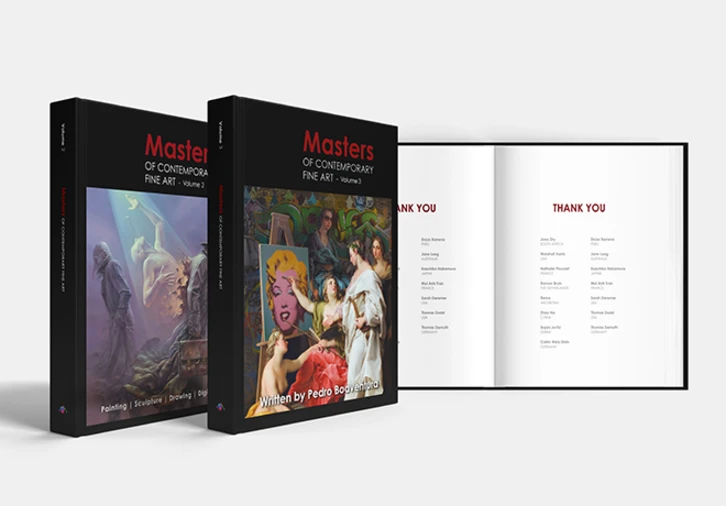 $158 + $0 shipping cost
HARDCOVER: Masters 1, 2 & 3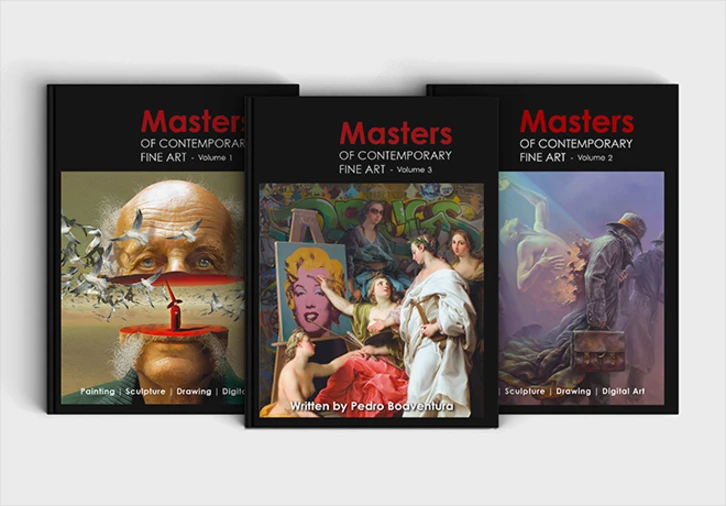 $175 + $0 shipping cost
HARDCOVER Vol 1, 2, 3 + Painting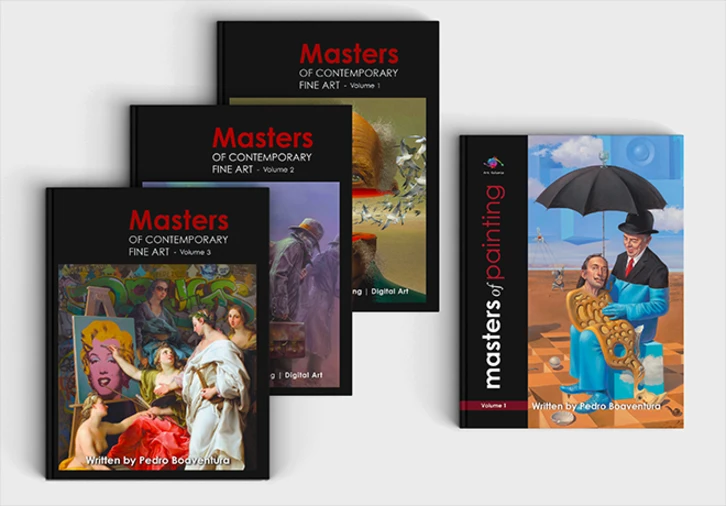 $217 + $0 shipping cost
Masters 1, 2, 3 + Thank You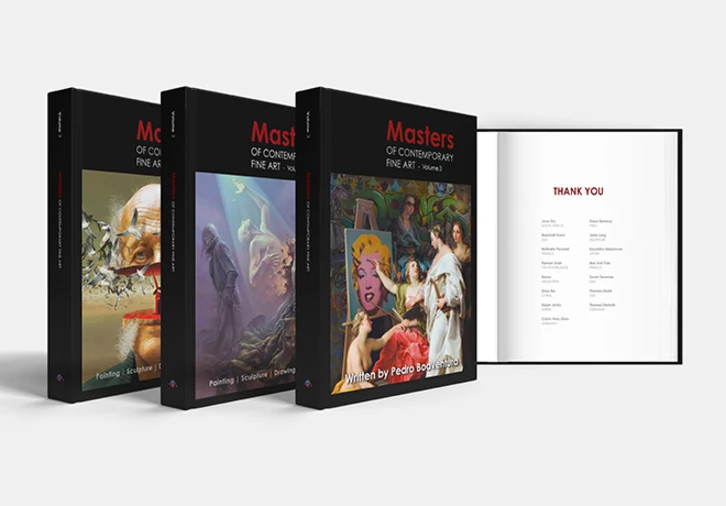 $238 + $0 shipping cost
Giclee Print: Sunshine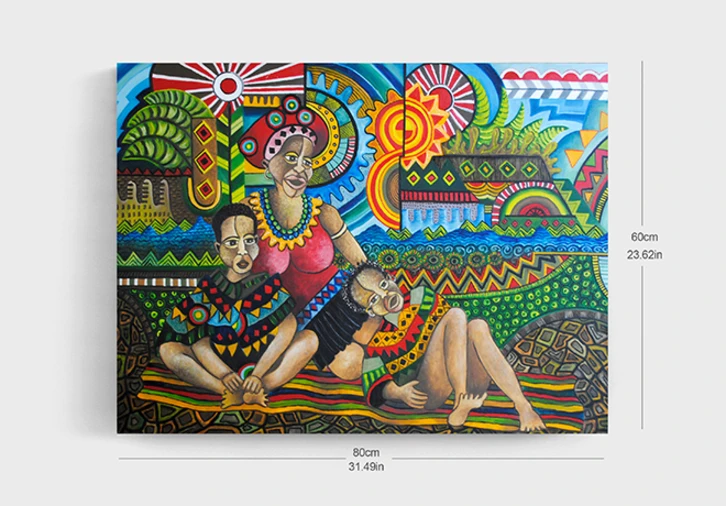 $328 + $0 shipping cost
Giclee Print: Indoma Dance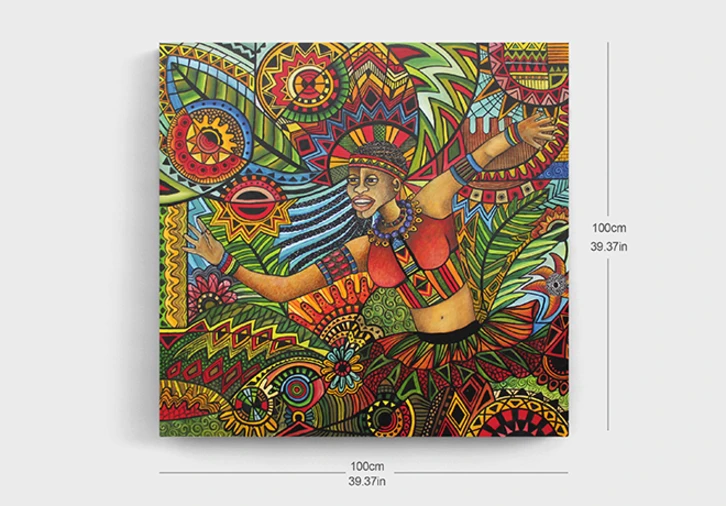 $351 + $0 shipping cost
Giclee Print: Time Breaks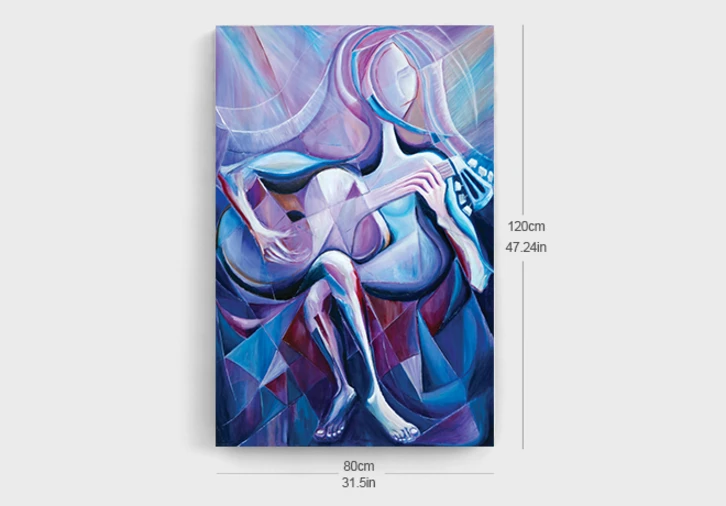 $396 + $0 shipping cost
Giclee Print: Triple Bass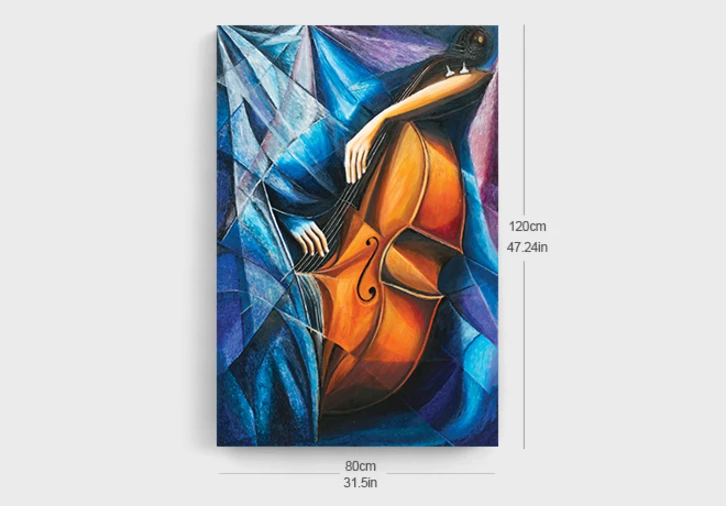 $396 + $0 shipping cost
Giclee Print: Magic of Painting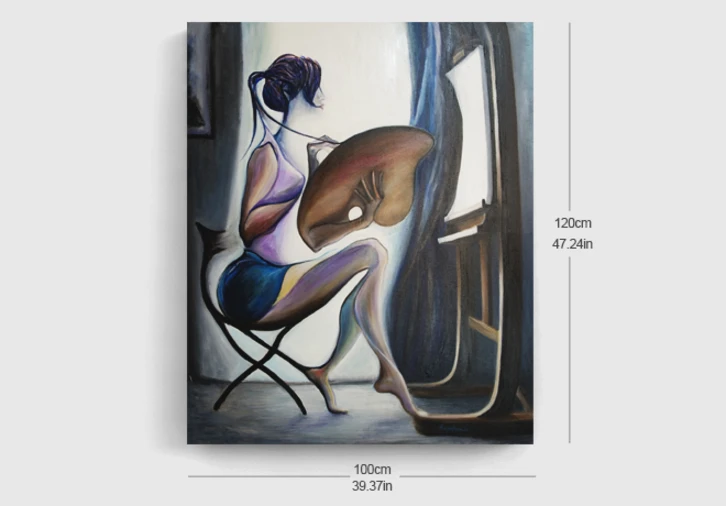 $509 + $0 shipping cost
Oil Painting Pedro Boaventura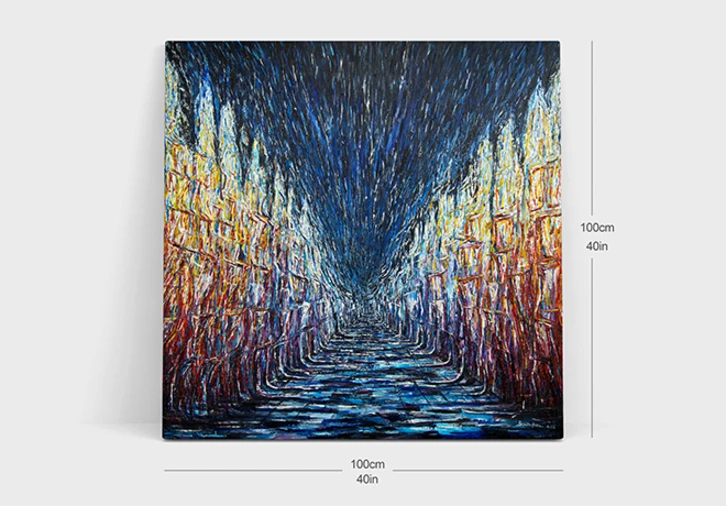 $4186 + $0 shipping cost
Masters Vol. A book of contemporary fine art
A book of art, for art lovers.
Legacy Team LA
This is not a book, this is much more than that! If you're an Art lover, then you'll love this project. Artists invest on constant training and efforts to improve skills and creativity, but unfortunately, only a small percentage actually live off their passion. Most can't even afford their own website. There are many inspirational creators, unknown to the world, just because they don't have the chance to properly promote their work. We want to change that, and that's where this project comes in.
Our mission is to "Present to the Public amazing Artists, and present to the Artists an amazing Public". That's where you come in!
This publication is part of an initiative that supports artists and promotes them globally.
Other initiatives include:
• A dynamic Art portal (www.artgalaxie.com) where artists are given their own profile page, with unlimited photos, videos and other info
• Constant Art Marketing
• Multimedia Advertising Campaigns
•Professional Videos and Animations
We do this completely free of costs for the members of our community.
Around 300 Artists!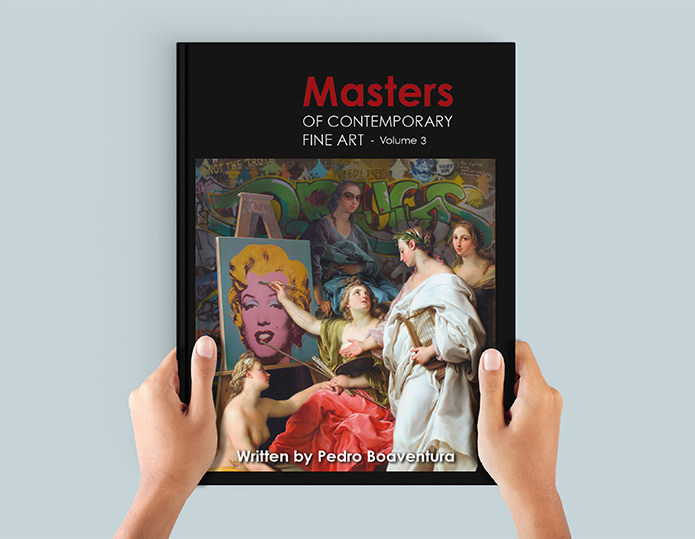 To date we have already published the work of almost 200 artists and over 1000 artworks. We now want you to be part of bringing the next edition to life:
Masters of Contemporary Fine Art – Volume 3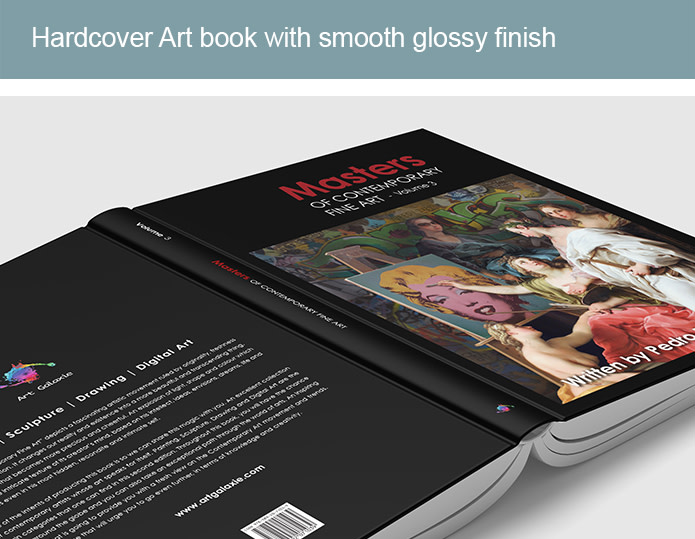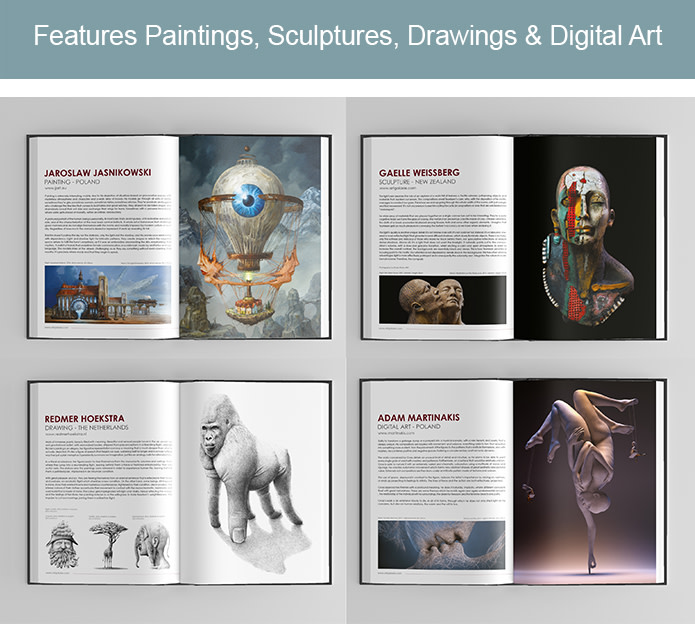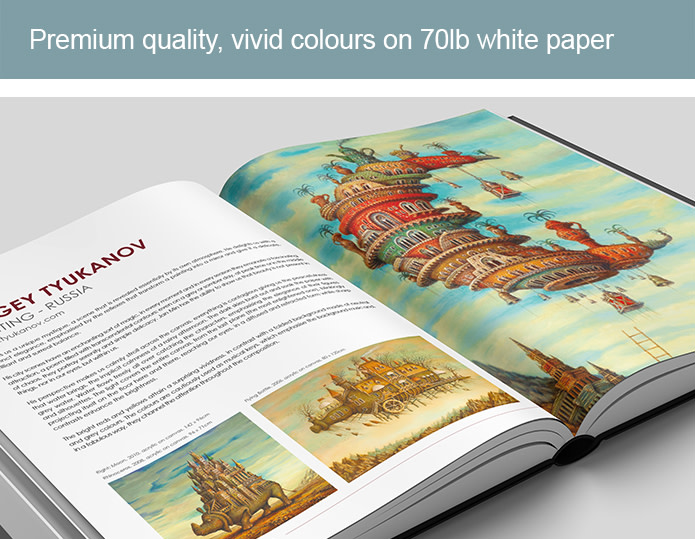 Creative essays, by Pedro Boaventura, accompany the artworks and tell a universe of stories that help understand artworks and some meanings behind them.
This book is a powerful tool that will help develop several techniques of observation and allow for better understanding of the Visual Arts.
Some of participating Artists include:
Adam Martinakis                                   James Bullough                                          Nourelhadi Awad
Alejandro Dini                                         Jaroslaw Jasnikowski                               Oceana Rain Stuart 
Billy Reynolds                                         Jaya Su Berg                                               Redmer Hoekstra
Bruno Pontiroli                                       João de Carvalho                                       Ronit Baranga
Carl Krull                                                  John Lopez                                                  Samuel Gomez
Duarte Vitoria                                         Kristine Poole                                             Sergey Tyukanov
Gaelle Weissberg                                   Marco Battaglini                                        Sergio Barrale
Henrik Moses                                          Nikolina Petolas                                        Sergiy Hrapov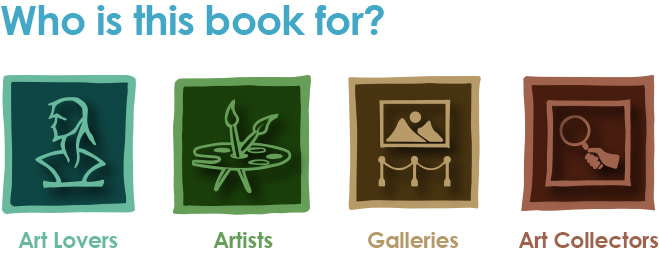 The projects we have developed over the last 5 years have been completely free for artists. Pedro has supported all related costs and also invests a lot of his time. However, to continue developing projects and have some sort of future, Art Galaxie needs to be auto-sustainable, or its existence will be compromised.
We are asking for you to help us maintain this project, and also keep growing, starting off by bringing this next book to life.
We have been giving to artists all this time, and now it is us that need your help so we can continue giving. Your contribution is not to us, but through us.


By contributing towards this fund, you are helping us promote not only these artists but also others that are part of our community. We will be able to produce the book, and distribute it at a lower price, which will allow us to keep investing in more initiatives like this.
Fund distribution: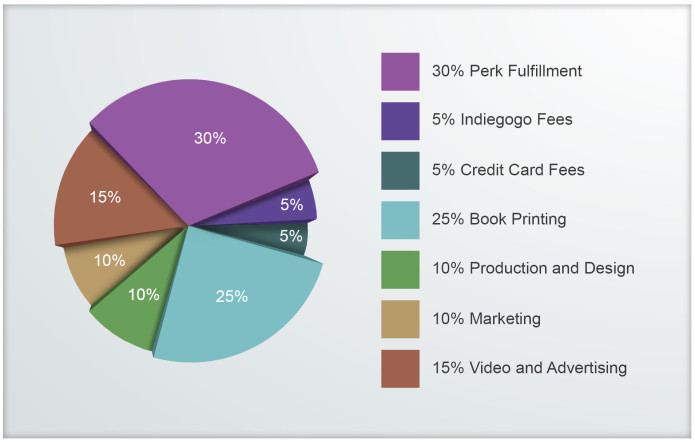 These are the minimum values in order to produce this book. Marketing and Advertising deserve a larger portion, because it's where we have the opportunity to sell the book.
If we exceed our goal, we can invest more in Marketing and Advertising.

Besides being promoted, Artists have a profile page on the Art Galaxie portal, where they can sell their artwork or reproductions. In addition, they also have the opportunity to be part of several partnerships and programs that are profitable for them. For example, our Artists will receive 30% of sales of the book through our affiliate program.
With your help we can reduce the price of the book, meaning we can sell more at an accessible price, which in turn gives artists more income.
Here is what previous participating artists have to say: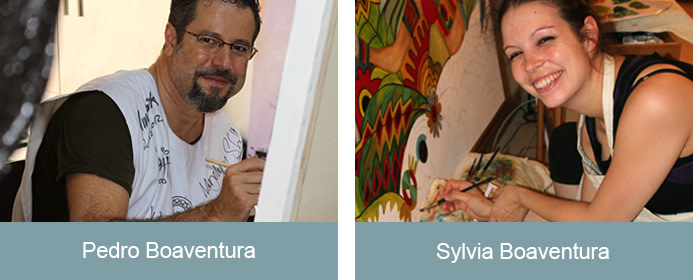 Pedro is an Artist and filmmaker, currently crafting a series of documentaries on Contemporary Art. He is the Founder of Art Galaxie. He studied visual arts, video and cinema.  His long career started as a designer and making photo-manipulations for the publishing industry. After several technical positions in advertising and television, he worked as director and director of photography for several production companies of video and television.
Sylvia is also a Fine Artist with a degree from the Faculty of Fine Arts of Porto, Portugal. She originally worked as a designer in several projects, then as a general manager of an Art school with 1500 students. Currently, she is the General Manager and Art Director in several projects that Art Galaxie develops.
What makes us fit for the job?
Pedro not only gathers all his great passions, but also all the areas in which he has been working for over 30 years, from publishing to advertising, video, fine arts, and even the merge of art with cinema through animation and 3D.
Sylvia is an art director and coordinates the whole process of design and publishing. Above all, it is their passion for the Arts that makes them want to keep Art Galaxie growing to support artists in the way they know best.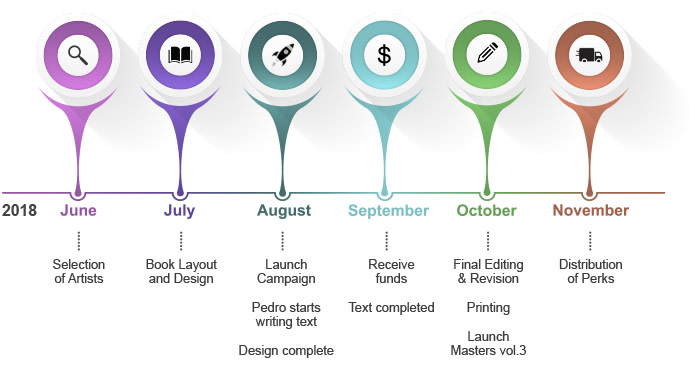 We want to dedicate this project to all those who identify themselves with it.
May your energy be part of this community of Artists and Art Lovers, in order to broaden its legion of fans and evangelists. Most times, it's the smallest gesture that has the greatest impact. And this is one of them.
Please share this campaign.
Any gesture towards our mission is greatly appreciated.
Thank you!
Legacy Team LA
This project is coming to life. Thank you for showing your support!
Hardcover book - Masters Vol. 3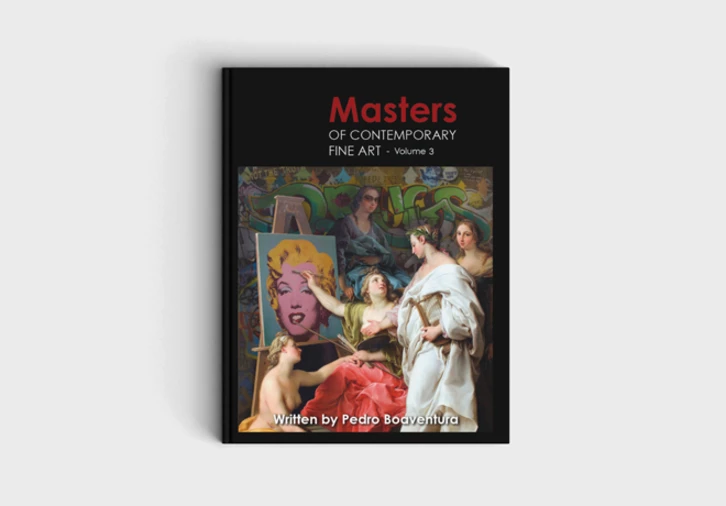 Pledge $63 + $0 shipping cost
Digital book: Masters Vol. 3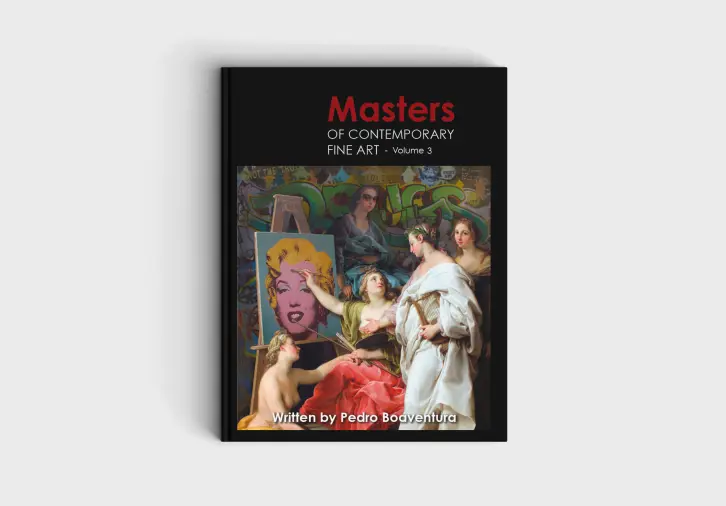 Pledge $8 + $0 shipping cost
Digital book collection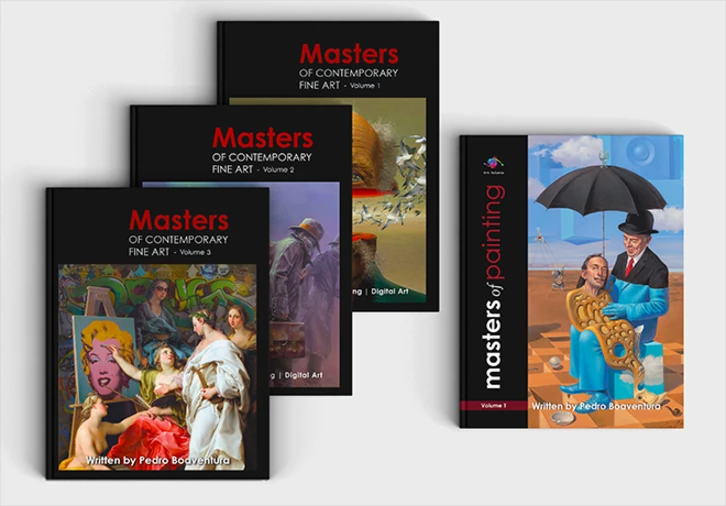 Pledge $28 + $0 shipping cost
Thank You in art book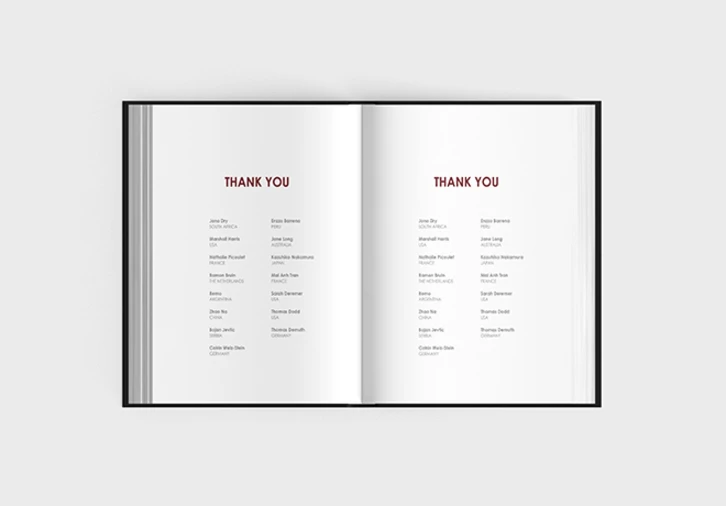 Pledge $45 + $0 shipping cost
Masters 3 + Thank You in art book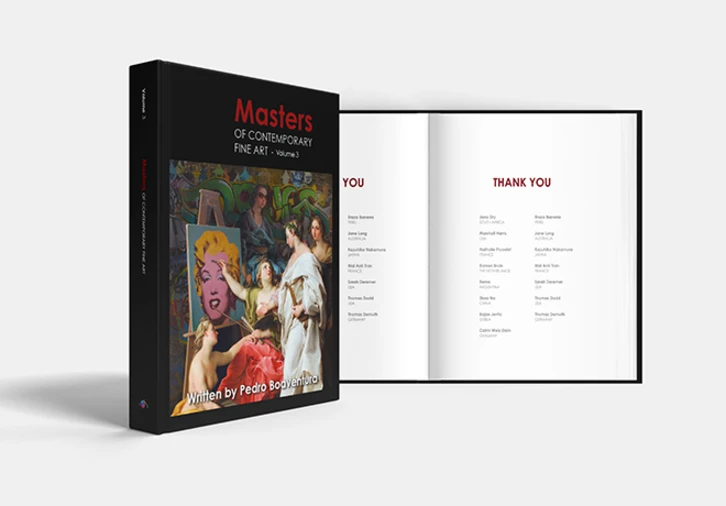 Pledge $85 + $0 shipping cost
Masters 2 & 3 + Thank You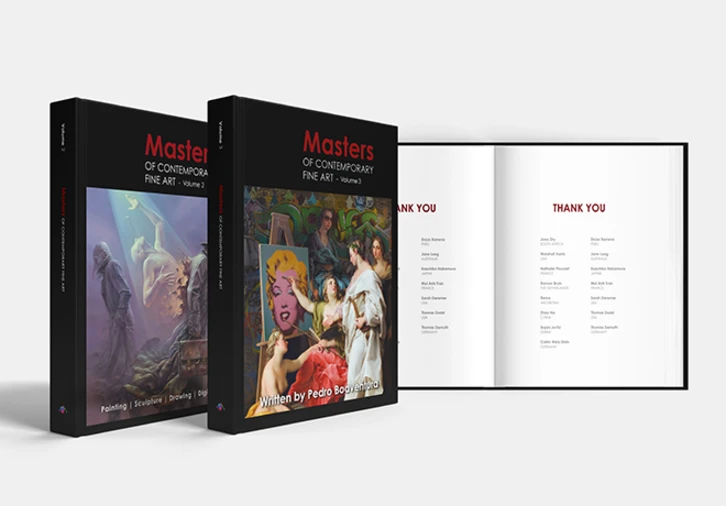 Pledge $158 + $0 shipping cost
HARDCOVER: Masters 1, 2 & 3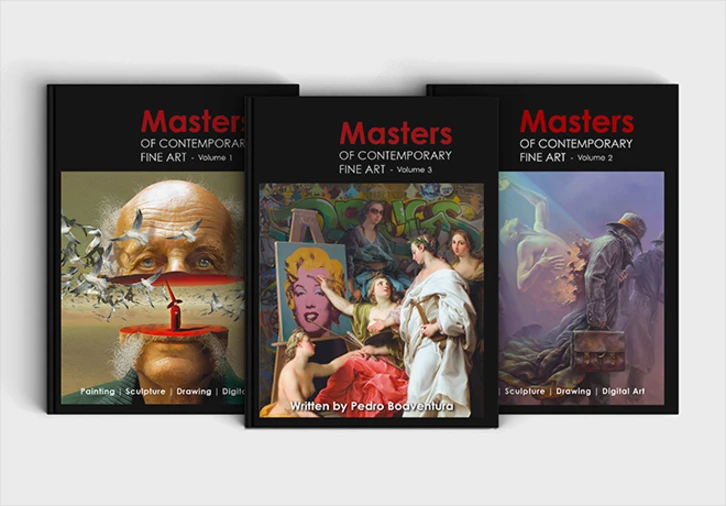 Pledge $175 + $0 shipping cost
HARDCOVER Vol 1, 2, 3 + Painting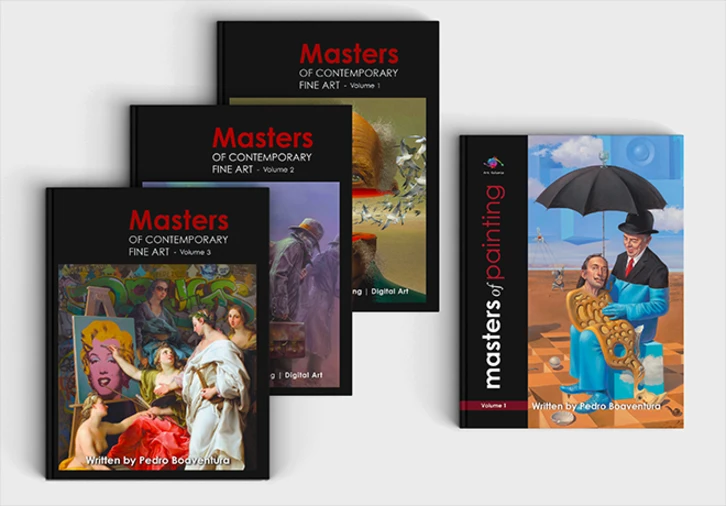 Pledge $217 + $0 shipping cost
Masters 1, 2, 3 + Thank You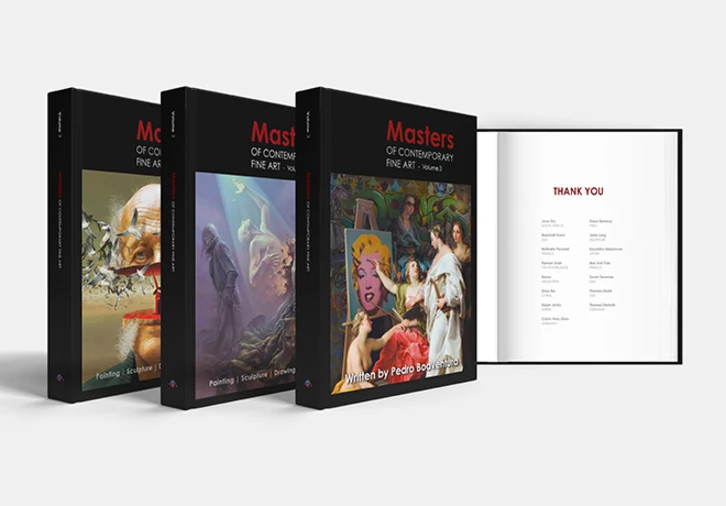 Pledge $238 + $0 shipping cost
Giclee Print: Sunshine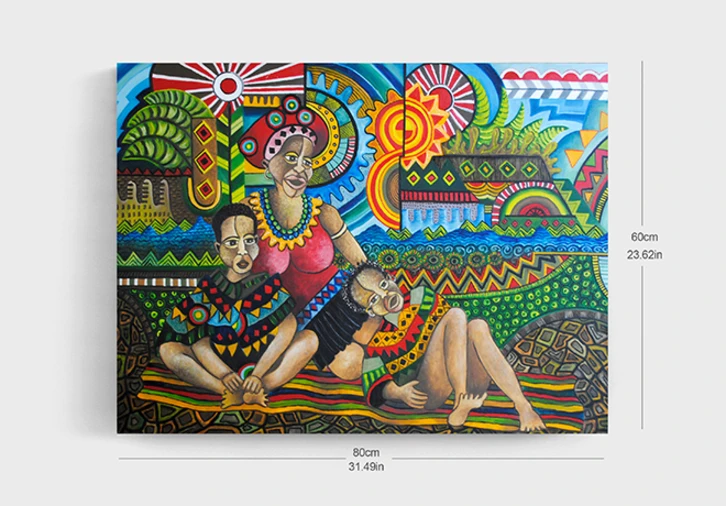 Pledge $328 + $0 shipping cost
Giclee Print: Indoma Dance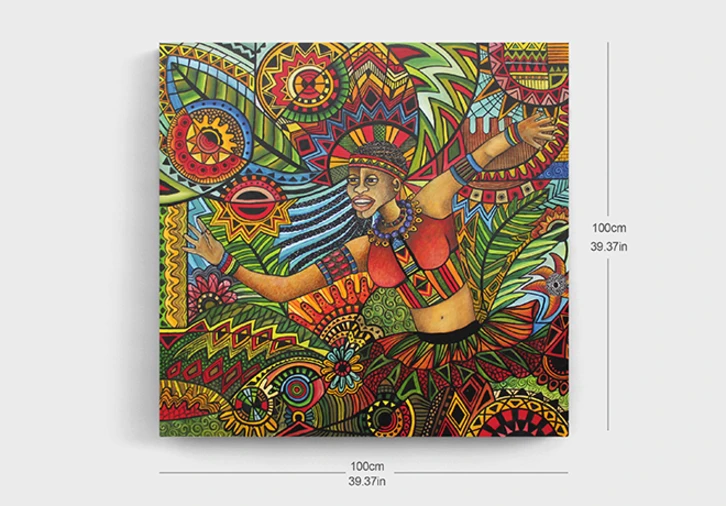 Pledge $351 + $0 shipping cost
Giclee Print: Time Breaks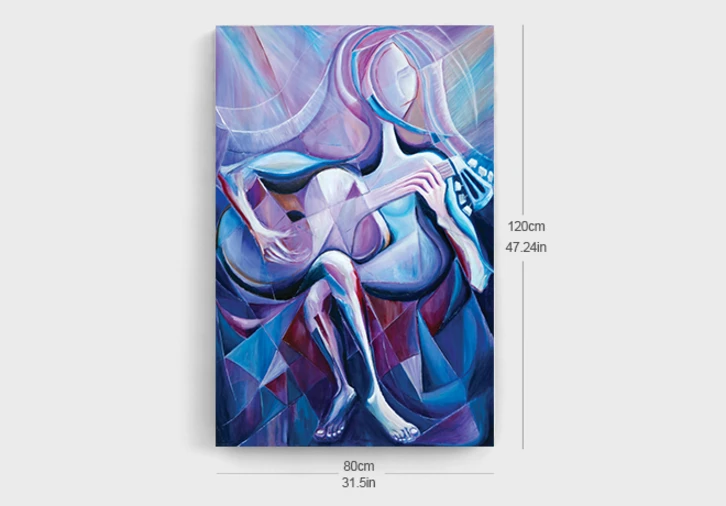 Pledge $396 + $0 shipping cost
Giclee Print: Triple Bass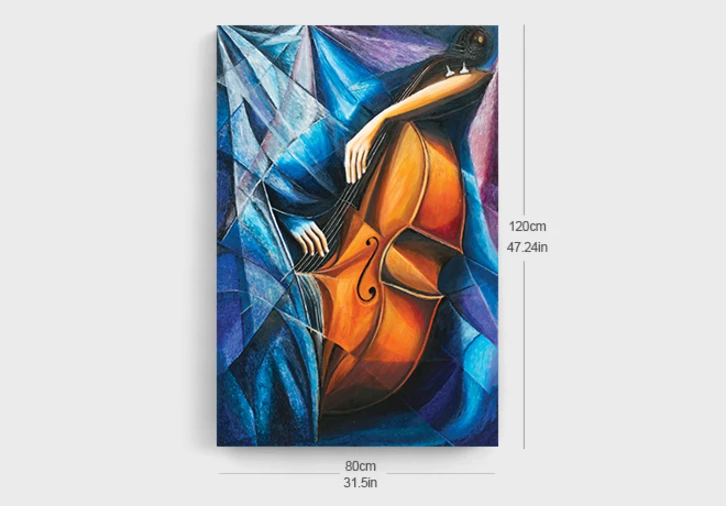 Pledge $396 + $0 shipping cost
Giclee Print: Magic of Painting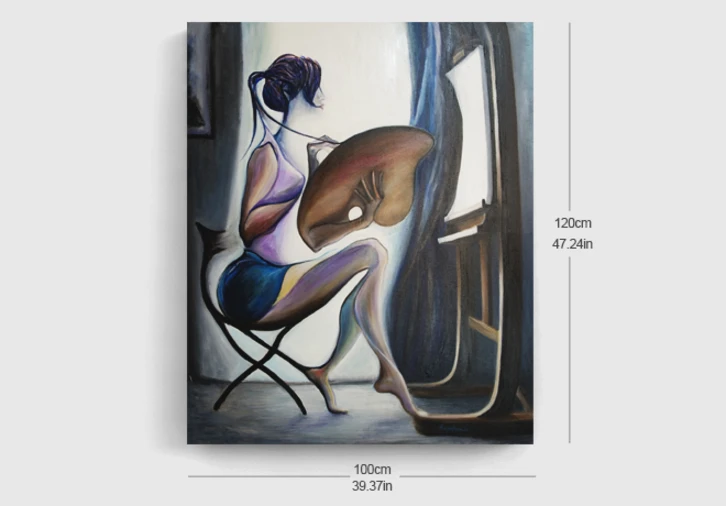 Pledge $509 + $0 shipping cost
Oil Painting Pedro Boaventura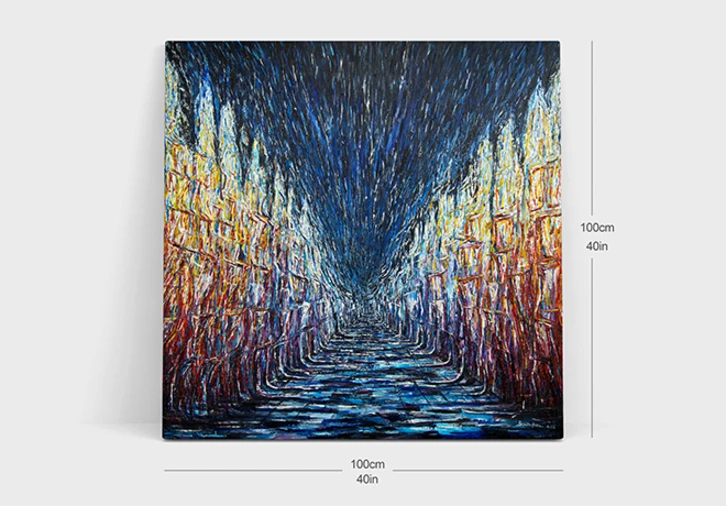 Pledge $4186 + $0 shipping cost