You may put any HTML here. This is dummy copy. It is not meant to be read. It has been placed here solely to demonstrate the look and feel of finished, typeset text. Only for show. He who searches for meaning here will be sorely disappointed.
Unfurtunately this project was not fully funded before the end date.
Nucleus: The Ultimate Core Training System
Train Like a Pro! Proprietary Technology for an Elite Full Body Workout in Only 12 Minutes.
Tailor-Made Startups

It is the next generation workout where you create the energy that your muscles need for a natural stimulation. Nucleus generates the energy with its patented liquid technology and you resist to the power you generate.
When the kinetic energy pushes the liquid away from you, you're fighting against the momentum - engaging your muscles and making you work out harder in the same amount of time.
It is very easy to use and incredibly fun! Do you have 12 minutes?
The faster you move, the harder it gets! Move Nucleus slowly, and the resistance will be light. Move it 3x faster, and the resistance will be 3x harder! That's why everyone can use it, from beginners to pro athletes.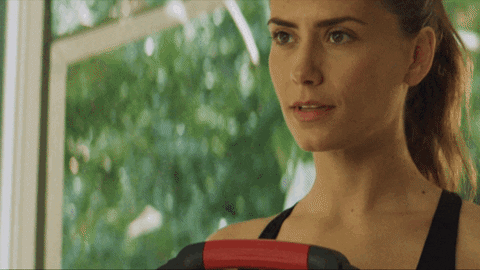 When you twist, thrust, and move, you'll feel the liquid blend inside push in the opposite direction, making 5 pounds feel like so much more.
Our team are experts in fitness and health so we've got the knowledge, skill, and experience to show the world why Nucleus is so special, we just need your help!
Designed and Manufactured in the USA.

We are committed to all of you. Your trust is very important for us. We are producing in Los Angeles, California where we are based, to have full control of the production. We want to make sure that the timing and the quality of the production meets our promises .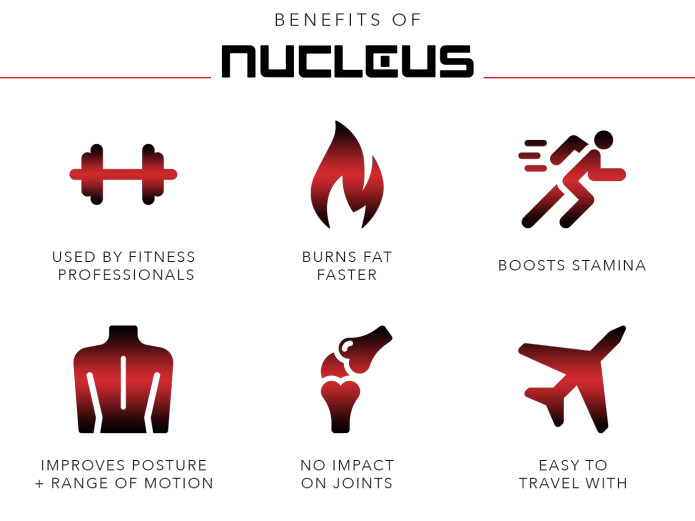 We wanted to know how effective Nucleus was, so we run two 30 day challenges (16 workouts of 12 minutes) with individuals of different levels and ages. All of them not only lost weight in different degrees but gained strength and mobility. Here are some of the great transformations: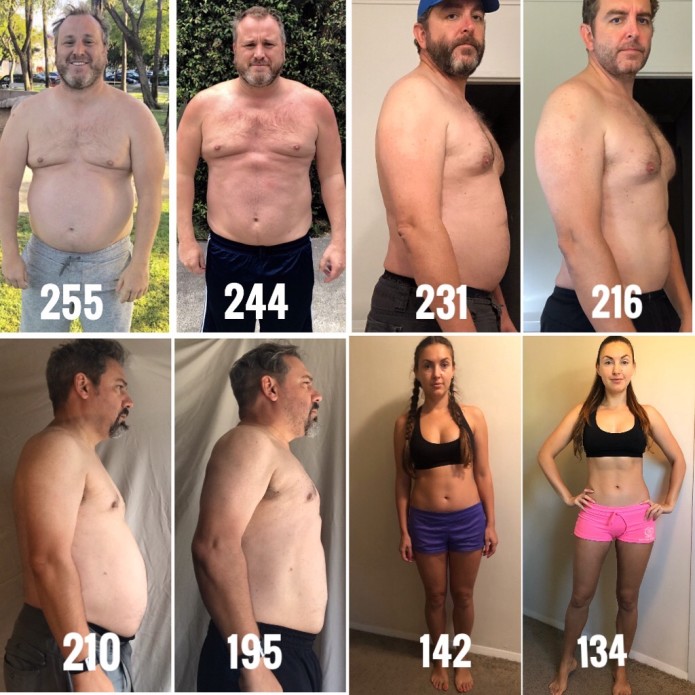 You can see in our Instagram profile @nucleuscorepro (In Highlight "Challenge") the videos of their workouts.

We will offer you a library of on-demand videos with Top Trainers from Los Angeles and also workout routines to train with Nucleus anytime & anywhere from any device. You can take Nucleus wherever you travel and our trainer will be there with you to guide and teach you how to use it.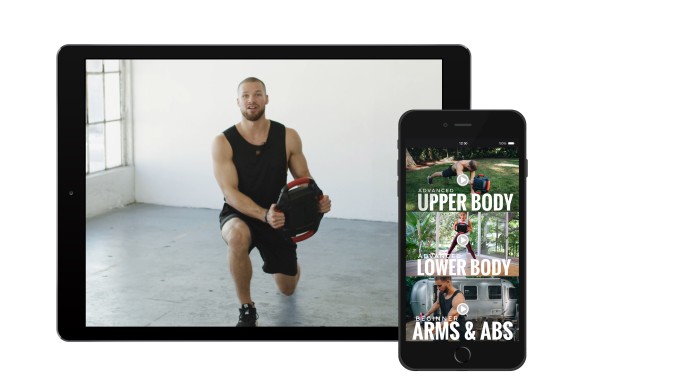 Nucleus is not a weight. It can not be compared with any weight in the market. This compact powerhouse will give you a full-body workout you can take with you wherever you go.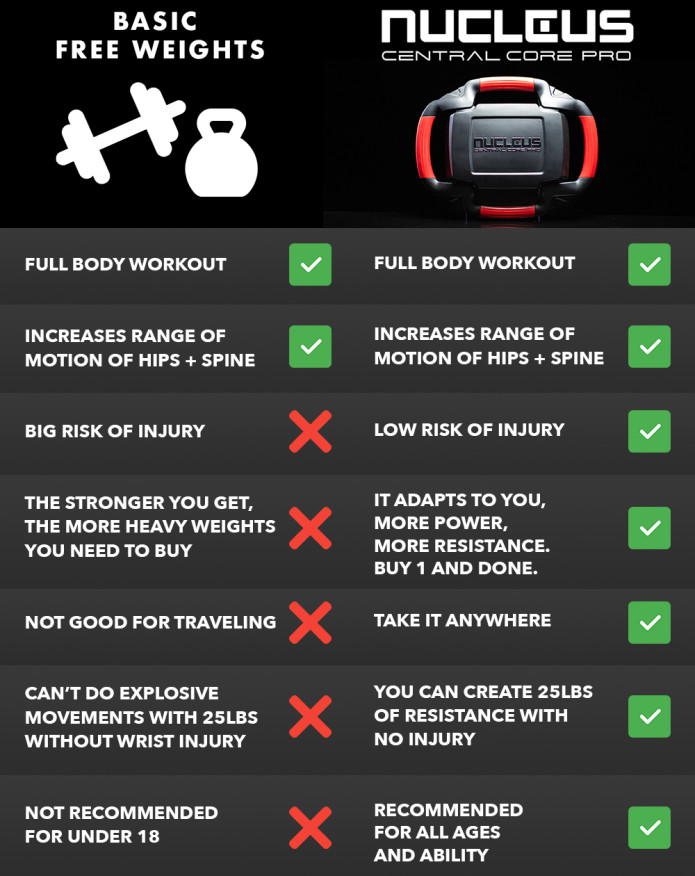 Your contribution will help us complete our production and advertise Nucleus to the world.
Our unique device helps people to get into shape faster without impacting their joints. Regardless of a person's fitness condition, age, or ability, Nucleus will increase the number of calories burned per minute, boost metabolism, engage between 70 and 80% of the muscles of your body at the same time, and burn more fat in just a 12 minute session.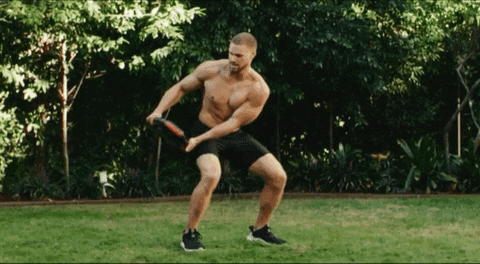 Our device can be used by everyone - from complete beginners to fitness professionals and athletes, and anyone else who wants to transform their body!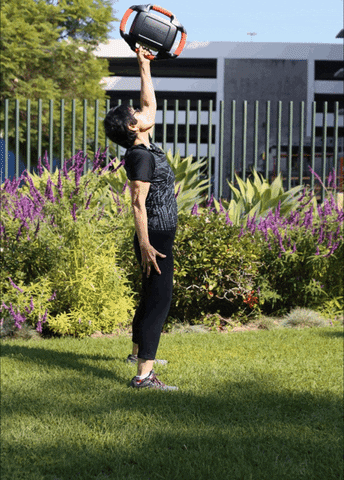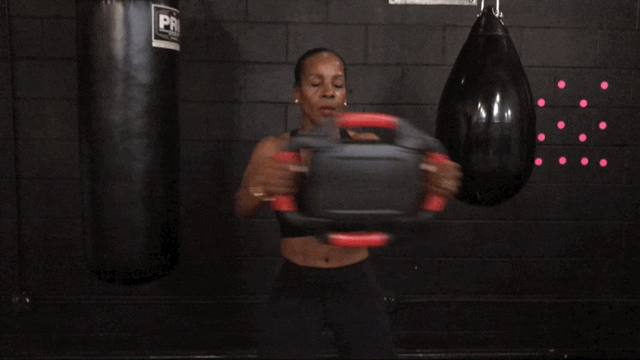 Watch tour workout videos on any device and follow our free routines to use Nucleus anytime & anywhere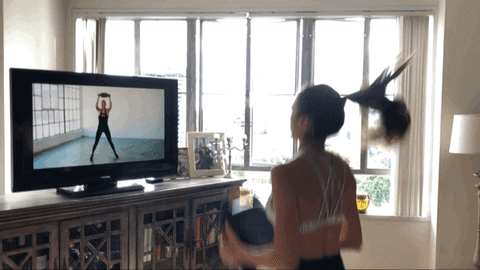 Unlike any other equipments or free weights, You can store Nucleus anywhere.
Dimensions: 15 inch x 12 inch x 4 inch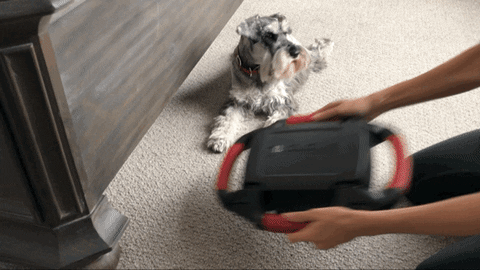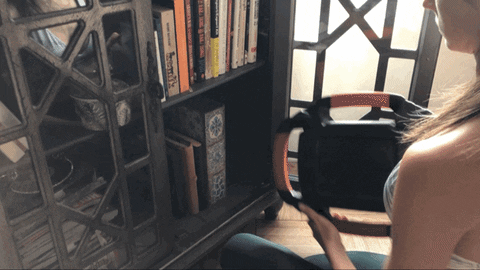 Nucleus will help you stay in shape during traveling. Put it in your bag or your luggage. Only weights 5 lbs.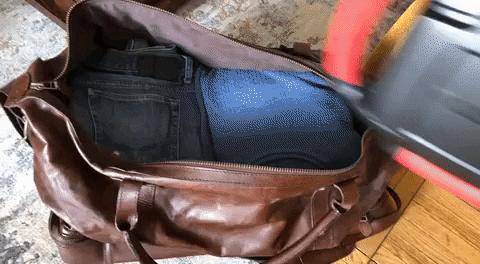 If you can't contribute at this time, that's okay! We appreciate you being here, and we just ask you to support our mission by sharing this campaign on social media. You can help get the word out and make some noise using the Indiegogo share tools or by shouting us out @nucleuscorepro on Instagram & Facebook.
Used by Athletes + Professional Trainers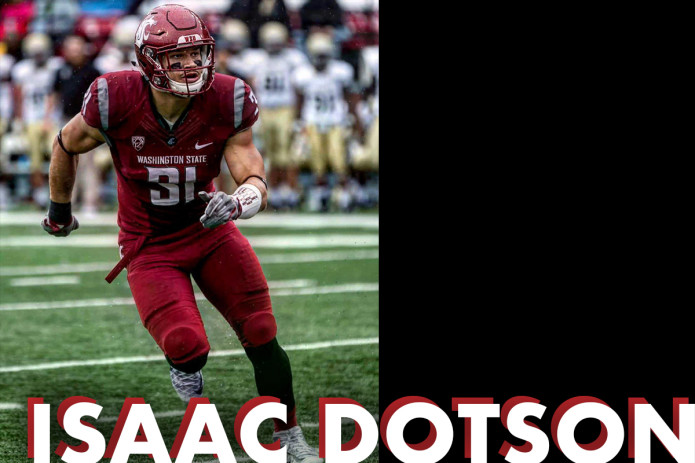 "It is one of the most intense workouts I have ever experienced, and it allows me to see and attack cardio in a completely new way."
-
Isaac Dotson
Division 1 Football Player


Our factory is located here in Los Angeles, California!
We are building and preparing Nucleus units as we speak so we'll be ready to ship.



What's in the box (Nucleus + Travel Bag)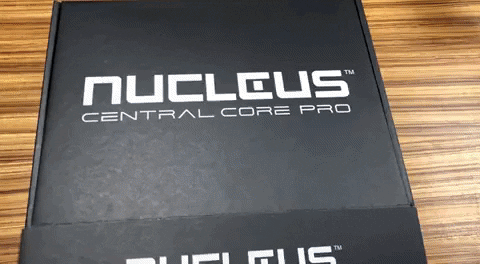 Challenges
Our biggest challenge has been educating the public on what Nucleus is and why it's different because there is nothing else like it in the market!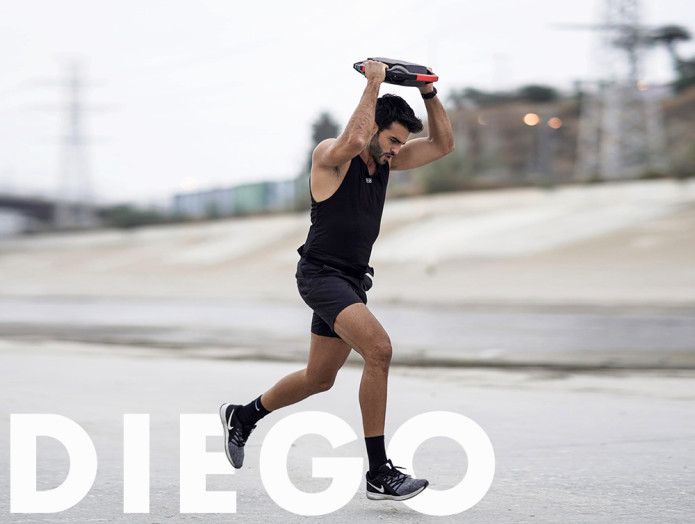 Hey, my name is Diego!
I'm a professional fitness trainer of 10 years with a bachelor in Physical Education and a Master's Degree in Nutrition. I created Nucleus out of pure passion for helping people achieve their goals in fitness and health faster and more efficiently.
I've been training people using High Intensity Interval Training my whole career with fantastic results, but I wanted to take the proven and efficient method up a notch.
So after 2 years of research, testing, and development, I have created a device that will help anyone from beginners to fitness professionals to increase the number of calories burned per minute, boost metabolism, engage more muscles, and burn more fat in just a 12 minute session.
I am looking for YOUR support to help us complete our production and advertise Nucleus to the world so everyone can experience a faster, better HIIT workout anywhere and anytime!
Tailor-Made Startups
We are sorry, this project was not fully funded, no backers has been charged. We will keep everyone updated if this campaign is going to be relaunched. Thank you for your support!
Unfurtunately this project was not fully funded before the end date.