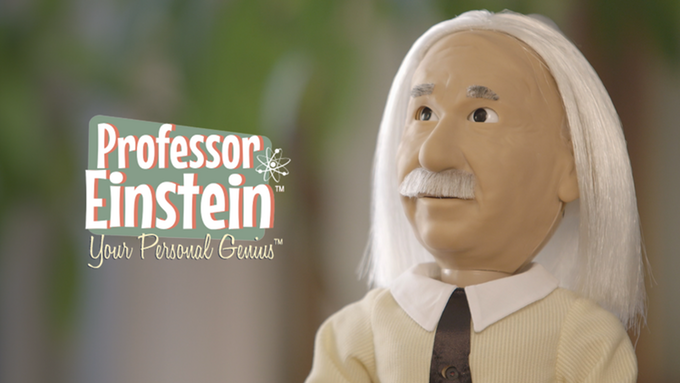 You may put any HTML here. This is dummy copy. It is not meant to be read. It has been placed here solely to demonstrate the look and feel of finished, typeset text. Only for show. He who searches for meaning here will be sorely disappointed.
Unfurtunately this project was not fully funded before the end date.
Professor Einstein: Your Personal Genius Purchase Now
Learn science and play brain-teasing games with the world's first walking, talking, and amazingly expressive Einstein robot. Purchase Now.
Legacy Team LA
PURCHASE NOW – INTERNATIONAL SHIPPING
According to Albert Einstein, the sky's the limit when imagination and knowledge are paired together! Now you can learn science through the whimsical and knowledgeable eyes of your own personal genius—Professor Einstein.
Professor Einstein is the first robot with full facial expressions that can interact dynamically with you and your iPad or Android tablet to teach science and play learning games.
The Stein-O-Matic app is the user's guidebook and control system for directly engaging content. Using the app, you have access to new activities added to the Stein-O-Matic every day. In addition, Professor Einstein's robust reward system allows you to earn IQ points, which you can use to unlock special items, bonus games and avatar upgrades.
Place an iPad or Android tablet next to Professor Einstein and watch as he guides you through interactive lessons, eye-popping slideshows, daily mental kick starts, thought experiments, jokes, brain games and more.
Professor Einstein is the perfect anytime, anywhere study buddy. He has the most lifelike and emotionally expressive face of any personal robot, ever. He can recognize what you're saying and loves to chit chat.
When connected to the cloud-connected Stein-O-Matic app, Professor Einstein can answer questions as well as play games with you! Even though Einstein himself was 5' 9", you can easily tote Professor Einstein along. He only measures at 14.5" tall!
Not only is Professor Einstein one of the most advanced personal robots on the market, but he is also one of the most affordable. Stimulate your interest and curiosity for science. The path to your genius awaits!
The Disney Accelerator helps today's technology innovators turn their dreams for new media and entertainment experiences into reality. Hanson Robotics was one of nine companies selected to be part of the prestigious Disney Accelerator Program in 2016.
Greenlight is an independent rights clearance and licensing agency, providing turnkey start-to-finish project management for advertising agencies and Fortune 500 companies worldwide. Greenlight is the licensing agent of Hebrew University of Jerusalem.
We've developed a trusted brand at Hanson Robotics. As innovators, we're excited to offer you an affordable family robot through Kickstarter. We've done the testing, prototyping and have a trusted manufacturer — so, we're ready to roll into mass production! We just need your help. Our team is turning to Kickstarter to help build a supportive community around our Professor Einstein. By backing our project, you're helping to shape the world of robotics. At Hanson Robotics, we believe in innovation, creativity and encouraging younger generations to explore and engage in scientific studies. We're looking forward to welcoming you into the Hanson Robotics family!
ALBERT EINSTEIN and EINSTEIN are either trademarks or registered trademarks of The Hebrew University of Jerusalem. Represented exclusively by Greenlight. Official licensed merchandise.
Please Note: The 1 Pledge from our platform is the total amount raised for this campaign.
296 Backers From Kickstarter
Legacy Team LA
We are sorry, this project was not fully funded, no backers has been charged. We will keep everyone updated if this campaign is going to be relaunched. Thank you for your support!
Unfurtunately this project was not fully funded before the end date.