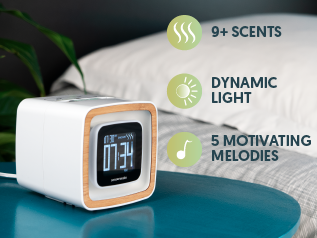 You may put any HTML here. This is dummy copy. It is not meant to be read. It has been placed here solely to demonstrate the look and feel of finished, typeset text. Only for show. He who searches for meaning here will be sorely disappointed.
Unfurtunately this project was not fully funded before the end date.
Sensorwake Trio The Alarm Clock that Stimulates your Senses
Alarm Clock
Legacy Team LA
Sensorwake Trio boosts your mood every morning by stimulating 3 senses: smell, sight and sound. Instead of hating your alarm clock, you will now wake up happy, enjoying your favorite smells every morning : fresh coffee, seaside, rose garden, pine forest… A soothing light and a motivating melody will follow to wake you up like never before! 3 steps, 3 minutes, that's all it takes to wake up feeling great and motivated every morning!
HOW MUCH DO YOU HATE YOUR ALARM CLOCK?
Guillaume, the inventor of Sensorwake Trio, used to hate mornings. And he soon realized that he was not alone.
According to a survey of 2,000 people by SleepJunkie, more than 80% of people feel dreadful or anxious when their alarm goes off in the morning.

Have you ever felt this way ? There is no reason to brand yourself « not a morning person ». You are simply using the wrong alarm clock.
IMAGINE GENTLY WAKING UP TO YOUR FAVORITE SMELLS, EVERY DAY!

What if you could wake up happier, more motivated, and ready to take on each day? With Sensorwake Trio, you choose from a wide variety of smells, like coffee, the beach, forest, or peppermint. Change them out as often as you change your mind. Stop hating your alarm clock. Start making your mornings better.
We're proud to introduce Sensorwake Trio – our latest innovation after three years of research and development.
 TECH SPECS 
Legacy Team LA
We are sorry, this project was not fully funded, no backers has been charged. We will keep everyone updated if this campaign is going to be relaunched. Thank you for your support!
Unfurtunately this project was not fully funded before the end date.