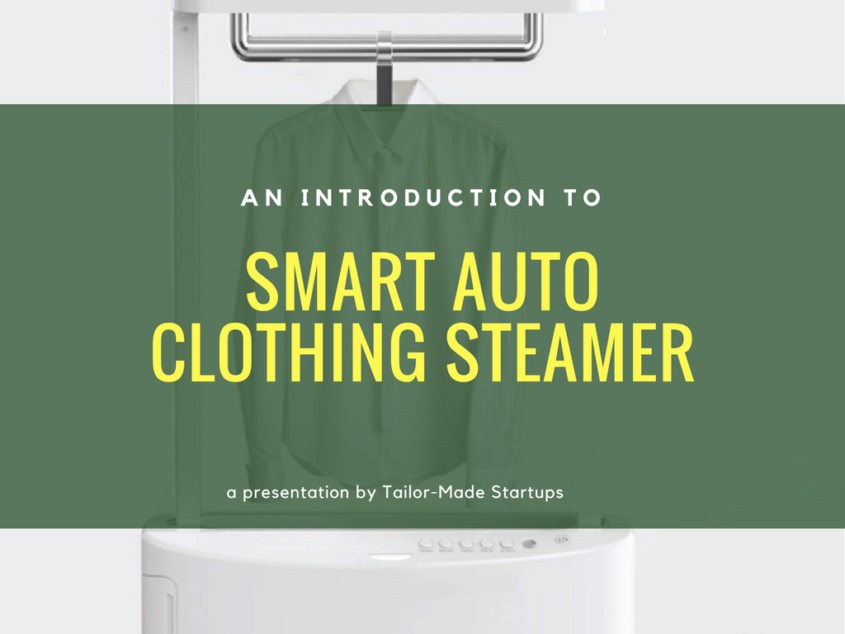 You may put any HTML here. This is dummy copy. It is not meant to be read. It has been placed here solely to demonstrate the look and feel of finished, typeset text. Only for show. He who searches for meaning here will be sorely disappointed.
Unfurtunately this project was not fully funded before the end date.
Tailor Made: Iron Your Clothes Smart and Hands-Free in Just 20 Sec
The first ever robotic smart hands-free steamer for clothing. Helps you get your clothes wrinkle-free in 20 seconds!
Legacy Team LA
Now, imagine the following unpleasant scenarios…
You wake up late, start to get ready for your business meeting or work shift, but your clothes are full of wrinkles and on top of that, they smell like last night's pajamas… What a disaster, right?
Imagine you've got a date in 10 minutes and you just can't afford the time to break out the iron and manually steam your clothes. It happens, doesn't it?
And what if you run a boutique store and you need all your garments including the new deliveries to be in tip-top shape for your clients in no time? You can't just manually iron and dry-clean them…
Well, none of the above will ever happen again! That's because we are here, and we are in the midst of reinventing the future of dry-cleaning and ironing! And this future is entirely automatic, hands-free and effortless!
How It Works
Take your button-down, dress, blazer, or whatever you want, place it inside the Tailor Made Steamer. And then, just a press of a button and 20 seconds is all it takes to have it dry cleaned, ironed and ready to wear!
Specs & Technology
Tailor Made Steamer is made from:
Tailor Made Steamer is manufactured by brushed top-grade aluminum with a matte, debossed finish. It also features polycarbonate which is a polymer that makes the entire construction durable, lightweight (7 kilos), scratch resistant, temperature resistant and impact resistant!
Doesn't get any more heavy-duty than that!
Of course, we've made sure that you don't have to refill it all the time by incorporating a decent-sized water capacity and a smart technology that is able to turn the water to steam in just under 60 seconds, effectively eliminating all the waiting around.
The technology is about ironing your clothes with compressed steam – that's exactly why it's so fast!
The animation below explains it all.
Tailor Made Steamer Nozzle (left) & Regular Nozzle (right) Comparison
Additional features include:
Faster, Easier to Use & More Effective Than Traditional Ironing Solutions… Here Are The Features That Make This Different & Why You Can't Afford To Miss It:
You don't have to be a tech genius to use it, because it's simple.
If you can press a button, you'll be able to use it (who can't press a button?).
Literally, one touch is all it takes to get it started.
20 seconds is the time you have to wait before your clothing is ready to be worn.
Quickly removes wrinkles from any type of fabric.
Makes your clothes look at their best, like brand new.
Designed with usability in mind.
Works for any kind of garment, small or large.
Hands-free method to steam your garments.
Perfect for steaming hanging garments.
Incredible durability, lasts for years.
Reduce trips to the dry cleaners, save tons of money!
Beautiful ultra-light design!
It's portable, and the weight is dramatically reduced.
Comprised of 100s more nozzles dispersed over 5 times the area compared to a regular steamer.
A large built-in hanger is included.
Features rotating garment clips and a hanger with a hook for your convenience.
INTRODUCING THE 3 INNOVATIVE MODELS OF OUR PATENT PENDING TAILOR MADE STEAMER
The Tailor Made Steamer will be available in not one, but THREE different models:
Each edition is more robust than the previous one and includes additional features that will shorten the dry-cleaning and ironing process even further and will allow for more frequent usage.
THE BASIC MODEL essentially uses the same technology as the PRO and IDUSTRIAL versions, but it doesn't feature the smart technology: touchscreen, phone app, etc. The hanger should be pulled up and down manually, and you'll need to manually select the heat level, and then press the button for the steamer to start the process. Perfect for those who don't care about automated processes and are used to doing things manually.
THE PRO MODEL will feature a built-in Wi-Fi Touchscreen, wireless sensors that will recognize the garment and adjust the heat to the appropriate levels, and a Tailor Made Phone App that will allow you to remotely manipulate the steamer. This model will suit the fans of automated technology who want to get rid of the manual processes in steaming their clothes.
THE INDUSTRIAL MODEL, however, is truly a beast of a machine that is manufactured with even stronger steel material for commercial use! Perfect for boutique store owners, this model will enable you to steam a lot faster and a lot more frequently. Of course, it will include all the BASIC and PRO features.

CEO of Tailor Made Startups speaks out:
        Yeron Hamudot, CEO

 

I have worked in the clothing industry for close to 20 years, and in that time I have seen all types of problems involving clothes and irons. Irons and handheld steamers, as many of you are aware, are both aggravating and time consuming. I've seen people burn themselves and their clothes while ironing. Half the time the iron or steamer doesn't work for one reason or another. So, I am proud to introduce the Tailor Made Steamer. It's the first hands-free, fully automatic steamer that deodorizes, sanitizes, and de-wrinkles your clothes. What's more important, it does all this in just 20 seconds per garment! Throughout my experience in the clothing industry, I have had to fix, work around, and endure all the problems irons and handheld steamers cause. That's why I am very excited about our product which will completely revolutionize the industry! By contributing to our campaign, you aren't just getting access to the first Tailor Made Steamers to ever be released, but you will also be able to say you were an invaluable part of bringing to life a cornerstone appliance, like the toaster or the microwave…or the iron. Please join us and thank you so much for all your support!
What We're Asking For
We need $40,000 to get from where we are now to where we're going. The Tailor Made Steamer has been fully designed, so the next step is to make and test a prototype, fully patent the device, manufacture, and ship. To that end, we have been in contact with a manufacturing company that is interested in working with us to make and test a prototype so that we can move onto the next step.
The money we raise in this campaign will go towards:
producing the prototype,
applying for safety licenses to get the product approved to sell, and
patenting the device.
We currently have a provisional patent in place, but once the device is finalized, the permanent one needs to be obtained.
These are our current Milestones as we see them:
If you can't donate, we still greatly appreciate your support and even the fact that you took time out of your busy schedule just to read about our product. If you think our product is going to go far and you can't donate, please help us get the word out by sharing us on social media and sending the link to our campaign to your friends. Maybe you know someone who would really benefit from a hands-free clothing steamer. Give them a shout and let 'em know what's up!
Over 240 Ready To Buy Consumers Were Raving About This Steamer In A Recently Conducted Survey
THANK YOU!
Legacy Team LA
We are sorry, this project was not fully funded, no backers has been charged. We will keep everyone updated if this campaign is going to be relaunched. Thank you for your support!
Unfurtunately this project was not fully funded before the end date.