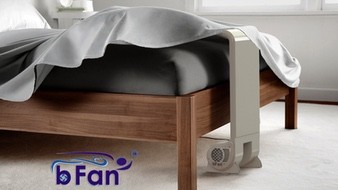 You may put any HTML here. This is dummy copy. It is not meant to be read. It has been placed here solely to demonstrate the look and feel of finished, typeset text. Only for show. He who searches for meaning here will be sorely disappointed.
Unfurtunately this project was not fully funded before the end date.
The bFan® Cooler: more restful nights sleep
*Available for purchase now. International shipping.* This unique system enables you to sleep much cooler and deeper at night and save you money on air conditioning costs.
Legacy Team LA
AVAILABLE FOR PURCHASE NOW. INTERNATIONAL SHIPPING.
If every home in Dallas, Texas used a bFan® to conserve electricity, we could save enough energy to power 75,000 homes each year.
 What is the bFan®?
The body will extend from 19" tall to 37" tall. The air duct is 12" wide and ¾" deep. The base is 6.25" tall X 7" deep and 12" wide. The base can be set in any direction, either under the bed or pointing outward from the bed. It can be place anywhere around the bed from the foot to the top and anywhere along the side of the bed.
The bFan® is for people who want to save money on their air conditioning bill and not go broke trying to sleep cooler.
The bFan® is for people who are hot sleepers and really want to sleep cooler or have cooler sheets at night.
The bFan® is for women who suffer from the effects of menopause including night sweats derived from hot flashes.
The bFan® is for people who have a medical condition that causes their body to get hot at night and want to sleep cooler.
For people wanting to take advantage of the huge health benefits obtained from sleeping cooler.
The bottom line is that almost everyone will benefit from the bFan®. Whether you are a hot sleeper just trying to get a good night's sleep or looking to gain maximum health benefits as well as lowering your electric bill, the bFan® is for you. Many people have been able to lower their electric bill by as much as 50%
Why the bFan® works
The bFan®'s innovative design removes the heat that is generated by your body and gets trapped inside your bed (your sheets, comforter, and mattress). This unique system enables you to sleep much cooler and deeper at night and save you money on air conditioning costs.
By utilizing convection, one of the primary cooling methods of our body, we are able to sleep cooler without having to lower our thermostat to a financially challenging level.
Health benefits
The bFan® will help you sleep cooler at night and will help people who are hot sleepers regardless of reason, as well as help people with heath related sleep issues like night sweats. But did you know that it can also make you healthier?
Several studies have shown the benefits of sleeping cooler. These studies show that sleeping cooler can help with:
Weight loss, lowering the risk of metabolic diseases, deeper sleep for better body restoration, reduction of insomnia, aids in the promotion of anti-aging hormones and helps combat cancer.
Research conducted by the University of South Australia suggests that sleeping cooler will result in a better night's sleep, and help cure insomnia. This is because the body's core temperature actually needs to drop in order to initiate sleep. So, if you're having trouble falling and staying asleep, the bFan® could be your savior. ( http://w3.unisa.edu.au/unisanews/2004/June/insomnia.asp )
The bFan® can help produce Melatonin by lowering your core body temperature. Releasing needed melatonin not only tells your body it's time to sleep, it's a hormone that also promotes anti-aging. The cooling effect of the bFan® actually helps your body produce melatonin when you allow it to cool you sufficiently.
Melatonin regulates our cycles, mood,reproduction, weight and may help combat Cancer (web http://articles.mercola.com/sites/articles/archive/2013/10/10/melatonin.aspx#_edn4).
The bFan® can help decrease your risk of metabolic illnesses. Studies have shown that sleeping in a cooler bed helps you burn calories while awake. It also helps increase "brown" or good fat in the body, which lowers the risk of metabolic diseases like diabetes.
The bFan® will help you get a better night's sleep. During the night, if your bed is too hot (or alternately too cold), your body will work to regulate your temperature. Doctors have stated for years that a cooler bed is linked to deeper sleep, whereas a hot bed increases wakefulness and decreases slow wave sleep.These are just a few reasons the bFan® is a healthy product (web https://www.ncbi.nlm.nih.gov/pubmed/24954193).
Letters from Fans
About 12 years ago I invented the very first Bedfan to become available to the market (see Bedfan.com). It was highly successful and well received. We have been in many magazines, newspapers, television shows etc.The response has been awesome.
From this experience we have been able to position ourselves now to make the perfect Bedfan. By backing our project, you will be taking advantage of years of research and testing bundled into a new and well thought-out product.
In The Beginning
When we first started making our original product we started in our garage until it just got too big. We eventually moved all production to our injection molding facility in Boerne, Texas, We are still there today and will be building the new bFan® there as well.
Moving Forward
Over the last 10 years with have talked with many of our customers and listened to their ideas on what they would like to see in the next version of the Bedfan. We took those ideas and have implemented many of them into this new version that we call the bFan®.
These are the things that we have improved on:
Increased the stability with a balanced footing and lower center of gravity
Increased the overall air flow
Increased the fans total static pressure
Made the fan much quieter and much stronger
Setting Up Your bFan®
The installation of the bFan® is very simple. In this next video we will show you just how simple it is.. For this installation we installed the bFan® at the foot of the bed, which is the preferred location. From the foot of the bed the air will naturally travel along your body and exit at the top of the bed around your shoulders.
The bFan® is intended to deliver the air between the top and bottom sheets of your bed so that it is in direct contact with your body.
One of the nice improvements to this new unit is that the base is extremely sturdy with a wide and deep footing as well as a lower center of gravity. This allows the user to place the fan anywhere they like and not worry about stability.See the following full video for installation instructions.
 Controlling the bFan®
The bFan® is fully controllable from off to high and all points in between. When you first start using the bFan® you should start with the bFan® on low and gradually work your way up. At the same time you will raise the temperature in your room by a couple degrees each night. The objective is to bring the fan to about half of full power yet still feel cool. After a few nights of doing this you will reach a point of comfort that you have never felt before. This is equilibrium and from this point you can stop changing the thermostat and start sleeping deeper and sounder.
For the first night, set the fan on low and see if it is too cool in bed for you. If your bed is too cool, you need to raise the temperature in your room for the next night. Follow this pattern until you have reached about half power on the fan and you are no longer too cool.
The point of equilibrium is the point at which the bFan® is evacuating your body heat at about the same rate that it is being created. Above equilibrium will be too cool and below equilibrium will be too warm.
By adjusting the thermostat in your house a few degrees at a time, along with adjusting the bFan® speed, you will eventually find that you are significantly reducing the amount of electricity being consumed thus lowering your electric bill at the same time.
It's supporters like you who have played such a vital role in getting us to where we are today. The bFan® is a simple yet sophisticated product, and with your support we can make a big impact on the world around us by helping others to sleep cooler and save on their energy costs. The bFan® is the perfect improvement to how we traditionally cool our sleeping environment. Of course, making and delivering the bFan® requires substantial resources in order to meet all our needs during manufacturing and distribution. As we gear up to start production, we want to make sure that the product we deliver is beyond your expectations. That's how we designed the bFan®. Come and join us for this next exciting step and see what we can build together. Rest assured you will be happy with the results.
[embed]https://ksr-video.imgix.net/projects/2632865/video-761169-h264_high.mp4[/embed]
Legacy Team LA
We are sorry, this project was not fully funded, no backers has been charged. We will keep everyone updated if this campaign is going to be relaunched. Thank you for your support!
Unfurtunately this project was not fully funded before the end date.