You may put any HTML here. This is dummy copy. It is not meant to be read. It has been placed here solely to demonstrate the look and feel of finished, typeset text. Only for show. He who searches for meaning here will be sorely disappointed.
Couple Pack
$89 + $0 shipping cost
ToothShower
$85 + $0 shipping cost
ToothShower x2
$149 + $0 shipping cost
Couple Pack x2
$169 + $0 shipping cost
ToothShower x4
$269 + $0 shipping cost
Couple Pack x4
$319 + $0 shipping cost
ToothShower: An All-round Solution For Oral Care In Your Shower!
ToothShower is the world's first complete oral care solution for the shower that does away with the need for flossing.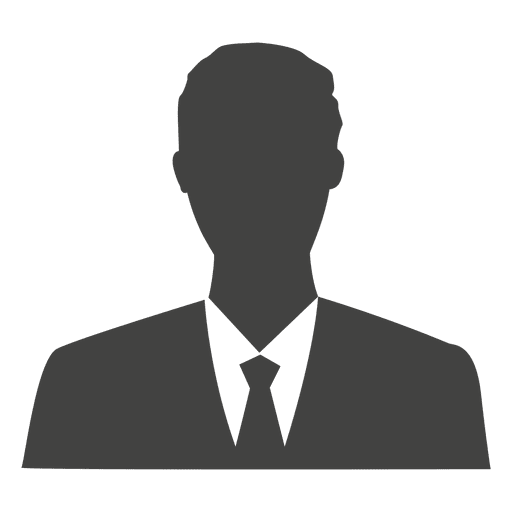 Farzin Golshen
Powered by the water in your shower, ToothShower cleans 100% of your teeth surfaces, not just 60% like the average brushing.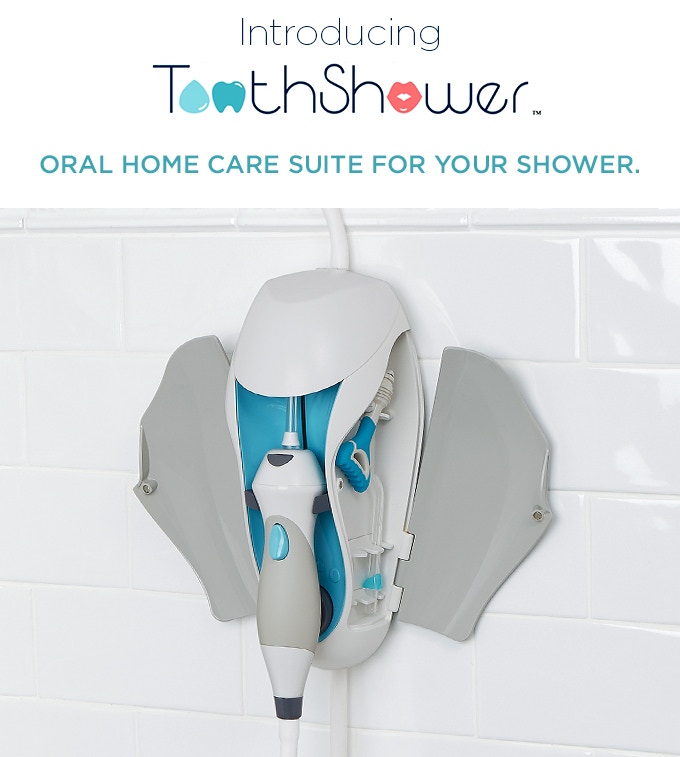 ToothShower is the world's first complete oral care solution for the shower that does away with the need for flossing. It's easy to use and will fit right into your morning routine. Powered by the water in your shower, ToothShower cleans 100% of teeth surfaces, every nook and cranny of your teeth, not just 60% like the average brushing. Toothbrushing misses between your teeth where gum disease can start.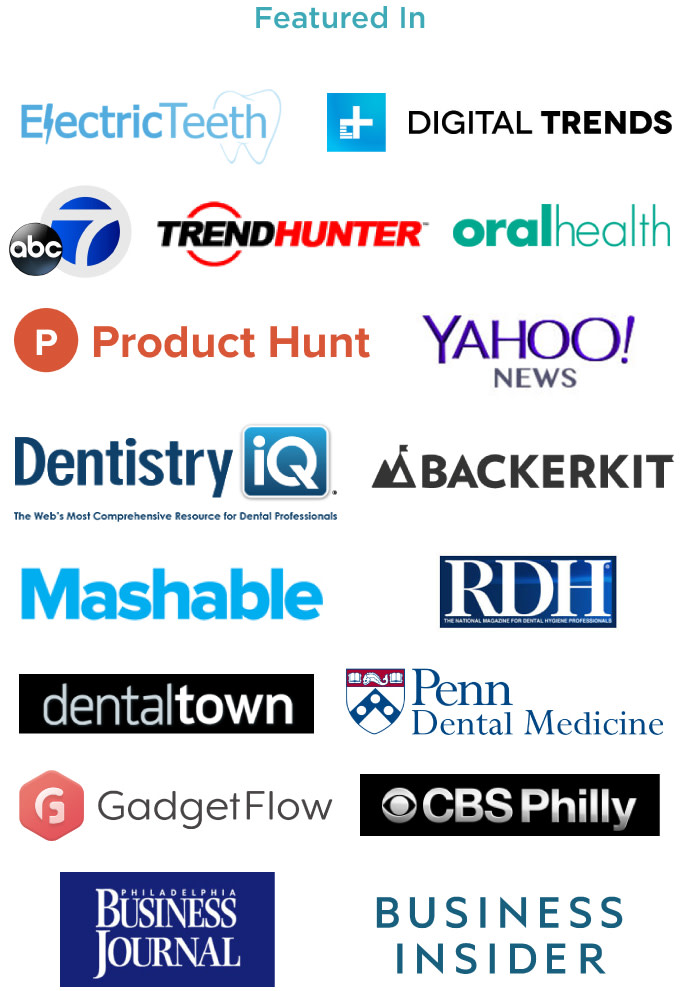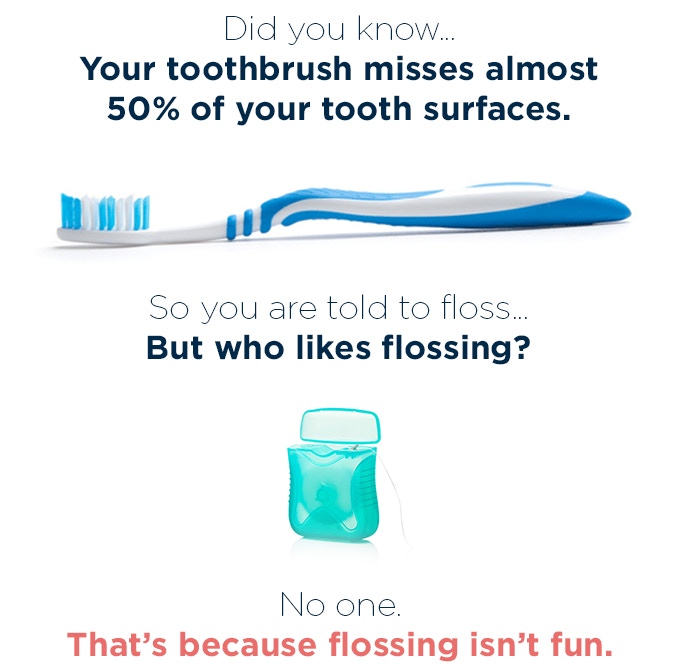 Let's face it: no one likes to floss. In an age of so much tech advancements making our lives easier, it's crazy to think that we're still rubbing a string in between our teeth to clean them. But gum disease effects over half of Adult Americans, according to the Center for Disease Control. Cleaning between your teeth, where your toothbrush is missing, needs to be a top priority.
Plus, flossing isn't even proven to be the best way to clean between your teeth. There has to be a better way, especially since recent research states many people use floss incorrectly or not at all. The American Dental Association recommends cleaning between your teeth at least once a day as an important part of overall oral health.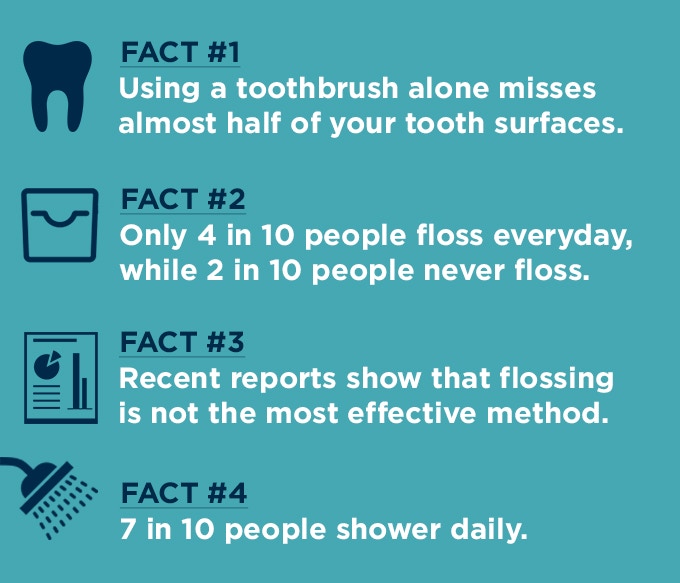 ToothShower is different. It's an all-in-one oral care device that will revolutionize tooth care forever.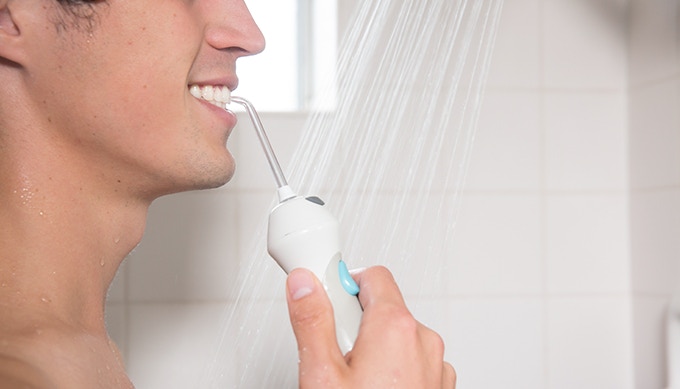 ToothShower uses the water pressure in your shower as a power source, so there are no plugs to trip over or batteries to charge. And because you're already in the shower, there's never any mess to clean up after.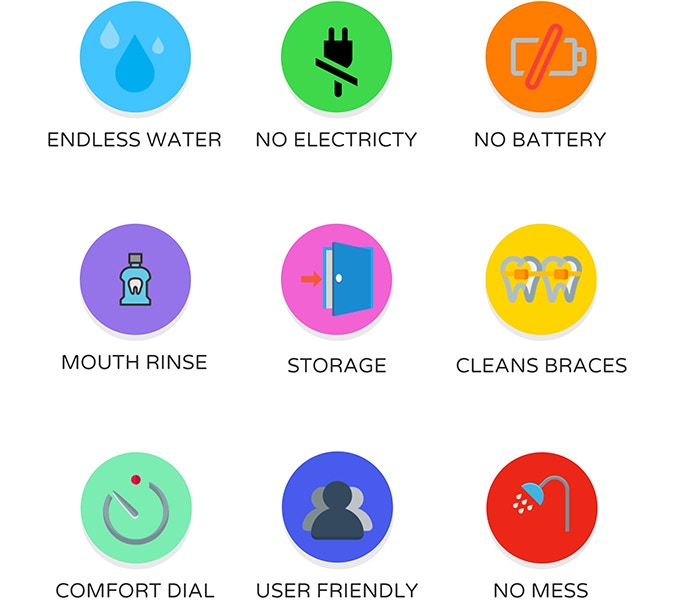 ToothShower has three different attachments for optimum oral care: an irrigating dual-headed toothbrush, an irrigating tip, and an irrigating gum massager.

The dual-headed toothbrush hits both the front and back and sides of your teeth simultaneously, so you won't miss cleaning the tongue side of your teeth. With silicone bristles on the back of the brush head you can clean the chewing surfaces of your teeth. Go ahead and use the silicone bristles to brush your tongue too!

The irrigating tip flushes water between your teeth like a water flosser (only without the mess to clean-up). This works especially well for braces and to pinpoint spots that your toothbrush can't reach.

Finally, the irrigating gum massager works with seven jets of water to stimulate important blood flow in your gums and remove debris from between your teeth.
This is a huge part of preventing and even healing gum disease.
Just hold the massager up to your gum tissue and move from side to side. Our innovative, irrigating gum massager will save you time by flushing between all of your teeth in less than 10 seconds. Use it in place of the irrigating tip or in conjunction.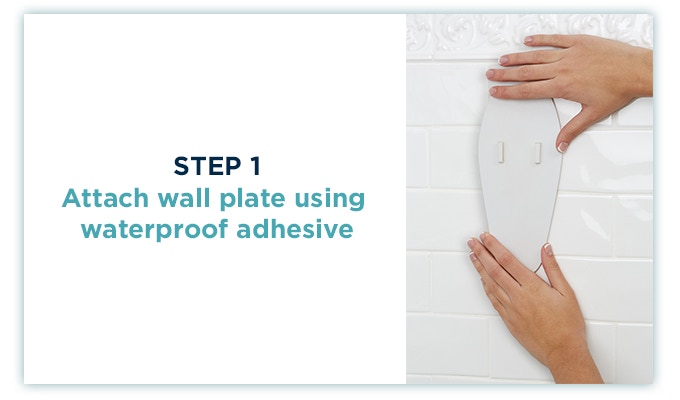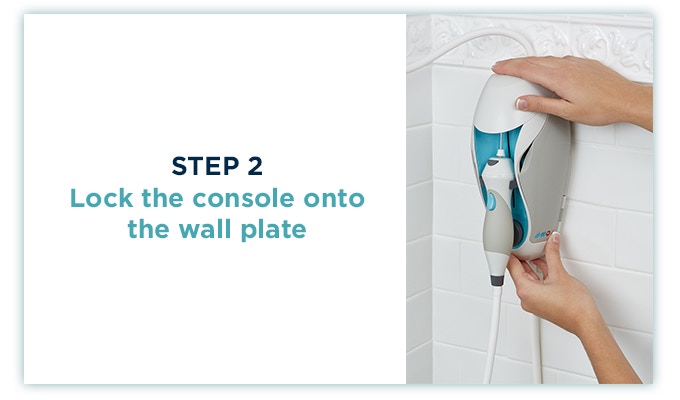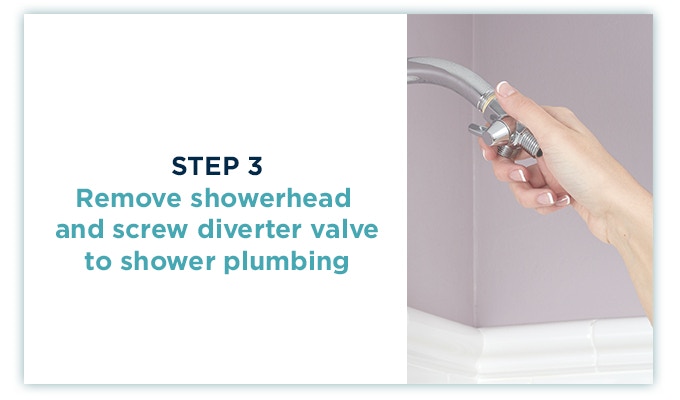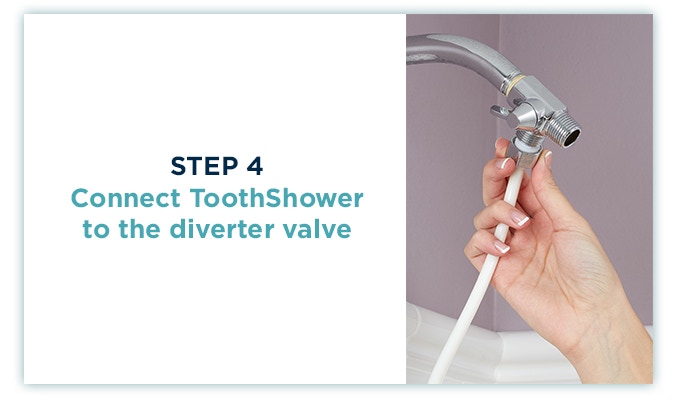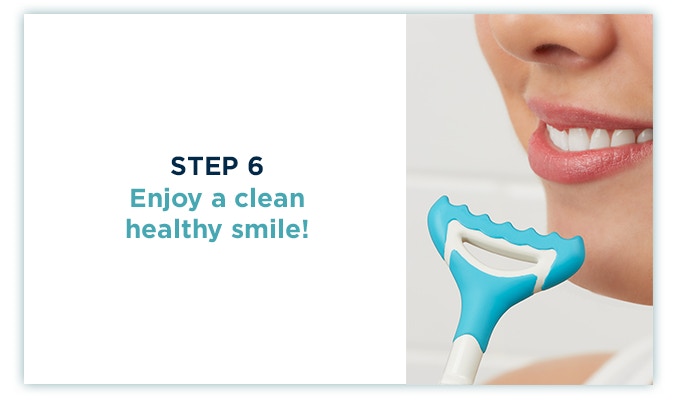 Here's a short video going through the installation process

Shower-powered is what we are, no loud motors to wake others up in the morning. This All-in-One Oral Hygiene Innovation lacks nothing.

Use the dial to turn the device on and choose a comfortable pressure setting.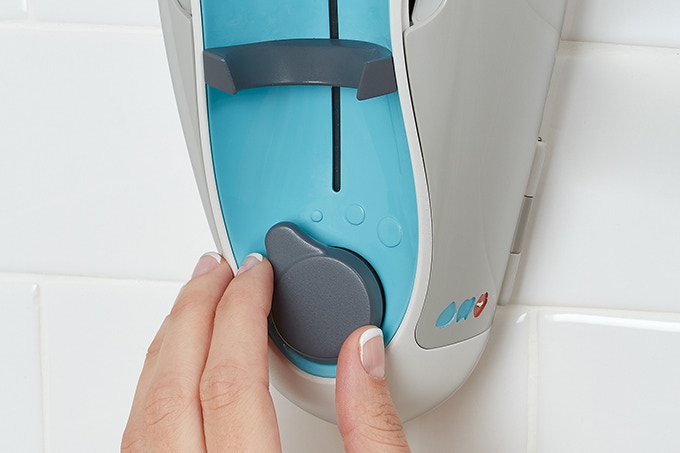 Whether you like warmer or colder water, you get to choose the water temperature that matches your personal comfort level by using your showers temperature dial.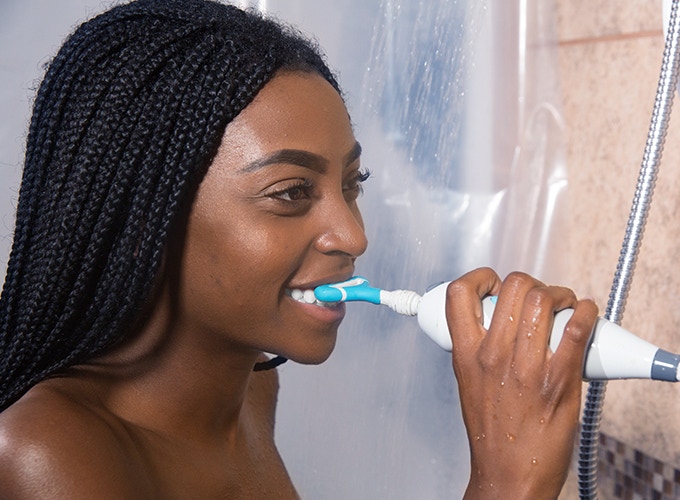 Countertop Water flossers can be messy to use because water and bacteria get everywhere! They tend to end up back under the countertop and never to see the light of day again.

Don't worry about where the water goes since you are already in the shower! Flush the debris from your teeth right down the drain. The convenient location enables new healthy habits to start.

ToothShower complies with the FDA guidelines and contains food grade and non-toxic materials.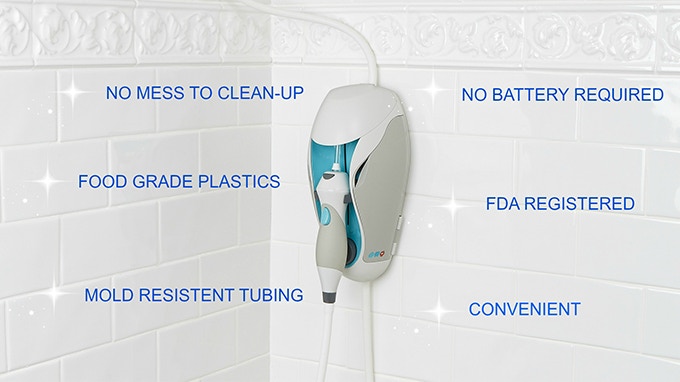 With ToothShower, you can add in your own mouthwash or tooth whitener for an even fresher feeling. Heal those bleeding, puffy gums by flushing out the food and bacteria. Then direct an anti-bacterial rinse directly to the inflamed areas. So when you leave the shower sparkling clean, your teeth will be too!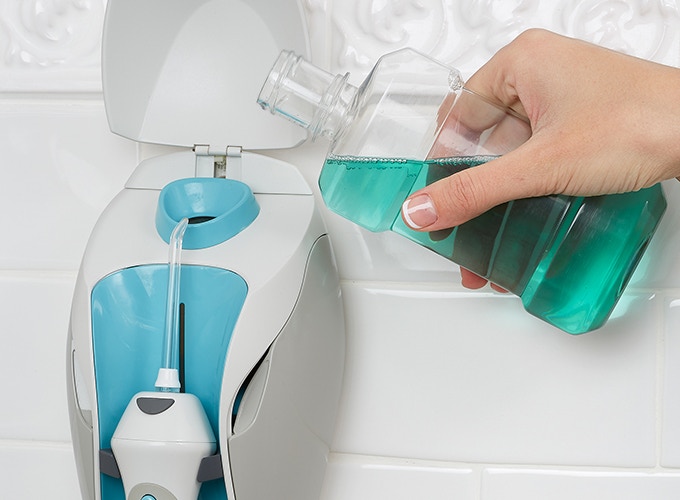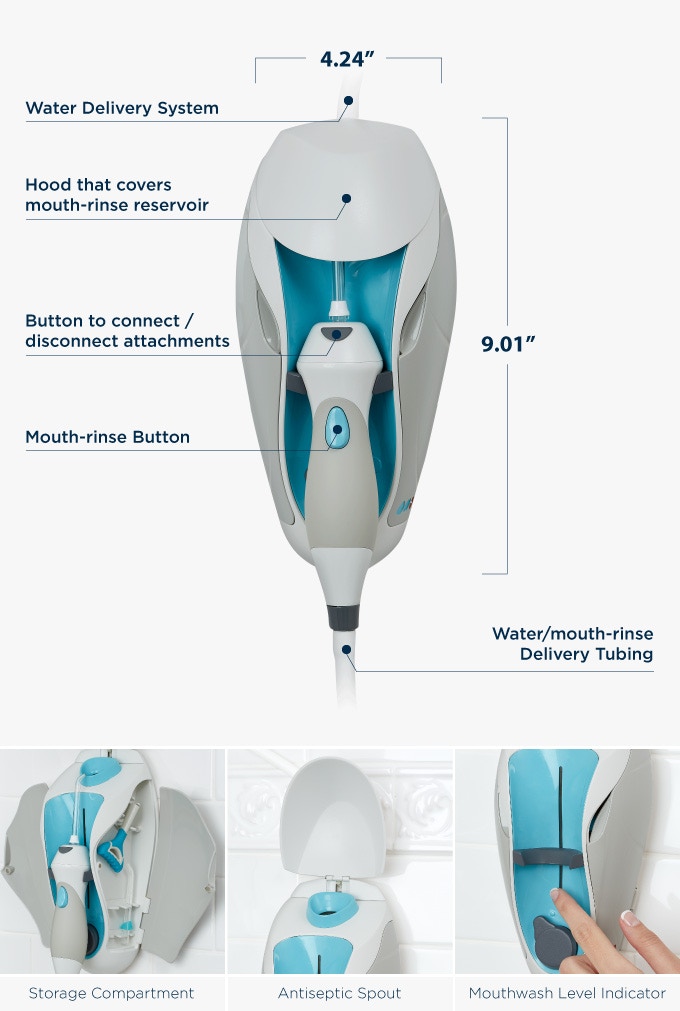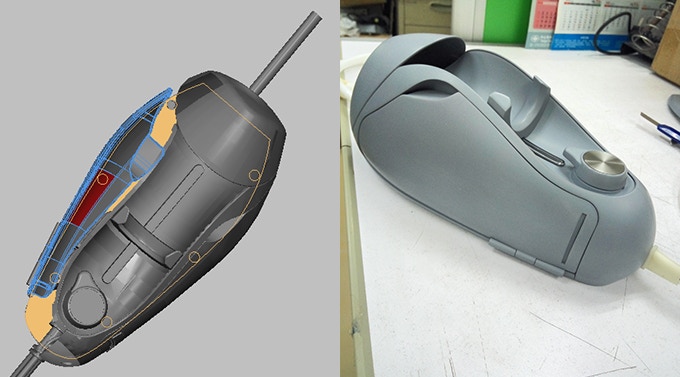 Our team has worked hard for over 2 years to perfect our product. With your support, we will be able to move forward with our tooling and place a bulk first order. This in turn will bring ToothShower to life and change the future of oral hygiene one shower at a time.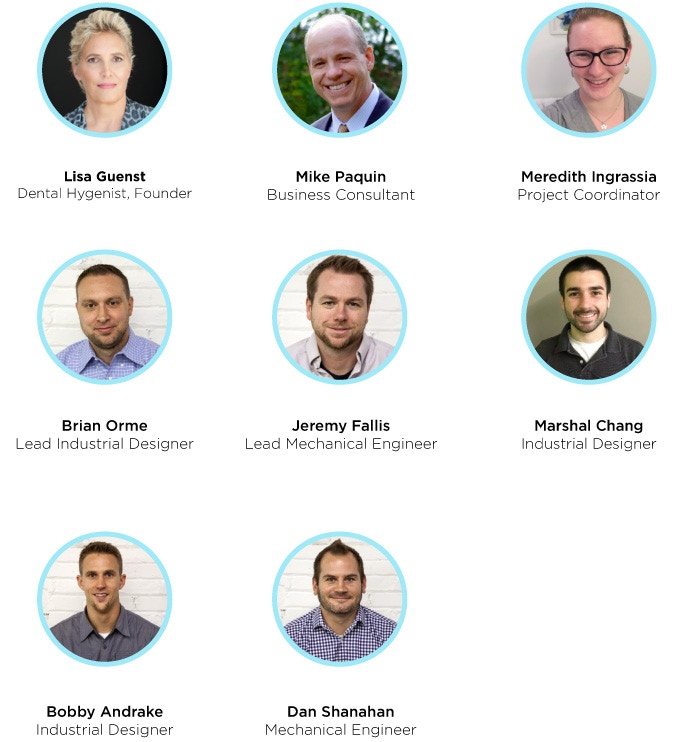 Lisa Guenst has been a dental hygienist for over 25 years, so she's seen it all. She would explain to her patients why their gums were bleeding but soon realized they didn't have an easy and enjoyable method for 100% cleaning. So she decided if no one else was going to fix it, she would. She developed the prototype for ToothShower with the help of industrial designers and mechanical engineers, the results have been phenomenal. Just take a look at what some early users have had to say about ToothShower. The reviews speak for themselves.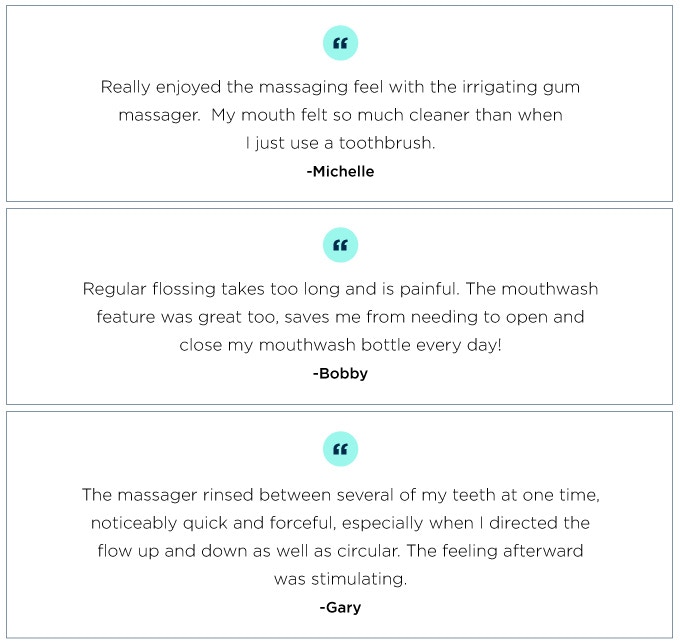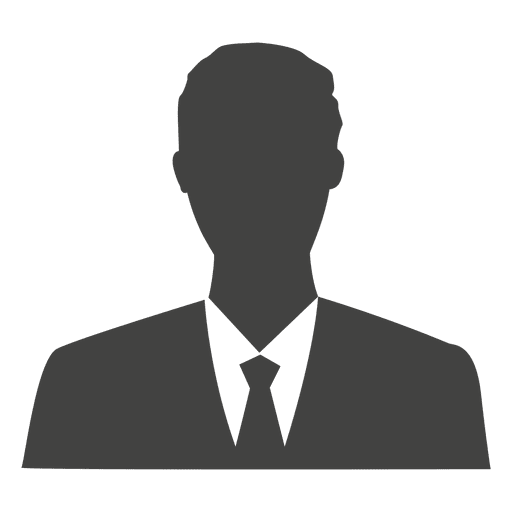 Farzin Golshen
This project is coming to life. Thank you for showing your support!
Couple Pack
Pledge $89 + $0 shipping cost
ToothShower
Pledge $85 + $0 shipping cost
ToothShower x2
Pledge $149 + $0 shipping cost
Couple Pack x2
Pledge $169 + $0 shipping cost
ToothShower x4
Pledge $269 + $0 shipping cost
Couple Pack x4
Pledge $319 + $0 shipping cost