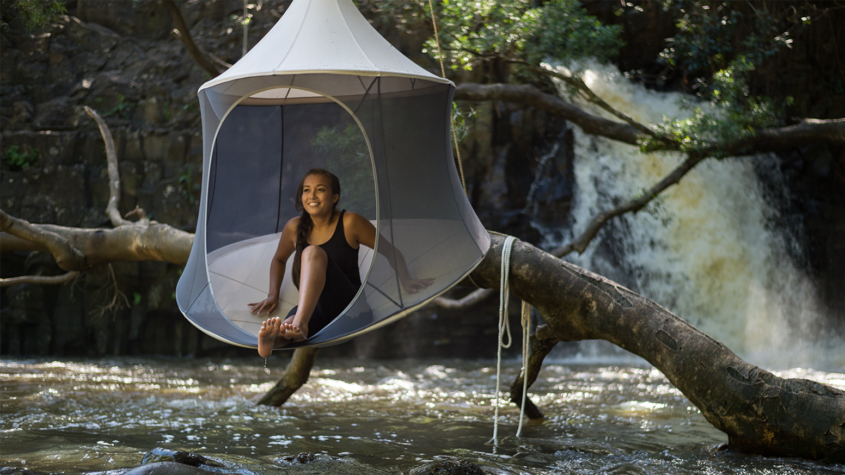 You may put any HTML here. This is dummy copy. It is not meant to be read. It has been placed here solely to demonstrate the look and feel of finished, typeset text. Only for show. He who searches for meaning here will be sorely disappointed.
Unfurtunately this project was not fully funded before the end date.
TreePod: Spacious Hanging Treehouse Enjoy the Nature and Chill!
TreePod is a spacious hanging treehouse, combining the luxury of a cabana & the portability of a hammock for supreme relaxation.
Legacy Team LA
[embedyt] https://www.youtube.com/watch?v=TlCuSaF0CUw[/embedyt]
AVAILABLE FOR PURCHASE – PLACE YOUR ORDER HERE
Relax easily and relax often. We designed the new TreePod Lounger & Cabana to be your ultimate hanging relaxation escape.
With only one hanging point and diameters of 4,5 or 6 feet, TreePod takes the evolution of the hammock to an entirely new level.
Whether you're planning a weekend trip to the mountains or looking to escape everyday life on your own back porch, our newest TreePods will give you the comfort of a luxurious bungalow, along with the phenomenal floating experience of a hammock.
Both the TreePod Lounger & Cabana will come with a fabric pod, hand strap, frames, quick link, hanging rope and guy-line, so all you'll need is one tree or durable structure.
Since the beginning of the campaign, we've unlocked stretch goals and added several accessories. Both models will now be available in 6 colors, there is an optional bug net insert for the door, a rain fly, a full cover for when not in use, a storage bag to stow collapsed, but not disassembled, and The TreePod Stand, a steel tripod to hang the Pods indoors or outside where there aren't trees.
*Stand is 8'6″ high, 8'4″ in diameter and weighs 60lbs.
The only true difference between the two is the material. With the Cabana's mesh walls, you'll get a 360-degree view, a breeze and more importantly, shade. With the Lounger's canvas walls, you'll get a private escape that's quiet, serene and can even be used as an individual work space.
OF COURSE! TreePods are super portable, incredibly durable and pack down to the size of the average tent. It's perfect for tossing into your trunk for a relaxing getaway.
Legacy Team LA
We are sorry, this project was not fully funded, no backers has been charged. We will keep everyone updated if this campaign is going to be relaunched. Thank you for your support!
Unfurtunately this project was not fully funded before the end date.