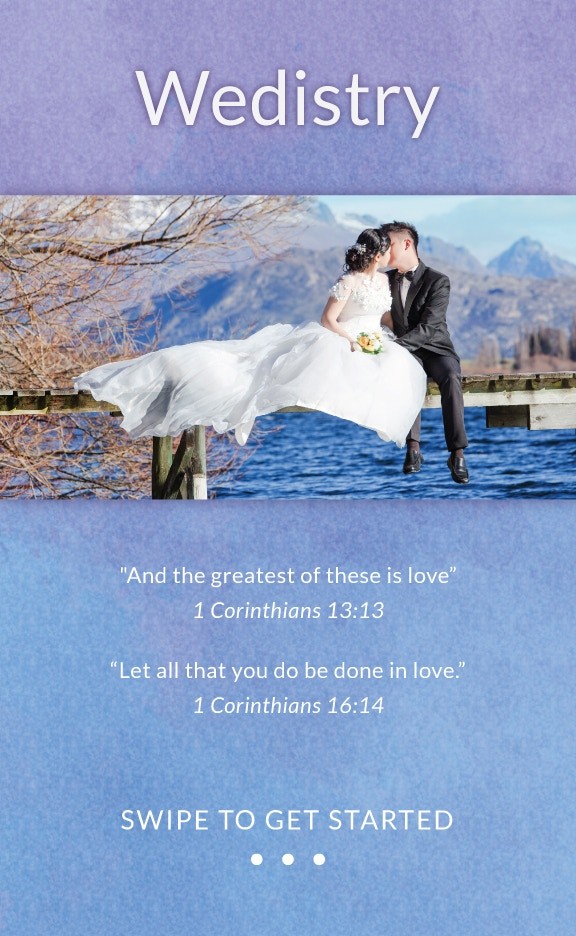 You may put any HTML here. This is dummy copy. It is not meant to be read. It has been placed here solely to demonstrate the look and feel of finished, typeset text. Only for show. He who searches for meaning here will be sorely disappointed.
Unfurtunately this project was not fully funded before the end date.
Wedistry.com Easy, stress-free wedding planning
A new way to plan your wedding
Legacy Team LA
 Why Wedistry?
Wedistry is the first app that combines combines social media with wedding planning and gift giving to make your wedding planning experience fun, reduce stress, and save money!
Most wedding apps are management tools that still require couples to collect addresses and send postage in addition to buying a gift and delivering to the beautiful couple. It's time for a wedding website and app where couples can invite guests to all their wedding events and send a gift!
Wedistry.com is a fun way for each couple to choose a unique wedding hashtag to remember their big day and help wedding guests to find the couple and send electronic gifts. This project aims to provide a convenient and fun way to support couples on their wedding day.
How does it work?
Users of the Wedistry website and app would visit for these primary reasons:
1) Wedding guests simply want to send a monetary gift to their favorite wedding couple.
2) Wedding guests can easily manage the weddings they will attend and have the peace of mind knowing gifts have been purchased for all upcoming weddings.
3) Last but most importantly, couples will be able to send and manage digital invitations and their wedding registry.
Couples using Wedistry will be able to plan the guest lists for their wedding events in an hour or less. Couples will: Log in to Wedistry and create a simple profile including couples names, wedding date, and a unique wedding hashtag. Merge contacts from Facebook and Google. Couples will then choose all of their wedding events. (Save the Date, Wedding Shower, Wedding Rehearsal Dinner, and Wedding Day)
The couple will then invite their contacts to each wedding event and choose the event dates. The couple will set the dates that invitations will be sent automatically to the chosen guests. Hours of collecting addresses and the cost of postage and invitations is eliminated saving the couple time and money.
The Final Version
The final version of Wedistry will include a unique wedding hashtag for each couple, the ability to completely manage the wedding invitations and events and allow couples to choose their complete registry through the Wedistry website. Guests will then be able to purchase gifts through the website and the couples will receive real time notifications of purchases.
Legacy Team LA
We are sorry, this project was not fully funded, no backers has been charged. We will keep everyone updated if this campaign is going to be relaunched. Thank you for your support!
Unfurtunately this project was not fully funded before the end date.