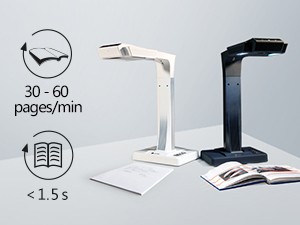 You may put any HTML here. This is dummy copy. It is not meant to be read. It has been placed here solely to demonstrate the look and feel of finished, typeset text. Only for show. He who searches for meaning here will be sorely disappointed.
Unfurtunately this project was not fully funded before the end date.
World 1st True Smart Scanner CZUR Professional Book Scanner
*Available for purchase now. International shipping.* CZUR is the world's first true smart scanner. CZUR is also the fastest scanner in the world. It can scan books easily, connect to WiFi, and serve as a video projector..
Legacy Team LA
AVAILABLE FOR PURCHASE NOW. INTERNATIONAL SHIPPING.
Unlike any other traditional scanners, CZUR ET16 revolutionizes your scanning experience by bringing simple, intelligent and fast scanning performance. All books, magazines, contracts and any paper documents within size A3 (Note: Due to reflectivity of materials with glossy surface, scanning result might be affected) can be scanned directly without cutting or damaging in the speed of 1.5s/page . The CZUR ET16 is also capable of scanning physical objects such as sculptures. All of your scanned documents can be converted to editable Word/PDF/TIFF or JPG.
Benefited from innovative overhead design and intelligent processing software, the CZUR ET16 makes scanning easy and quick by dispensing the tedious operation. To access your scanning files in less than 1.5 second by simply pushing one button. With non-contact scanning technique, the CZUR ET16 can scan fragile documents without any touching damage. Meanwhile CZUR ET16 makes scanning more commodiously with the foot pedal and TFT screen design.
·Curve Distortion Flattening & Fingerprints Erasing
CZUR ET16 automatically identify and flatten the curve distortion of books. A replicated digital document will be created also automatically erasing the fingers that hold the book in place.
·One-button OCR
All documents you scanned can be converted to editable Word/PDF/TIFF or JPG in one button via intelligent CZUR software.
Your scanned documents can be uploaded to CZUR Cloud via Wi-Fi(2.4GHz). Easily synchronize your files to any devices you wanted, giving you more flexibility to manage your scanned data and work.
Equipped with 16-megapixel Sony HD camera, CZUR ET16 can provide high-quality scanning documents. It can also be connected to computer or projector via HDMI used as visual presenter.

Outperforming any other existing scanners, CZUR not only scans contracts/financial instruments or any cards, but also scans binding material like books or bound files without any extra damage. Certainly it do well in scanning physical objects such as sculptures and packing boxes.

CZUR ET16 can be widely used in:
1. Administration Department or Financial Department of Enterprises
2. Library or School
3. Archives/Public Security Organization or Court
4. Law Office or Accounting Firm
5. Financing Institution such as Bank or Securities Company
https://youtu.be/SvuG6GicNzc



CZUR smart scanner features auto book curve image-flattening, fingerprint erasing and paging technology will bring you easy and pleasant book scanning experience




Ultra-fast scanning rate, scans an A3 (double-letter) size area in less than 1.5 seconds




Capable of scanning multiple items: Bound Materials (books & binder documents), Unbound Materials (business cards and vouchers) and even Physical Objects




Advanced OCR technique: One button to convert JPG to editable WORD / PDF / TIFF. Please check video user manual here: http://c.czur.com/videoinstruction




CZUR is compatible with Windows XP/7/8/10, Mac 10.11/ 10.12. Also CloudSync: Scanned documents can be processed and uploaded to the CZUR Cloud via WiFi(2.4GHz), giving you more flexibility to manage your scanned data.



Legacy Team LA
We are sorry, this project was not fully funded, no backers has been charged. We will keep everyone updated if this campaign is going to be relaunched. Thank you for your support!
Unfurtunately this project was not fully funded before the end date.