You may put any HTML here. This is dummy copy. It is not meant to be read. It has been placed here solely to demonstrate the look and feel of finished, typeset text. Only for show. He who searches for meaning here will be sorely disappointed.
Zero Breeze The World's Coolest Portable AC Unit: Purchase Now
Portable, Smart, Multifunctional Air Conditioner that includes a bluetooth speaker, night light etc. Available to purchase now.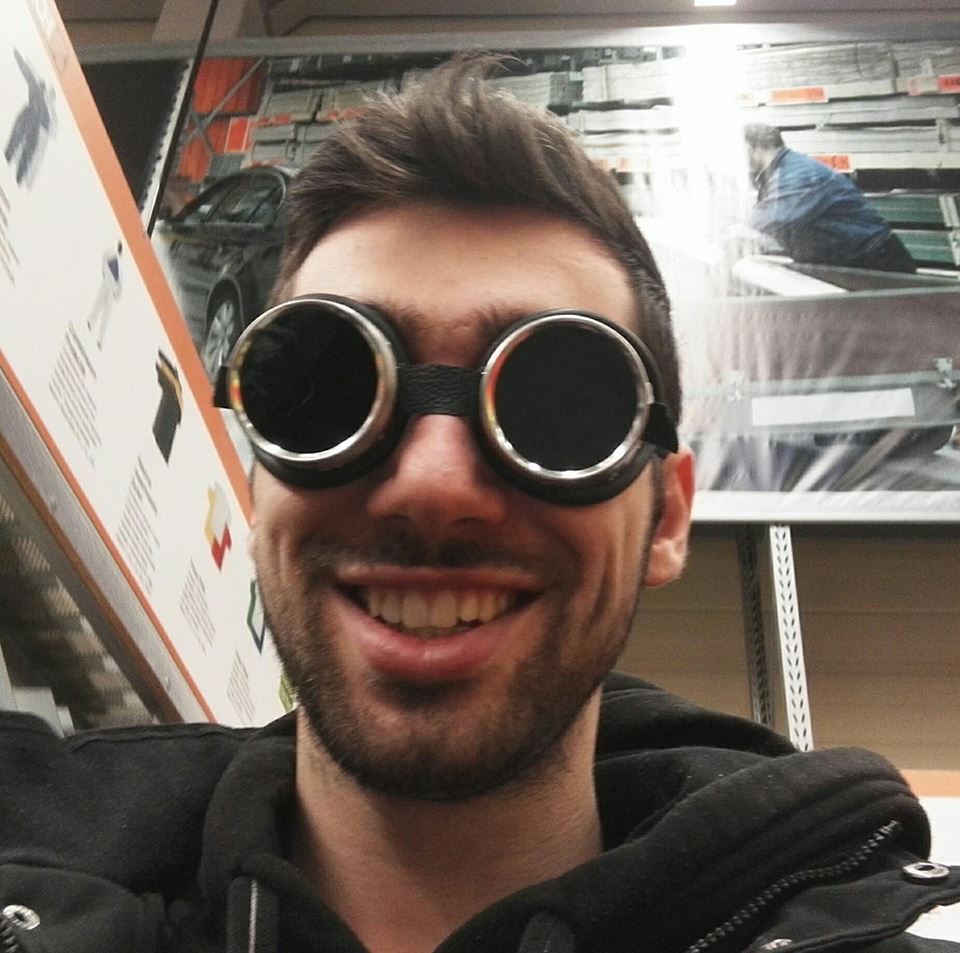 Dragos Cimpean
PURCHASE NOW – INTERNATIONAL SHIPPING
Your Ultimate Portable Cooling Solution
May Zero Breeze brings comfort and coolness to you
PATENTED BUILT-IN MICRO COMPRESSOR.
1100 BTU air conditioner best for indoor spaces and Tent or Any car.

High effective cooling effect.
THE REAL AC ——
Unlike one of those "evaporation air-conditioners" that are actually just fans with ice or water inside.

12 VOLT
BATTERY POWERED
AIR CONDITIONER*
Powered by its interchangeable power base.
Truly hassle free from in-house wall plug.

54 sections 18650 lithium battery composition
Normal use for about 5 hours, 3.5 hours at full load.


Standard (without smart battery)
Plus (including smart battery)
Features
Refrigerant:R-134a

Decibel Rating :55-65 dB

Number of Fan Speeds 3

Cooling Area (Sq. Ft.) 50

BTU Cooling Rating 1100 BTU

Working Temperature : < 104 ° F ( 40 ° C)

Power Consumption: 120-150 Watts Max*

Adapter Input: 100-240V/50、60Hz

Adapter Output: 12V-12.5A

Cooling power: 480W

Waterproof Rate : IPX3
Other features
Bluetooth speaker

Night light : 250 lm lighting / red sos

Phone charging station : 2 USB Out Port ; 5V 1A
Air Conditioner Unit Size and Weight
Height: 11 inches (28 cm)

Width: 7.8 inches (20 cm)

Depth: 19 inch (48.2 cm)

Net Weight: 12.8 lbs (5.8 Kg)
Power Bank
Lithium Ion Polymer Battery

Max Charge Voltage: 12.6V DC

Capacity:12V 43Ah 477Wh

Normal Voltage:12V DC

Operating TEMP: 32-140ºF(0-60ºC)

AC Charge Adapter Input: AC110-220v 50/60Hz

Normal use for about 5 hours

Charging time: 5 hours

Height: 2.44 inches (6.2 cm)

Depth: 19 inch (48.2 cm)

Width: 7.8 inches (20 cm)

Net Weight: 7.63 lbs (3.46 Kg)
COOL DOWN 10 ºC
IN THE TENT
Under standard atmospheric pressure, surrounding humidity 25%, temperature 35 °C / 95 °F , in a closed double tent, the air temperature can be cooled to 5-10 °C / 9-18F

Zero Breeze cool air outlet temperature can be as low as 15C/59F (depending on surrounding temperature)

12 LBS
HAND-HELD DESIGN
It is small enough to store in a trunk or a small shelf in the garage when not in use. You can lift it with one hand.

Zero Breeze Air Conditioner Unit :
Height: 11 inches (28 cm)
Width: 7.8 inches (20 cm)
Depth: 19 inch (48.2 cm)
Weight: 12.8 lbs (5.8 Kg)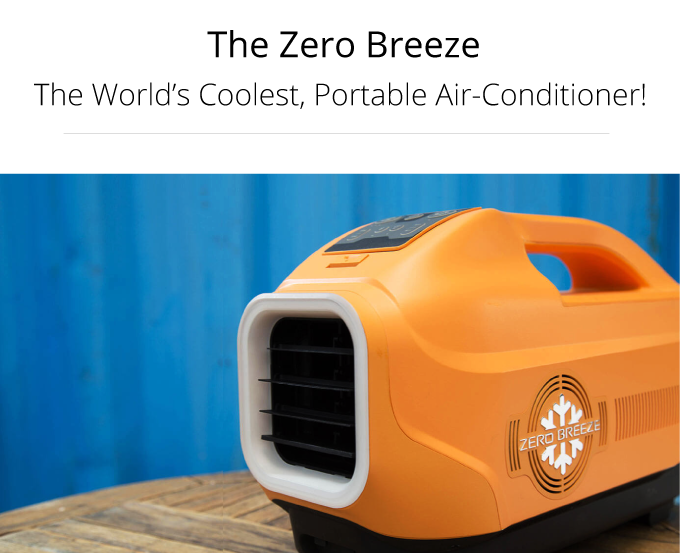 The Zero Breeze is the World's First Portable, Smart, Multifunctional Air Conditioner that also functions as a bluetooth speaker, a night light, and a smartphone charging station. Zero Breeze is capable of cooling a 50 square feet room down to 44 ℉ making it perfect for your home, office, tent, RV, college dorm, and so much more.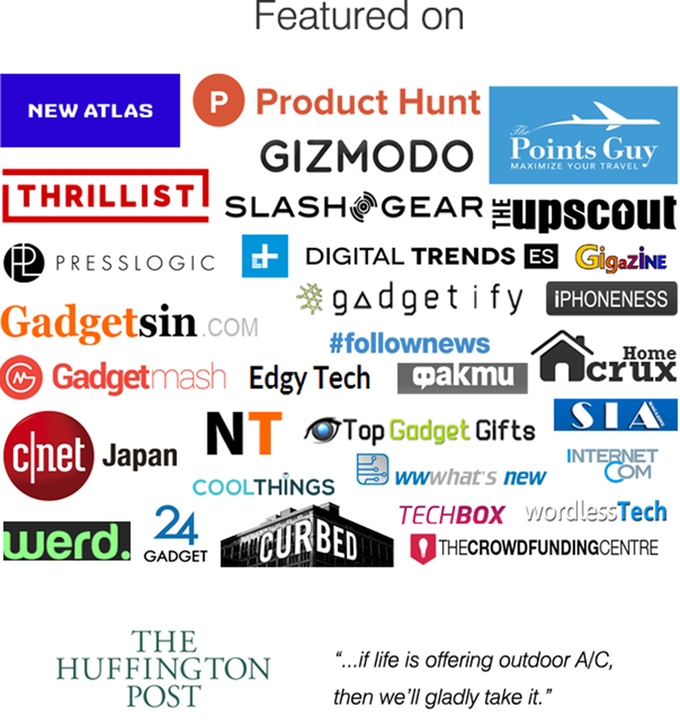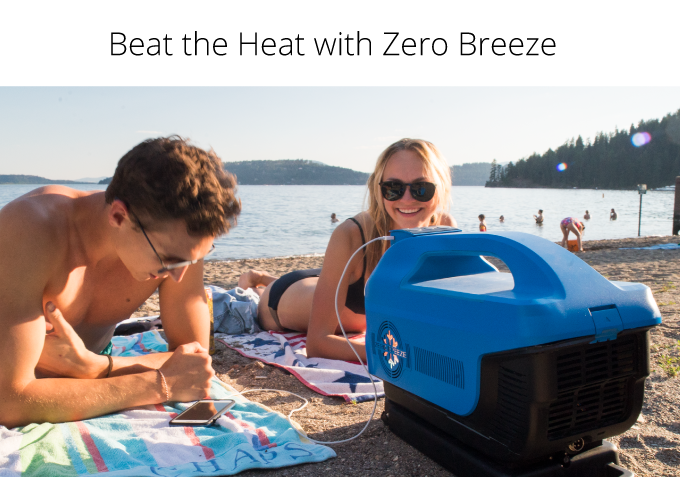 The Zero Breeze is effective, lightweight and easy to use. We use a rotary compressor making Zero Breeze efficient and portable allowing you to stay cool anywhere, anytime.
Similar products in the market don't have a real air conditioning function. A majority just add water or ice into their device to create the cooling effect. Most of all, none are portable because they all need to be plugged in using an adapter to be used.
Plug Zero Breeze in at home or use the battery pack to power it while you're mobile. It's the best way to stay cool and beat the heat.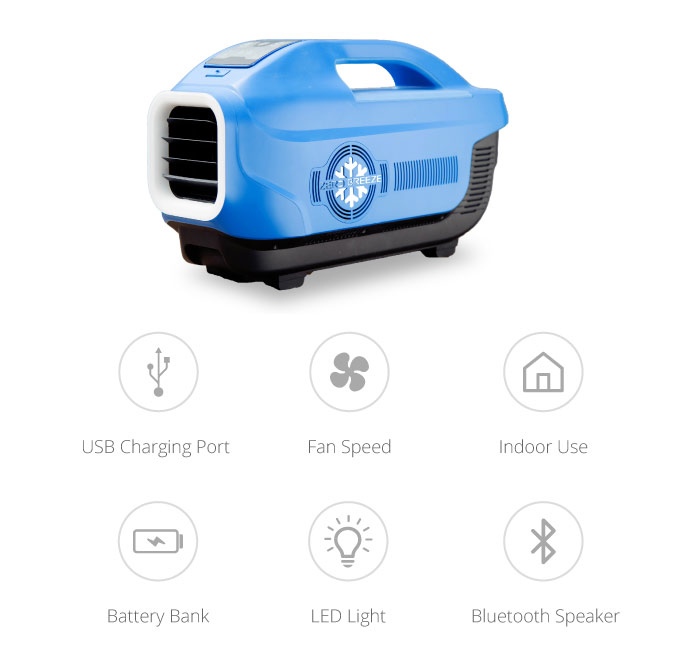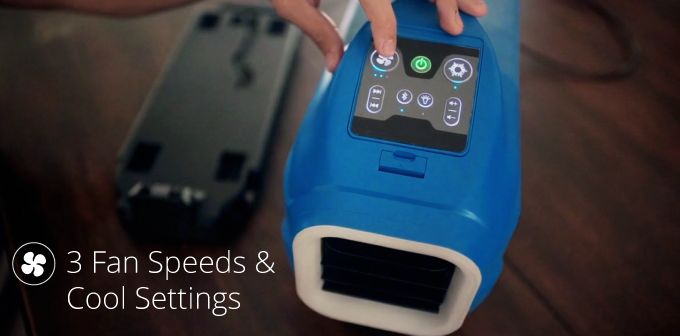 Cool Airflow , Instant Breeze , & Regular Fan Airflow.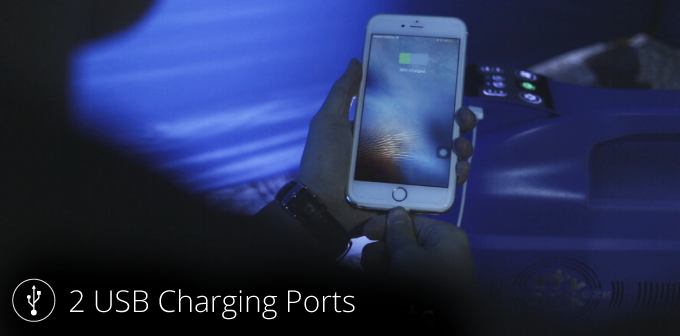 Zero Breeze has easy access charging ports on each side of the control panel.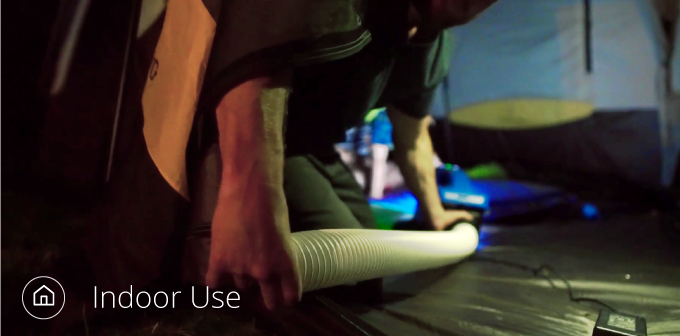 If you're using the Zero Breeze inside, simply attach the hose and extend the other end outside.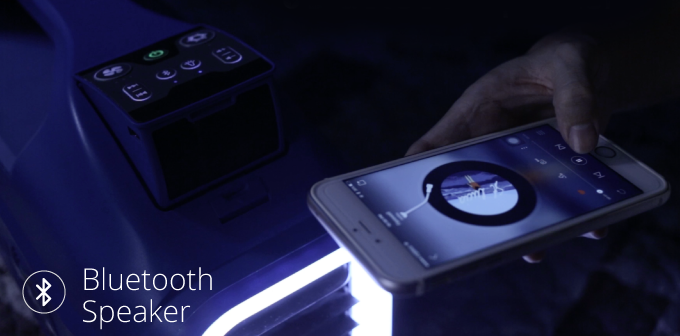 To use the bluetooth speaker, simply lift the front panel and connect to your phone. You can adjust volume levels and skip songs straight from the Zero Breeze.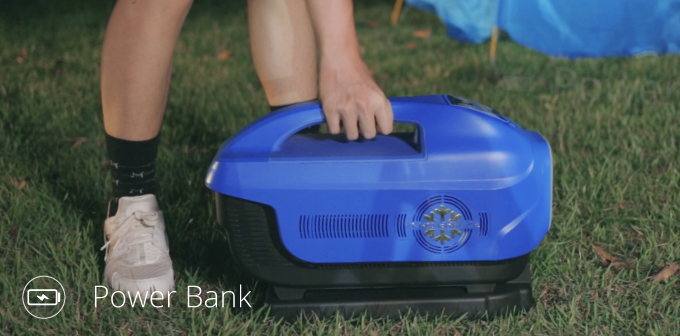 The Power Bank contains 64 cells of 18650s, the same cells that Tesla uses. It is a 5-Hour Battery, allowing you total portability without having to worry about outlets.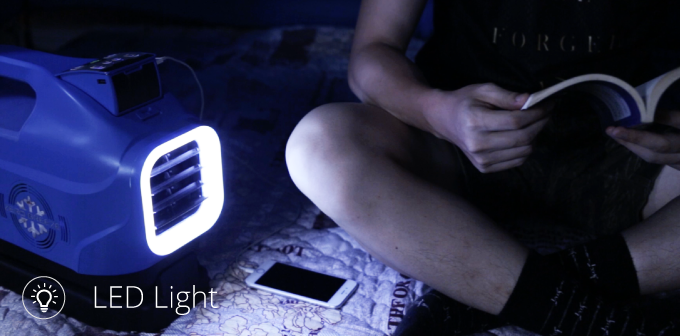 The warm LED light provides the perfect amount of illumination for camping and other outdoor activities.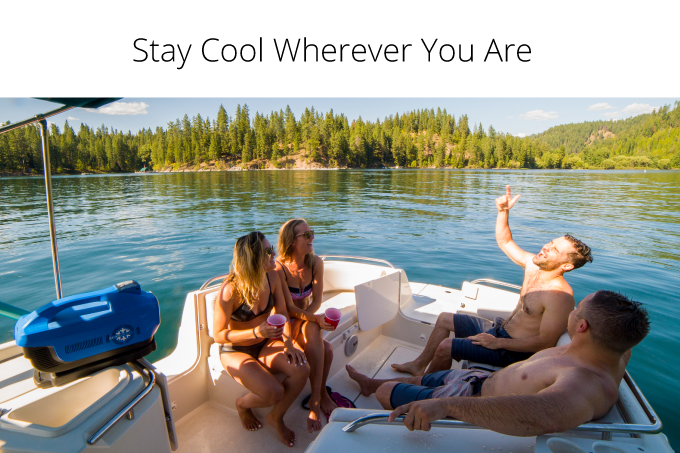 Zero-Breeze is perfect for RV traveling, BBQs, outdoor family get togethers in the summer, and so much more.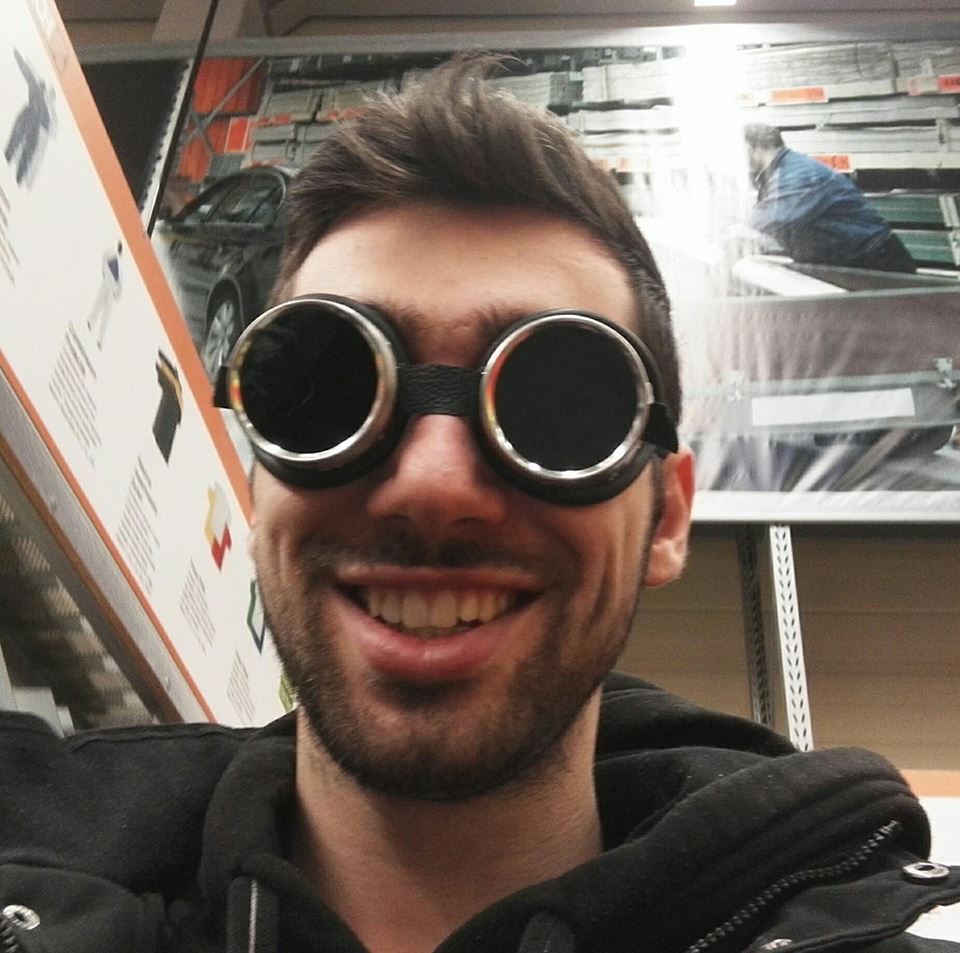 Dragos Cimpean
This project is coming to life. Thank you for showing your support!
ZERO BREEZE + 2 BATTERIES
ZERO BREEZE + 2 BATTERIES
Pledge $899 + $24 shipping cost