Firefly Advanced Situational Awareness Wireless Earbuds
Firefly offers a premium Graphene sound, an ambient sound feature that filters in external noise for extra safety during sports, and especially designed ear fit for longterm comfort.
Legacy Team LA
July 2019
is the end date.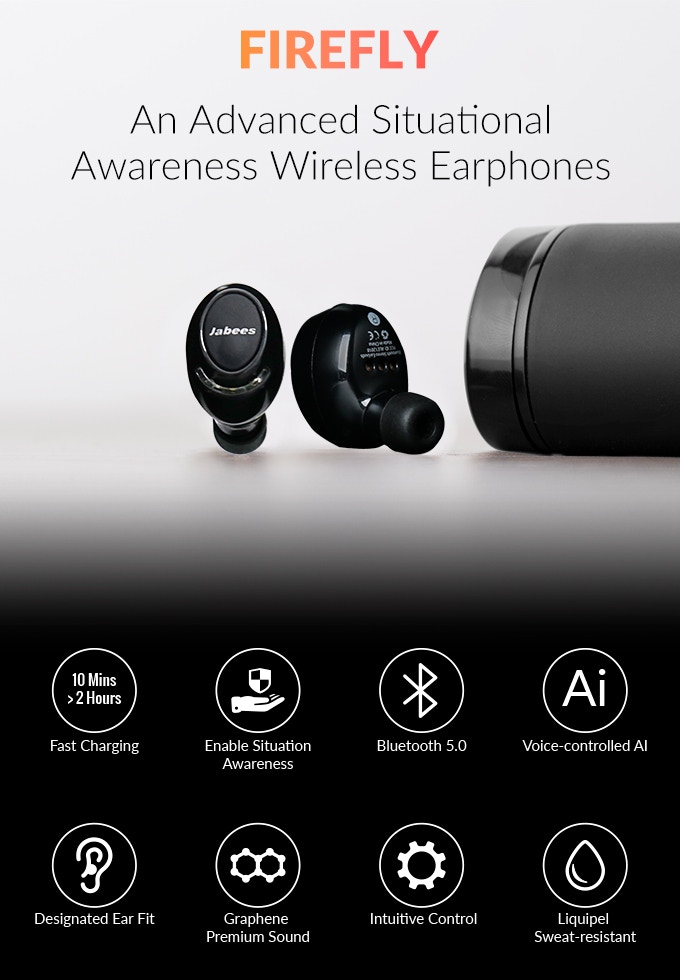 Be in two worlds at once. Get lost in your favorite songs and have full awareness of your outside surrounding whenever you want. Firefly offers premium graphene sound, an ambient sound feature that filters in external noise for extra safety during sports, and accurately designed ear fit for longterm comfort.
With 16 hours of play time, fast charging capabilities, and an unbreakable Bluetooth 5.0 connection, you will never miss a beat again.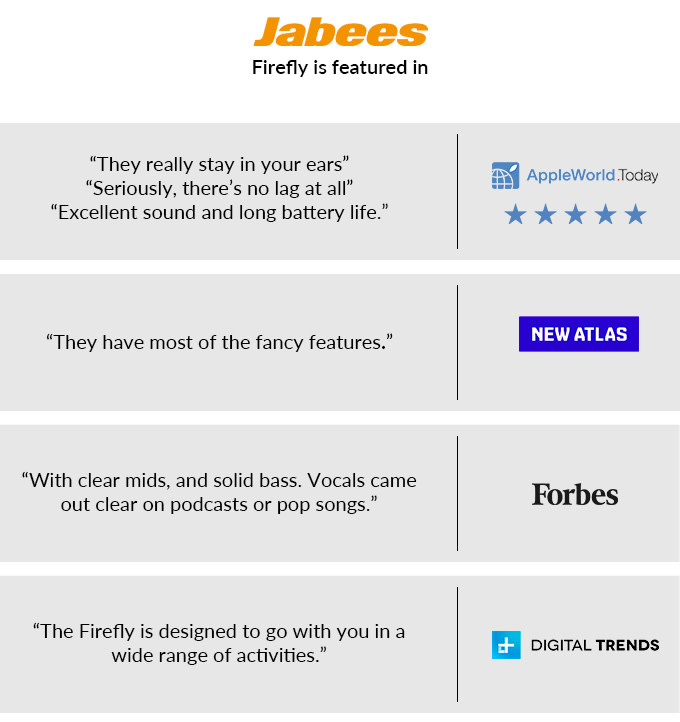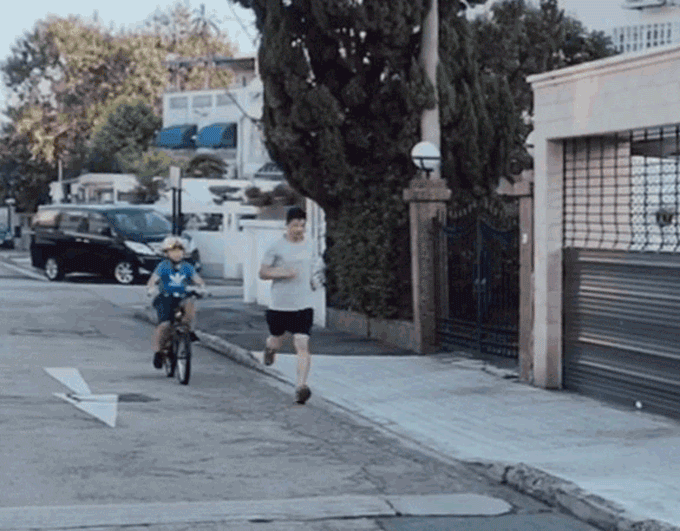 Studies found 8% of pedestrian accidents in urban cities are caused by the use of electronics. We wanted to decrease this number, so we engineered a situational awareness feature to do so. The feature filters in external sounds to let runners, cyclists, and daily commuters stay alert while still listening to their favorite music.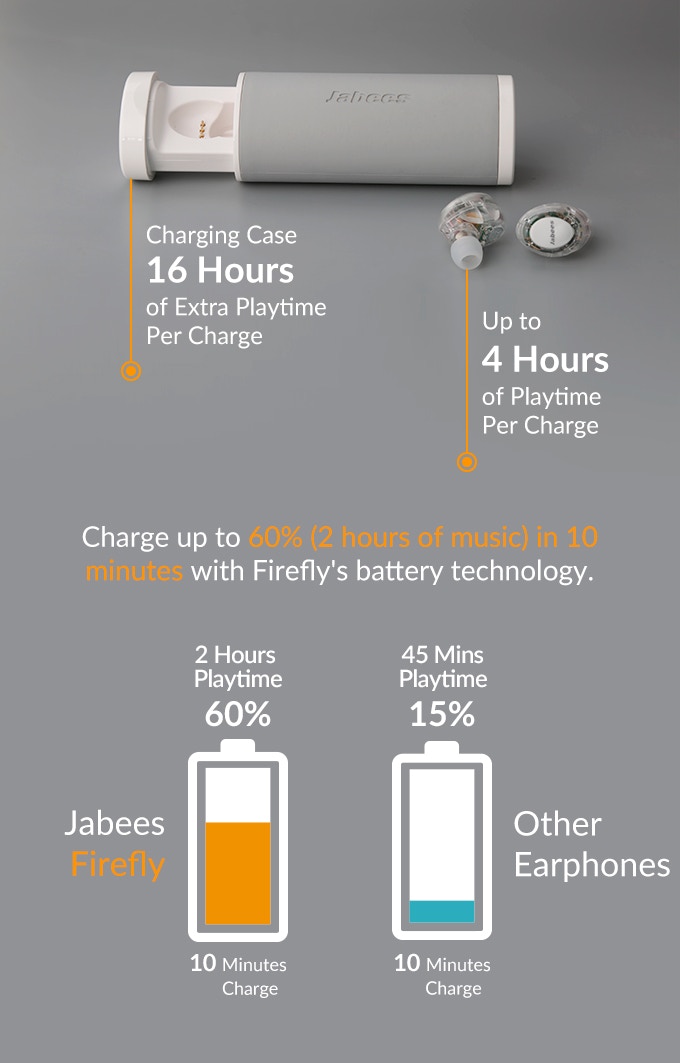 Along with an intuitive control system, Firefly lets you stay powered for up to 16 hours. Unlike other wireless earphones, we worked closely with our suppliers to engineer the best performing battery technology on the market.
With just a 10 minute charge, you can enjoy up to 2 hours of playtime or 4 hours of premium music with only a 30-minute charge. The Firefly also comes with a USB Type-C charging case and cable.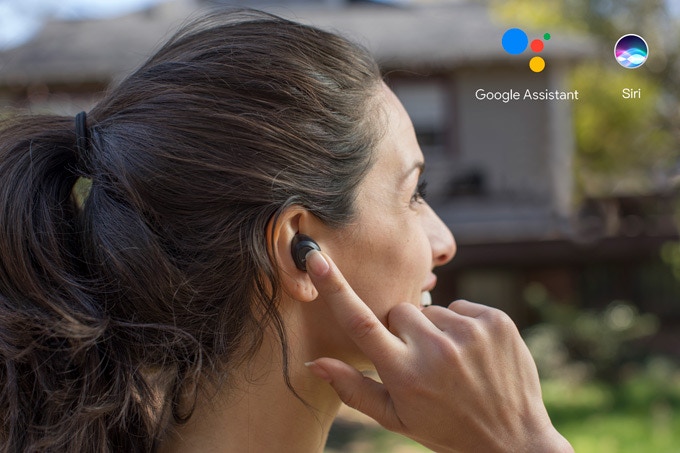 Compatible with Siri and Google Assistant, you can access your personal assistant of choice with the Firefly's quick and easy access button function.
Get all the information delivered straight to your ears. Plan a beach trip with friends, hands-free. Access Siri or Google Assistant with a single tap to see what the weather is like and who's free this weekend.

Bike, climb, lift, or hike without the fear of losing your earphones. With more than 14 years of experience, we have designed the best ear tips to perfectly fit your ears without the earbuds falling out, even during the most rigorous activities. Tested with 100+ human ears, the Firefly has the best fit for all-day comfort.
Note: If you lose one Firefly earphone, we sell individual earphones as well.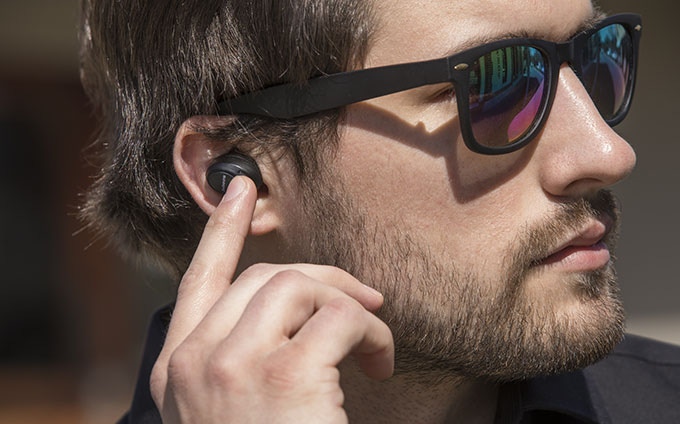 To accompany the best fitting earphones, we had to incorporate the finest sound quality. Firefly utilized Graphene to construct a rigid nanomembrane that's 100 times harder than steel with only a fraction of the weight. By doing so, it improves the sound quality, treble enhancements, noise isolation, and overall sound quality.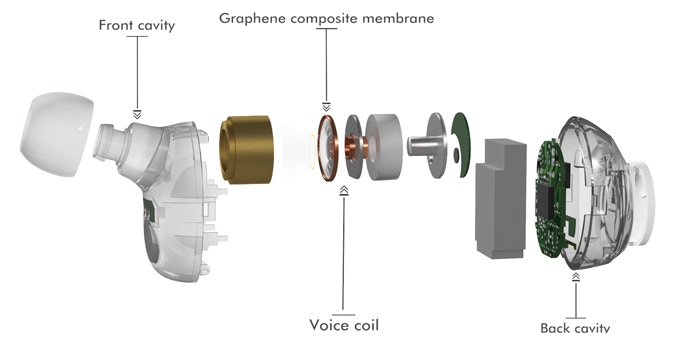 Don't you hate it when the sound doesn't sync up with the video? Sound latency and unstable connections are always major problems for Bluetooth devices. However, with Firefly's ultra-stable Bluetooth connectivity, that's a thing of the past.
Firefly is engineered with the latest Bluetooth 5.0 connection and has a functioning range of up to 33 ft, 2 times faster connection and data transmission speed compared to Bluetooth 4.2, so you'll never have to miss a sound again.
And with its automatic pairing software, just take your Firefly earbuds out of their case and they will automatically connect to the previously paired device in less than a second.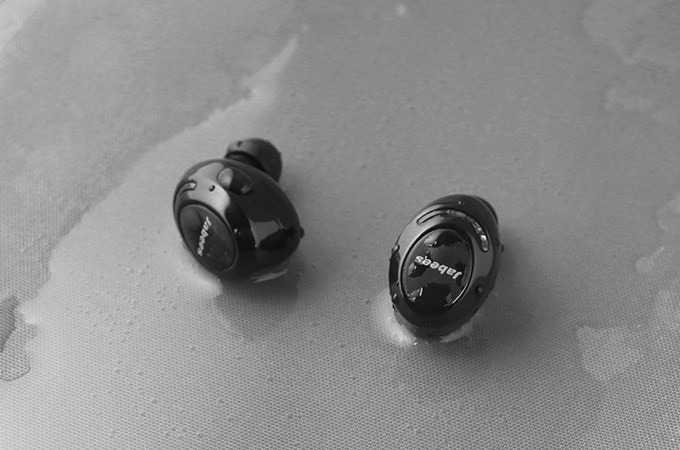 Keep your earphones dry while you're not. Firefly is IPX5 waterproof. This means Firefly can withstand the pressure of a gushing nozzle for at least 3 mins. You might not encounter gushing nozzles anytime soon, but you can now feel at ease when it rains.
Unlike other earphones that break due to water, sweat corrosion or air moisture, Firefly also adopted a patented water safe nano coating by LIQUIPEL to protect against all the elements. Now you can get wet, but your earphones don't have to.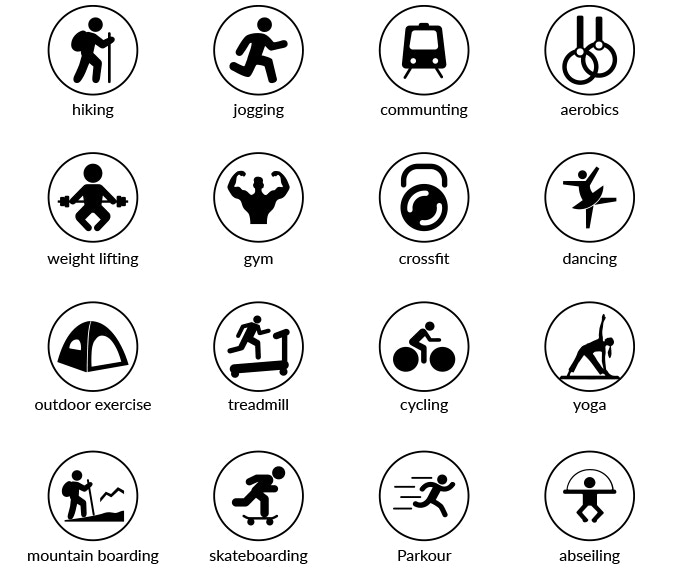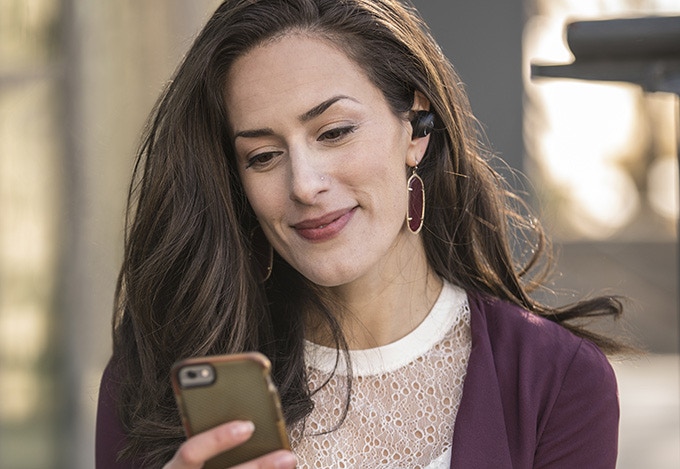 Give people your full attention. At Firefly, we have engineered the latest telecommunication technology to free you from any restrictions. Make calls and talk conveniently through both earphones.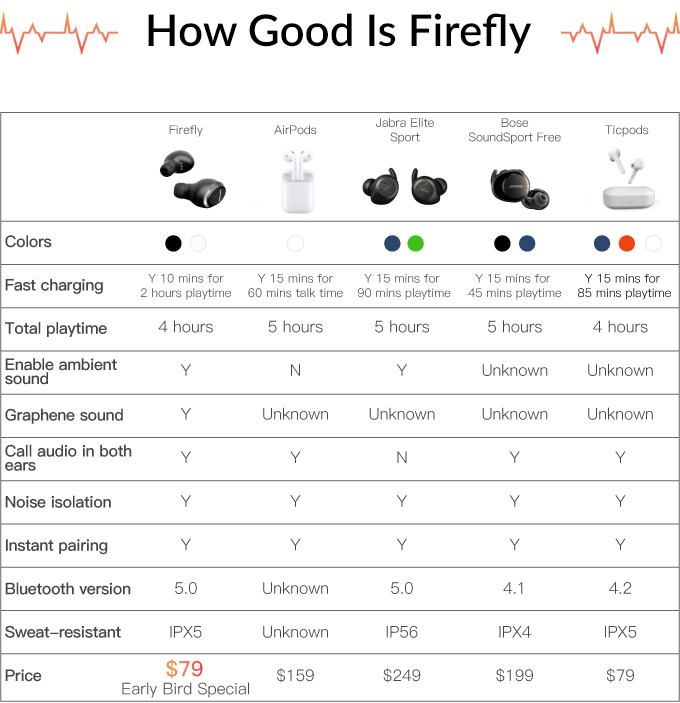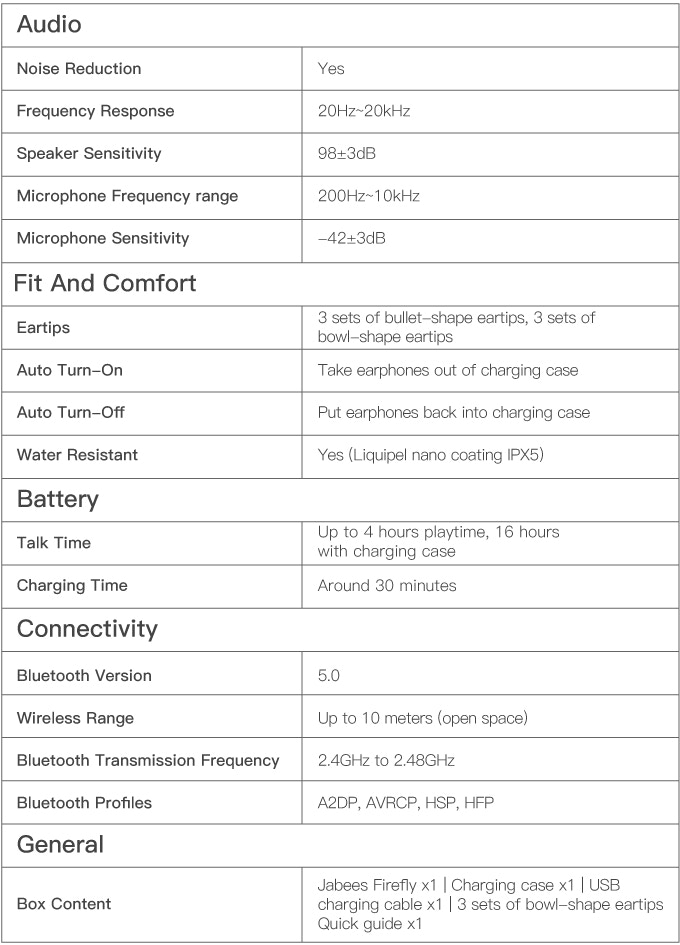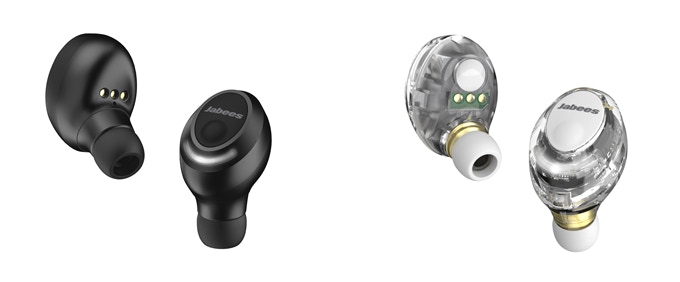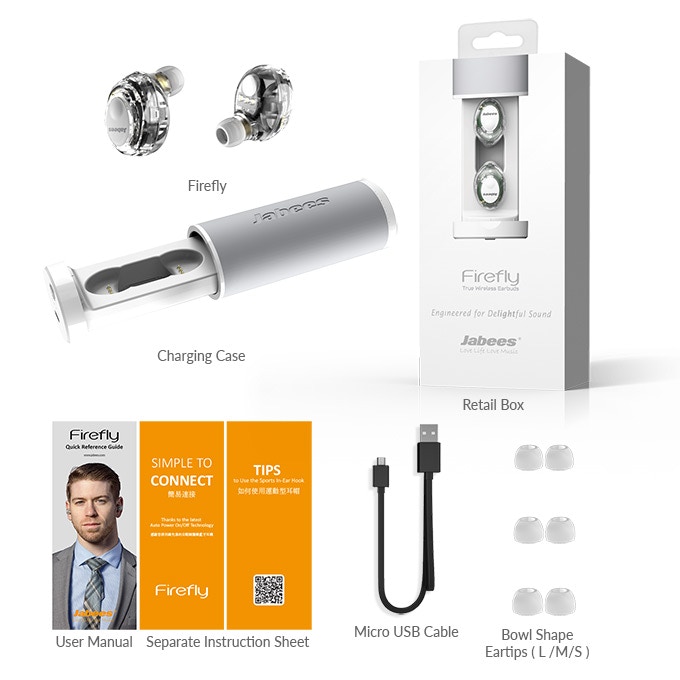 We've made it as easy as possible for you to connect and activate the Firefly earphones immediately.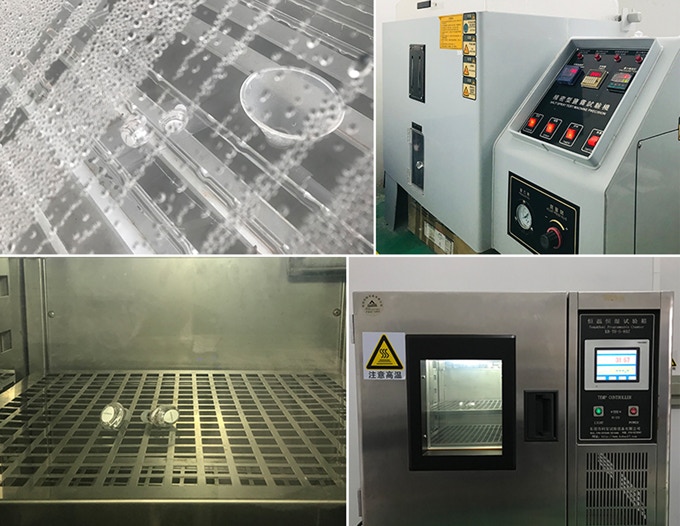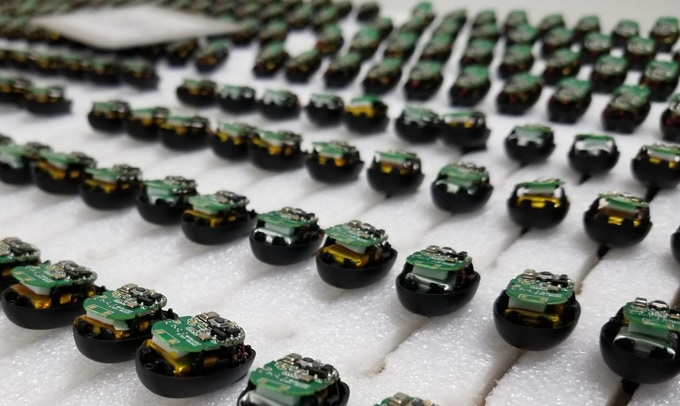 Our footprints can be found in exhibitions across the world in the past decade including CES, Hong Kong Electronics Fair, CeBit (Germany), Computex (Taiwan). We've received overwhelming responses from our supporters while going above and beyond customer expectations.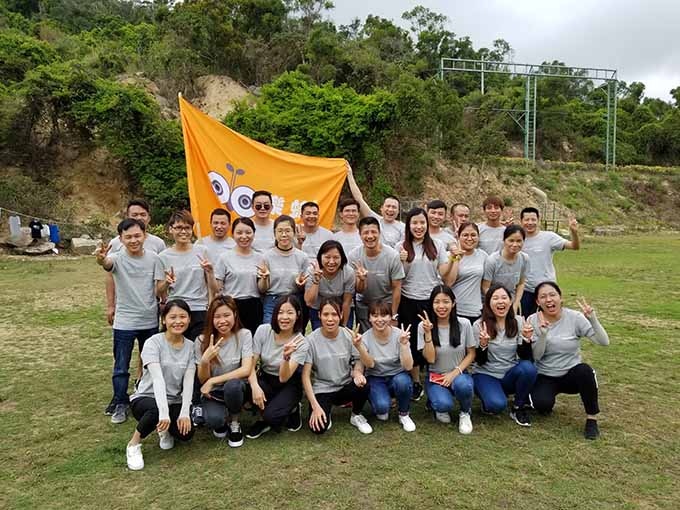 As technology geeks who love music, we created the Jabees Firefly with the mission of providing the best electronic products that people love and can identify with. As said in our name, we are inspired by bees because they symbolize community, prosperity, diligence and work ethic.
We are a team of more than 60 engineers, industrial product designers, production experts with 14+ years of experience in consumer electronics products. We started as an OEM Bluetooth headsets and speakers manufacturer. Nowadays, we have our own brand with more than 10 million pieces sold to 70+ countries across the world.
Legacy Team LA
July 2019
is the end date.
Early Adopter
One Firefly. Save $20 from the planned MSRP $99. Included 7 days money back guarantee, 1 year global warranty, included parts and labors. VAT not included. Free shipping to the US. Available in Piano Black or Crystal Clear.
Pledge $79 + $12 shipping cost
Jabees Sports Armband
Free shipping. Available colors: Black, Red, Blue, Green. It will only be sold and shipped together with the Firefly earphones. We don't sell the armband individually.
Pledge $12 + $0 shipping cost