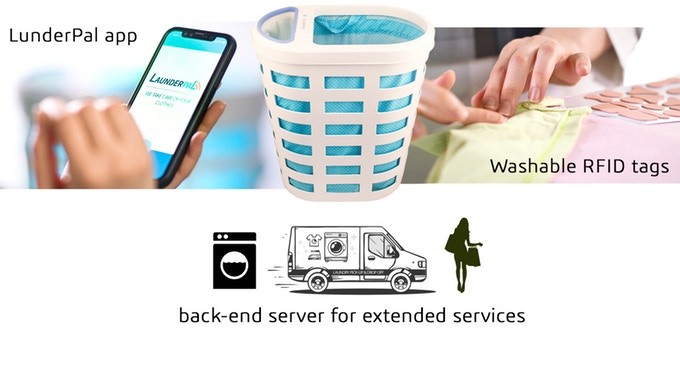 You may put any HTML here. This is dummy copy. It is not meant to be read. It has been placed here solely to demonstrate the look and feel of finished, typeset text. Only for show. He who searches for meaning here will be sorely disappointed.
LaunderPal | The smart laundry basket that takes care of your clothes
Legacy Team LA
About
LaunderPal is a smart laundry basket that takes care of your clothes and helps you manage them. This product is a set of multiple components which work separately or together:
1- Smart laundry basket
2- LaunderPal app
3- Washable RFID tags
4- back-end server for extended services
These components work with a dedicated back-end server, all to:
– Help you manage your clothes by indicating which clothes are inside the basket and which are not.
– Prevent clothes from shrinking, stretching, dye bleeding, color fading, etc. by suggesting proper washing program for each clothing stack according to their Care Tag.
– Make sure you always have clean clothes available.
Now let's see what each component does.
1- Smart laundry basket
This basket has a built-in RFID reader which identifies dirty clothes as you throw them into the basket, since each of clothes has its own RFID tag attached. Then, this data is transferred to the LaunderPal app installed on your smartphone using your home Wi-Fi network. Then you can refer to your phone anytime to see which of your clothes are dirty or not. the minimal and modern design of the basket makes it suitable for any interior style. Even further, we have designed a fabric bag in different colors and patterns of which you can choose your favorite one. there's also an additional mesh bag for smaller clothes you don't want to mix with others (e.g. underwear), or those you can't attach a tag (e.g. shoe lace).
2- LaunderPal app
Connected to the basket, this app gives you a list of all your clothes and shows you which one is inside the basket and which one is not. Each family member can have his/her own profile to know about their own clothes, including: clothes photos, information captured from clothes' Care Tags, etc. For each clothing, user can enter name, image and other information. the app also scans icons on Care Tags for each clothing and translates them into washing program data.
3- Washable RFID tags
The RFID tags are sealed inside a silicone cover which is anti-allergy and does not irritate sensitive skins. These tags easily stick to clothes and won't come off when washing/ironing. They are passive tags, so there's no need for battery and last as long as your clothes do.
4- Back-end server for extended services
You can choose to use additional services provided by third parties through LaunderPal server. For example, your local laundry service provider can know about your basket content and offer their pick-up service. Clothes tracking system is also available to know details about laundry process. Fashion related services from design experts are also available based on your style taste. this capability can both suggest new collections of famous brands or specific accessories or clothing which match your style. There are tens of other customized services you can benefit from.
Now that you are familiar with LaunderPal and its components, you can choose your favorite combination from the Rewards and support the project to help us improve your laundry experience. Your clothes also will be happy that you extend their life expectancy with LaunderPal!
Risks and challenges
To produce the basket by injection molding method, there is a trade off between the production cost and quantity.
It is not feasible for us to produce the mold for small quantity of orders. So, in that case we apply fast prototyping methods such as 3D printing that we have applied before to our functional prototype and as you would see in the photos and teaser, it satisfy our quality requirements.
LaunderPal is a smart laundry basket that takes care of your clothes and helps you manage them.
Legacy Team LA
This project is coming to life. Thank you for showing your support!
Retail Package
Get "LaunderPal Basket" and a "Sheet of Tag Sticker" and also a "Cotton Bag" that you can choose its color.
Pledge $149 + $0 shipping cost