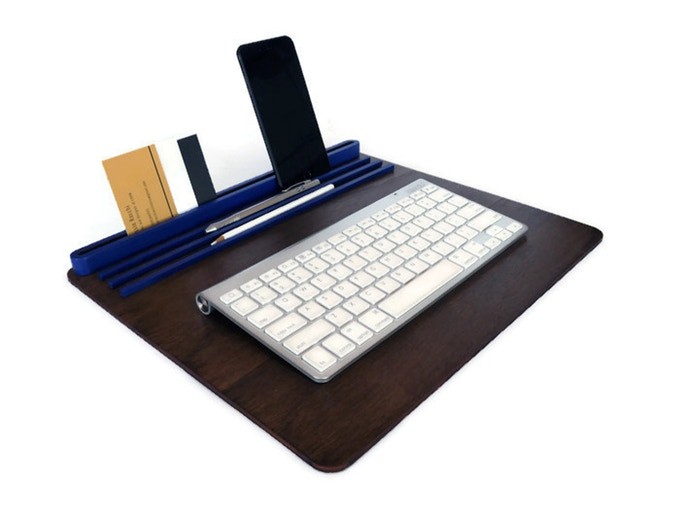 You may put any HTML here. This is dummy copy. It is not meant to be read. It has been placed here solely to demonstrate the look and feel of finished, typeset text. Only for show. He who searches for meaning here will be sorely disappointed.
Modern Desk Organizer and Lap Tray for Tech Lover Gifts!
ILJ is a laser cut and hand-finished wood organizer and lap desk for geek gifts. 8 Colors combinations. Designed; Made in Italy!
Legacy Team LA
Hello!
My name is Alessio Rocchi, Designer and Maker from Florence, Italy. I was the finalist, honorable mentioned and winner of many Design Contests. In 2013 I founded the Design Brand LOHN concerning Little Objects for Huge Needs.
I'm here to show you a new project: ILJ, a portable desk organizer and lap stand!
ILJ is a laser cut poplar plywood and hand-finished tech lover item which allows two possible configurations: Desk organizer and Lap desk.
Desk organizer with tablet and smartphone stand and workstation keyboard rests hands. The smart device thickness must be under 11 mm. The bars can hold pens, pencils, business cards, notes and everything you need to study and work better.
Lap desk for laptop cooling thanks to the vacuum created by placing the device on the big bar to work either on the couch or the bed.
The portable workstation desk dimensions are 15" x 12.5" / 381 x 317 mm.
You can get 8 colors combinations: Poplar and Dark Walnut for the tray and Yellow, Red, Turquoise and Cobalt blue for the organizer.
You can also hang ILJ to the wall when it's unused.
ILJ will come with a free secret tech gadget designed and made by me!
Rewards are from 20% to 35% off the retail price that will be € 49.
The delivery will be by the end of February 2019 by a standard shipping with no tracking number or insurance. If you want a traceable or insured shipping, please contact me because I will not be responsible for lost or damaged item by postal service.
ILJ is Digital Handmade in Italy.
Thanks for your attention and support...CIAO!!!
Legacy Team LA
This project is coming to life. Thank you for showing your support!
25% OFF_2 ILJs + FREE SECRET TECH GADGET
2 ILJs with a FREE SECRET TECH GADGET shipped by standard shipping. Colors to be chosen after campaign.
Pledge $84 + $14 shipping cost