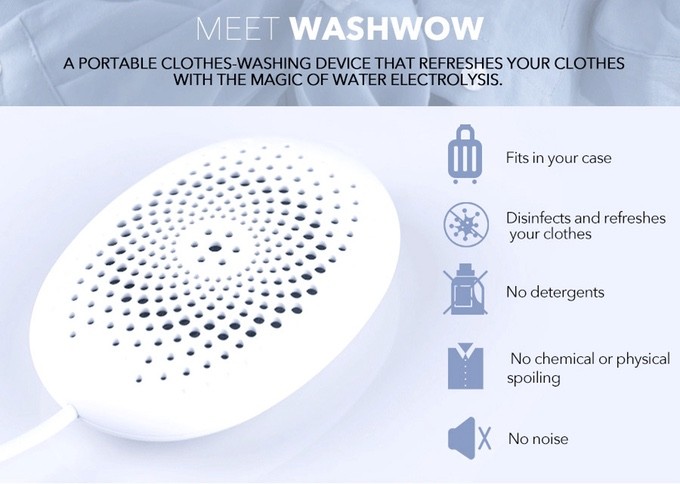 You may put any HTML here. This is dummy copy. It is not meant to be read. It has been placed here solely to demonstrate the look and feel of finished, typeset text. Only for show. He who searches for meaning here will be sorely disappointed.
Unfurtunately this project was not fully funded before the end date.
WASHWOW | Portable Wash: Disinfect Device Without Detergent.
*Available for purchase now. International shipping.* WASHWOW: A clothes-washing device adopting the magic of water electrolysis starting from $69 with 30% off.
Legacy Team LA
AVAILABLE FOR PURCHASE NOW. INTERNATIONAL SHIPPING.
The working principle of Washwow electronic washing machine is to use the reactive oxygen species which generated by electrolysis of water to decompose the dirt on the clothes. The machine interior is coated with noble metal which can create positive and negative electrodes. The components OH, O, O2, O3, On, HnOn can decompose the organic dirt into water and carbon dioxide or others, and hypochlorous acid has antibacterial effect to make bacteria and dust mites not attach to clothes.
There is alkaline ionic at the cathode end during water electrolysis, to create an environment like having detergent but better effect, the metallic oxide, lipids and some residual chemical components in the wastewater are oxidized and discomposed accordingly. Also, there is acid iron on the anode end to achieve the effect of sterilization and deodorization combined functions. In this way, it is very green to wash clothes without any detergents.
Legacy Team LA
We are sorry, this project was not fully funded, no backers has been charged. We will keep everyone updated if this campaign is going to be relaunched. Thank you for your support!
Unfurtunately this project was not fully funded before the end date.